Isn't a 'rebel rocket scientist' a bit of an oxymoron?
Not in the case of Rosetta project scientist Matt Taylor. With punky shirts and arms covered in tattoos, the North Londoner is redefining his field – or star field if you will.
He's also a Twitter hit
Apart from being part of a team attempting to land a robot probe on a comet, the alternative astrophysicist, who studied at Liverpool University and Imperial College London, has notched up a couple of thousand Twitter followers.
"Dr Matt Taylor is what every scientist should look like – rad shirt, sleeve tattoos. Rad," tweeted one follower. Others praised the "proper cool scientist" as "definitely not boring".
What's so special about Rosetta?
"The opportunity to work on Rosetta was huge and I cannot begin to describe the excitement associated with this mission. It really is just so cool," Dr Taylor says on his European Space Agency web site. "Previous missions have only flown past comets.
For the first time we will fly with the comet and actually land on it. The Rosetta mission is a breakthrough in space science and exploration and really demonstrates what international collaboration can achieve," he said.
Was he certain of success?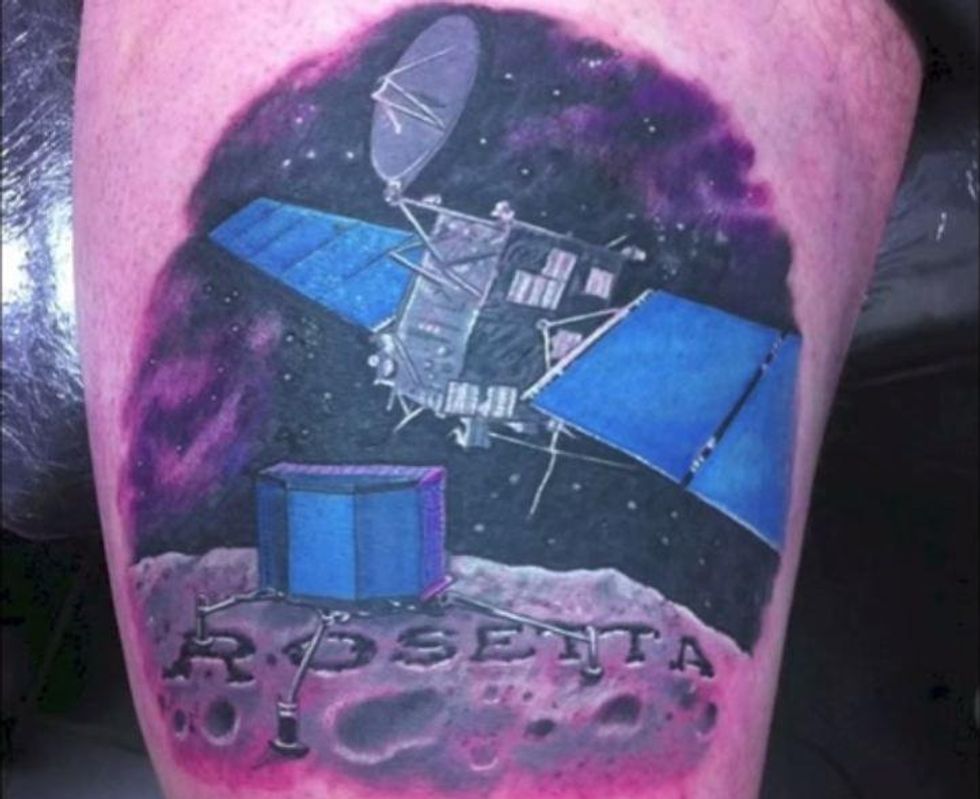 Dr Taylor was so assured of the mission's triumph he even inked a tribute to the Rosetta spacecraft and the Philae lander on his thigh. "I'm incredibly confident that we're going to nail this landing," he told the BBC yesterday.
"I'm confident enough to have it drawn on my body… that's my prediction for later today, that we get the lander on the comet."
Celebration Mr T-style
On hearing the good news he simply tweeted: "I pity the fool that thought we wouldn't …"
Controversy
Although his choice of shirt yesterday didn't go down well with everyone...