Warning: this article and video contain some NSFW language
Guardian columnist and author Owen Jones spends a fair amount of time on Twitter - and it's safe to say he gets abuse thrown at him on a daily basis.
Some casual examples include:
You're left wing and you look about 12
Owen Jones shut up you queer little communist
I know Owen Jones is a c--t, but never knew he's a poof. It all makes sense now
Jones wanted to test his hypothesis that while people are happy to chuck insults around from a keyboard, most trolls would never dream of saying the same things in person - so he went to Dorset to meet one and find out.
The pair shook hands, and sat down to have their first ever face-to-face conversation.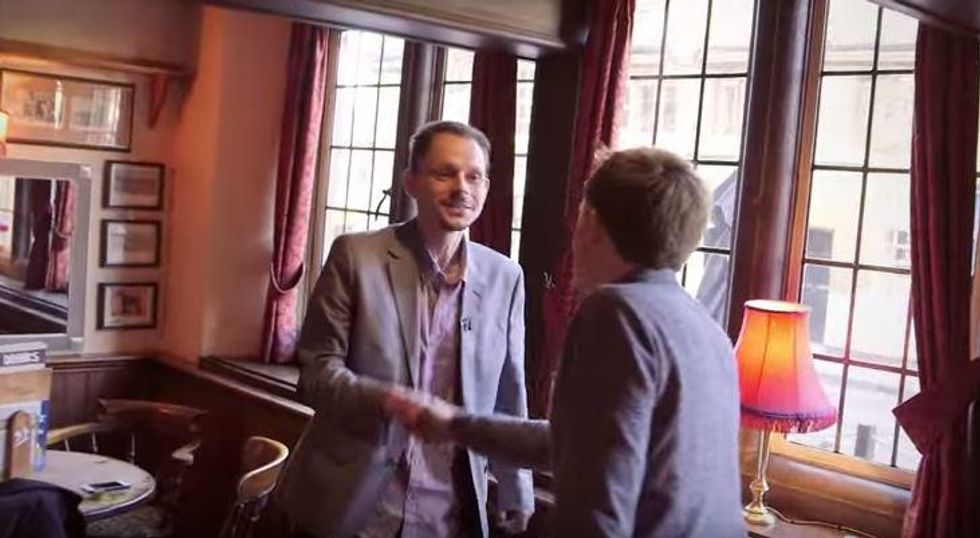 When Jones asked his abuser why he called him "racist" and a "homophobe" on Twitter, George said he didn't really mean it, but:
You have to start with those kind of things to get noticed. You've got to find an entry point... it's like fishing, isn't it?
George said that he thought that the constraints of Twitter's 140-character messages led people to write in a certain way, and that his tweets were only ever supposed to be about making people laugh.
The word 'troll' I think has been misaligned lately... There's people who go out there now who call themselves trolls who just go and chuck rape threats around - that's not trolling. Trolling should be done properly.
After agreeing that neither was actually a 'dick' in real life, Jones agreed to unblock George so they could interact on Twitter again, which is a far more pleasant outcome that Jones appeared to expect.
Watch the whole video below: