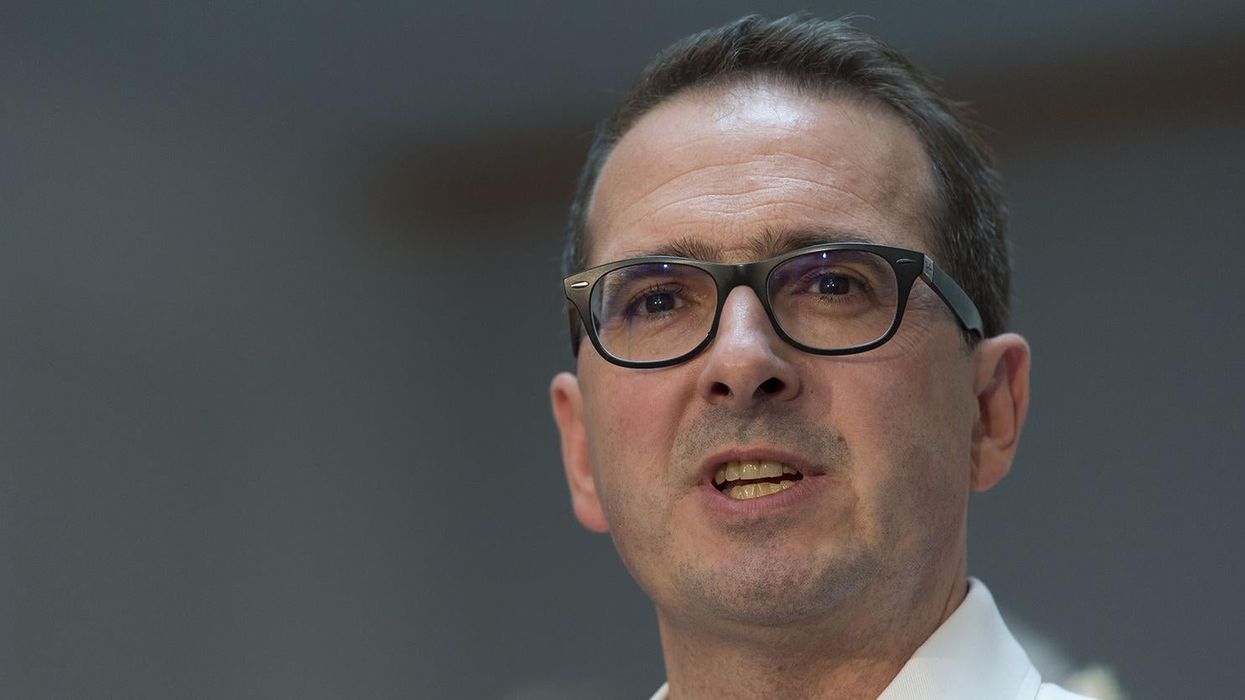 Contrary to popular reports, Owen Smith did not actually exist as a human prior to July 2016.
We jest, but the MP for Pontypridd has launched his leadership campaign against Jeremy Corbyn all very suddenly.
He resigned as shadow secretary of state for work and pensions after the EU referendum result on 27 June, and on 13 July announced his intention to stand in the leadership ballot, becoming Corbyn's sole challenger after Angela Eagle pulled out.
In his leadership speech today, he told the press he wanted to "smash" Theresa May "back on her heels" at PMQs after he claimed the Conservative party were co-opting Labour rhetoric and values.
I'll be honest with you, it pained me that we didn't have the strength and the power and the vitality to smash her back on her heels and argue that these are our values, these are our people, this is our language that they are seeking to steal.
He then said he stood by the statement when questioned about its wording, saying:
It's rhetoric of course. I don't literally want to smash Theresa May back, just to be clear. I'm not advocating violence in any way, shape or form.

But I am rhetorically saying 'come on, let's smash the Tories back, let's knock them on their heels – their ideas, their values, let's smash them, let's get Labour in, that's what we need to do.
The gaffe, combined with the location of the speech...
...meant things were all going a bit Wernham Hogg for Smith.
Smith's campaign also say he announced 20 policy proposals, and, yes, the sound you and the Corbyn campaign hear is the clang of a gauntlet:
A pledge to focus on equality of outcome, not equality of opportunity

Scrapping the DWP and replacing it with a Ministry for Labour and a Department for Social Security

Introducing modern wages councils for hotel, shop and care workers to strengthen terms and conditions

Banning zero hour contracts

Ending the public sector pay freeze

Extending the right to information and consultation to cover all workplaces with more than 50 employees

Ensuring workers' representation on remuneration committees

Repealing the Trade Union Act

Increase spending on the NHS by 4% in real-terms in every year of the next parliament

Commit to bringing NHS funding up to the European average within the first term of a Labour Government.

Greater spending on schools and libraries.

Re-instate the 50p top rate of income tax.

Reverse the reductions in Corporation Tax due to take place over the next four years.

Reverse cuts to Inheritance Tax announced in the Summer Budget.

Reverse cuts to Capital Gains Tax announced in the Summer Budget.

Introduce a new wealth Tax on the top 1% earners.

A British New Deal unveiling £200bn of investment over five years.

A commitment to invest tens of billions in the North of England, and to bring forward High Speed 3.

A pledge to build 300,000 homes in every year of the next parliament – 1.5 million over five years.

Ending the scandal of fuel poverty by investing in efficient energy.