New York resident Nazma Khan founded World Hijab Day in 2013 in an effort to celebrate the women who choose to wear a hijab - as well as foster understand and religious tolerance, by inviting women to experience the hijab for one day.
Since then, it's gained global recognition, and women and men are taking to twitter to celebrate the diversity inherent to the day.
Using the twitter hashtags #WorldHijabDay and #IStand4Hijab, people are using their platform to raise awareness about what the hijab means to them.
The De La Salle-College of Saint Benilde, a Catholic school in the Philippines, organised an event for the day which consisted of a short talk on the subject of Islam. They also spoke about the idea that wearing the hijab is not a form of oppression, but rather a personal choice.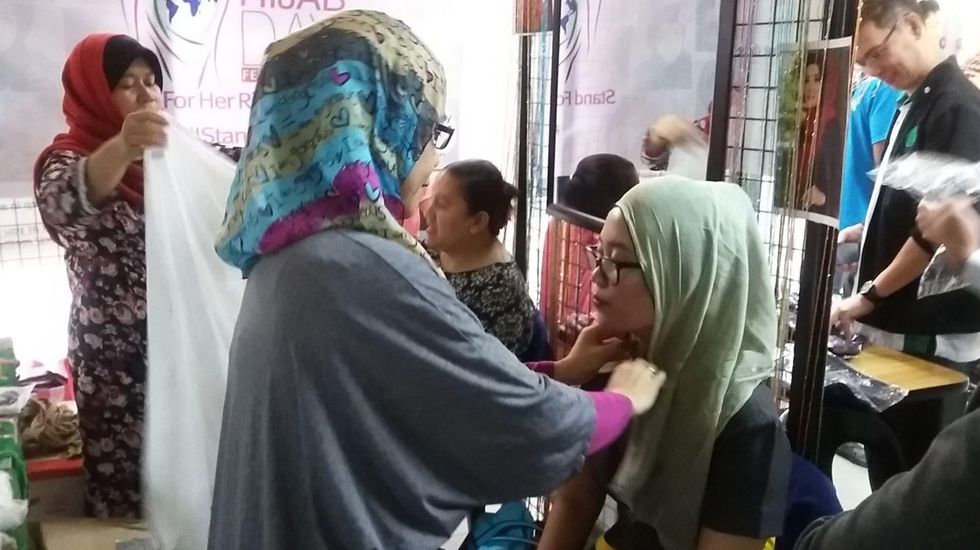 Picture: Jazz Solomon
There are some critics who argue that there is more to resisting bigotry than wearing a scarf...
While others insist that the day is about celebrating diversity:
indy100 spoke to three Muslims, about their thoughts on the hijab...
1. Noor Tagouri, journalist and the first woman with a hijab to be featured on the cover of Playboy Magazine.
Picture: Noor Tagouri/Instagram
World Hijab Day to me is a day to celebrate women around the world who choose to express themselves and empower themselves through hijab.

To support and appreciate those who don't wear it but also stand in solidarity with women who do, and to remember that in Islam hijab must be a choice, so we must stand with those in certain parts of the world who don't have that choice because of politics and stand with them too.
2. Lina-Sirine, broadcaster.
Picture: Lina-Sirine/Twitter
I've worn the hijab since I was 11 years old. Entirely my decision despite my parent's initial resistance to me wearing it. It's a part of my identity and thankfully, I've never had any issues wearing it in my beautiful city London.

But now, after Brexit and Trump's election, emboldening the many extremely racist, fascist right-wing groups across Europe, (see Le Pen's worrying rise to presidency in France and her opposition's pandering to racist sentiments), legitimising and normalising horrendously vile xenophobic islamophobic rhetoric, I feel like I have a target on my head.

I cannot begin to articulate the endless respect I have for my fellow visibly Muslim sisters, more so than ever in these troubling times.

I'm so happy to see others take part in #WorldHijabDay, standing in solidarity and celebrating strength through awareness, diversity and empathy.
3. Chloe, 20, who chose to be a Muslim in 2016.
Picture: Chloe Gulac, with her Christian mum
My name is Chloe. I am currently residing in Australia and have been a Muslim revert for about a year now. World Hijab Day means a lot to me specifically because it's about everyone coming together and creating a feeling of support, a stand against bigotry.

When anyone wears a scarf it's about intent. Whether we wear it for the sake of religion, comfort or just supporting others on a day like this. It's overwhelming to see so many women putting it on with the intent of showing support, acceptance and most importantly, love.

It's given me a sense of strength knowing so many are here to stand up for someone like me while others try to tear me down. All because of a scarf.