The third Monday in January has gained notoriety in recent years as the 'most depressing day' on the calendar.
"Blue Monday", as it is known, was first pioneered as a press release for a holiday company, a date supposedly calculated using weather, debt levels, motivational levels and the amount of time elapsed since Christmas.
It's been thoroughly debunked over the years, and many charities and mental health organisations say that the concept is downright harmful, ignoring the fact illnesses such as depression can strike at any time and trivialising the problem as "winter blues".
Clearer Thinking, a US-based not-for-profit project that creates tools and surveys designed to help people get better at knowing their biases when it comes to decision making, conducted two studies on simple mood-boosting exercises to figure out which ones were effective, discovering five that really worked for their test subjects.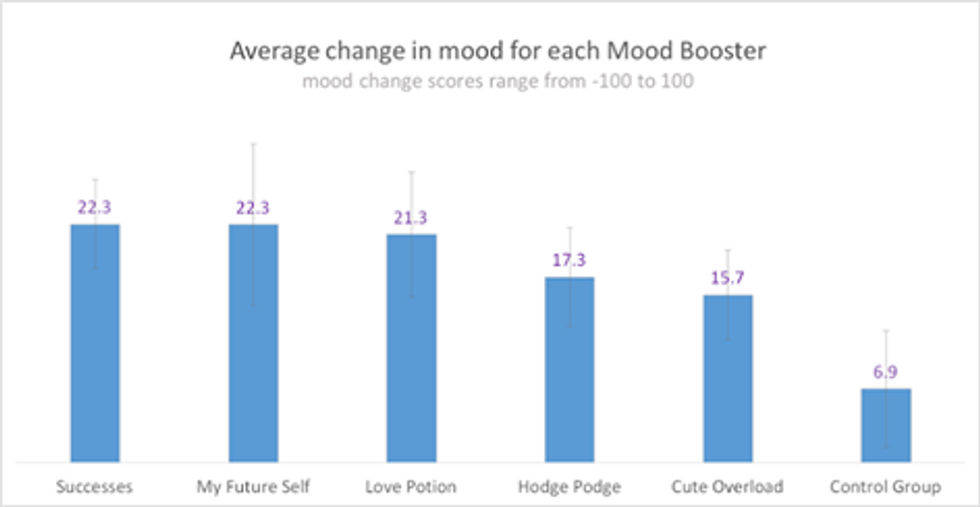 Graph: Clearer Thinking
Now Clearer Thinking have created a mood-booster tool that utilises positive memories, successes and goals (as well as lots of cute animals) which can be used any time you need a pick-me-up. The programme can even roughly measure how much more positive your mood is by the end of the three-minute exercises.
Try it for yourself below (if the embedded programme doesn't work, you can use it at Clearer Thinking's website here)
If you think you or someone you care about is in need of support for a mental health problem, there is someone to talk to at The Samaritans 24 hours a day on FREECALL 116 123 and advice on where to get help at mentalhealth.org.uk.