content.jwplatform.com
An OnlyFans creator has opened up about his journey into the adult industry, detailing how he went from footballer to prison inmate to porn star.
Damian Oliver said he never would have envisaged a career in the adult industry as a kid hanging out in south-east London gangs, but fell into it after escaping an abusive relationship.
Speaking on the 'Anything Goes with James English' podcast last year, Oliver, who played for Crystal Palace academy before his first stint behind bars, detailed how he got his first job in porn back in 2018.
He said his girlfriend at the time "constantly put him down," telling him he had a "tiny penis" and "was really ugly" and so he soon "started to believe her".
Sign up for our free Indy100 weekly newsletter
However, he said: "I then met this guy that I got on with from the estate, Jayden, who became a best friend. He was a bisexual guy, nothing ever happened there, but I learned a lot from him."
"He taught me about being open and understanding everyone, every gender and all that sort that sort of stuff. And said, 'First of all, let's have a look then'."
Oliver said he "eventually got it out," prompting Jayden to tell him: "That is not small. Oliver are you f**king crazy?"
But he went on: "For a while I didn't believe [him]. But eventually then I started to believe [...] and he got me set up on a shoot."
Unfortunately for Oliver, his first job wasn't a huge success – he not only found the whole experience "terrifying" but only got paid £150 for six hours' work.
Male Porn Star Damian Oliver Tells His Story youtu.be
"The camera guy there was a big bald Irishman, he was quite scary," he recalled, saying he then had to "get [his] d**k out in front of him and start f***ing."
His nerves then caused him to "shrivel up", he said, meaning he then had to take pills to "get going".
His issues didn't end there, however. Describing the set on his first scene he said: "It was like laminate flooring, and I was butt-naked and I was sweating, I was slipping in my own sweat.
"We had to keep cutting, I had [the actress] bent over the sofa but I kept slipping all across the floor, they had to keep wiping the floor down, I was just a dripping mess."
Given the ordeal, it's not surprising he didn't see himself becoming a full-time adult entertainer back then. Explaining that he was already doing decorating and plastering work, he just thought it was something he could do "in his spare time."
"People used to say to me, 'You're doing it all anyway', because they knew I used to sleep with a lot of girls, I was a player [...] and they said, 'You might as well get paid for it'," he continued.
"But it wasn't until I had the confidence to actually do it, [that I realised] it was a whole different ballgame."
Oliver said that he found shooting porn scenes scarier than "going up to another man and having a fight", as he did in his youth and in jail.
Lamenting how he "let himself down" at the age of 17 by "going off the rails" and ending up in prison after his grandmother died, he acknowledged that he could have made more of his other talents.
"When I was at Crystal Palace, if I'd have stayed with them, then I could have been earning a lot more playing football. I used to fight as well, maybe that could have gone somewhere," he said.
"I was good at both [of those] things, but being a porn star, I thought that would be just as good. But it's not as good as people think."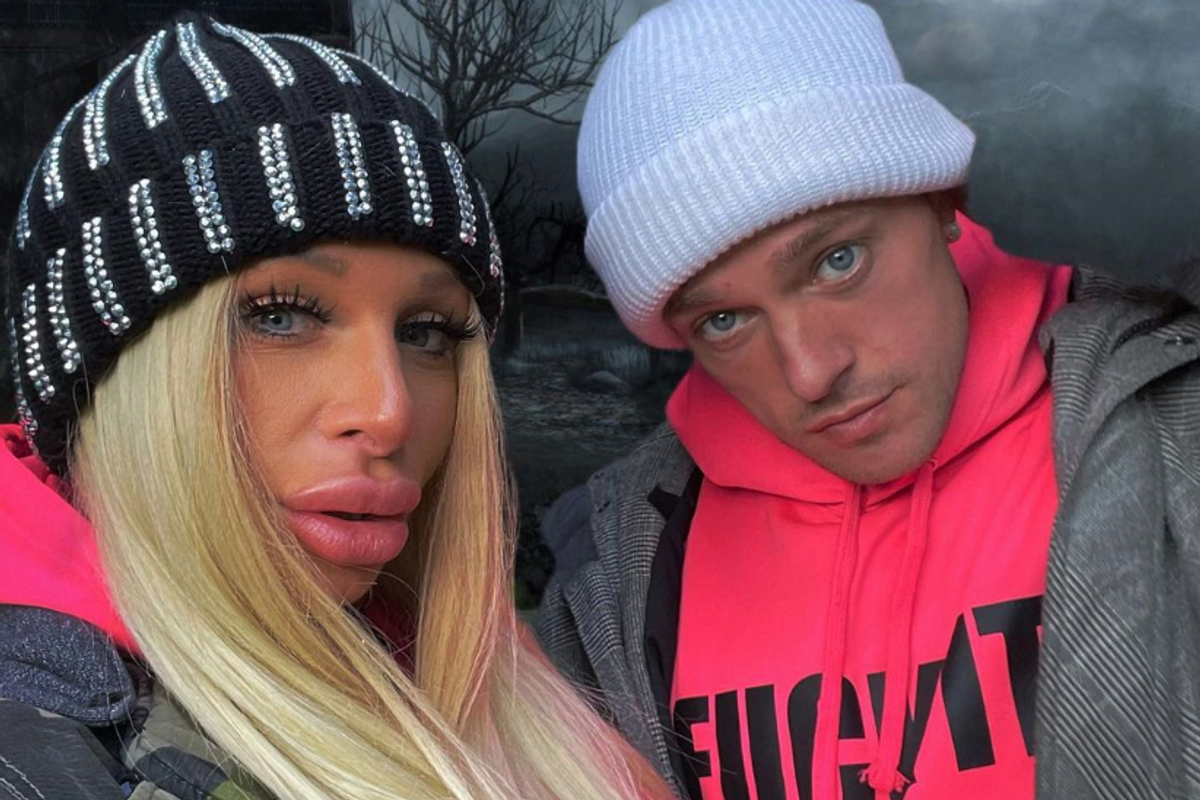 Oliver with his "soulmate" Sophie Anderson @sophieasuccess/Instagram
Still, it's not all bad. Oliver met his long-term partner through the industry – Sophie Anderson – and they now make content together.
Acknowledging that he could never have dreamed that "one of the biggest porn stars in the country" would be his "soulmate", he said Anderson is "the first person that I feel like I've ever had the ultimate connection with – she is like my twin".
"We're so compatible," he added. "I've never had anyone that connects on so many different levels like that."
Have your say in our news democracy. Click the upvote icon at the top of the page to help raise this article through the indy100 rankings.