unbranded - Lifestyle / VideoElephant
A man has revealed how his new tattoo could cause the end of his marriage due to a disagreement with his wife over the inking.
In a post to Reddit's ' True Off My Chest,' forum and explained how he got his daughter's name, birthday with a red rose and a kitten cuddling her cat dad tattooed on him.
But for his wife, the problem lies with one certain body park being tatted.
"I recently got a tattoo on my chest to commemorate becoming a father," he began.
"Initially I wanted to avoid my nipple getting tattooed because I heard it was a pretty painful spot. The artist told me that based on the design it wouldn't look right and would stand out if he didn't tattoo my nipple making the tattoo look very off.
"Since this was for my daughter I opted to go with his wishes and have my nipple tattooed," he added, however, he had reassured his wife this would not happen.
"After the tattoo was finished I called her and told her that while initially I wasn't planning on getting the nipple covered the artist recommended it so I had it done," the man detailed.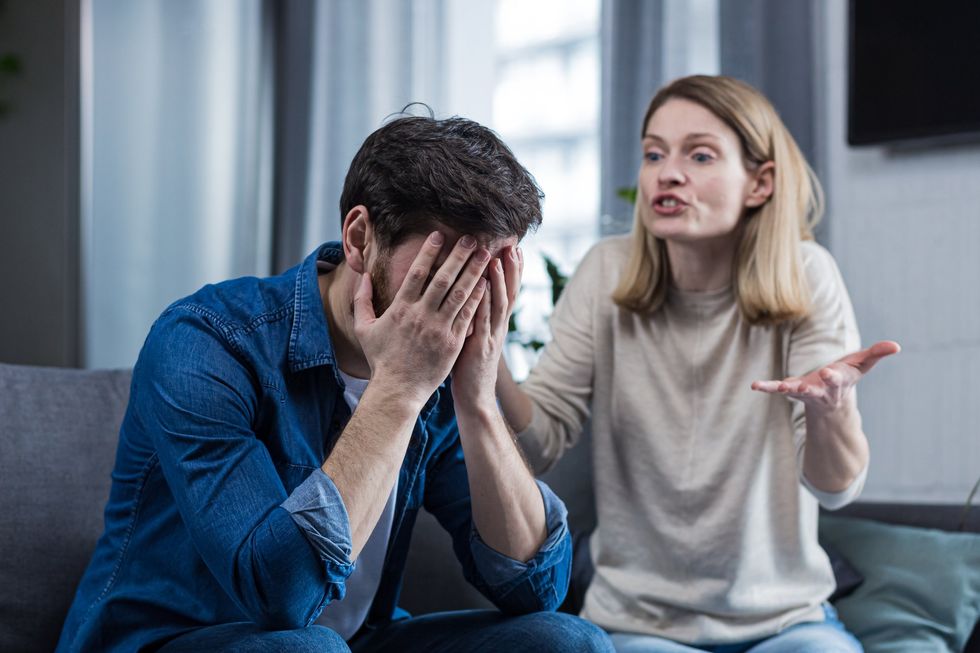 The couple can't see eye-to-eye on the husband's latest tattoo. iStockphoto by Getty Images
But when the wife found out about it, "This blew up into the biggest fight we ever had."
"She had never told me how adamant she hated a tattooed nipple. If she had I would not have done it. She had only agreed with my initial thoughts that I wanted to avoid the area."
In addition, she called her husband "selfish" and acted like a "bachelor without a family" for not considering their family before making his decision and not calling her to tell her this before he got it inked.
"She then told me how she wasn't going to be attracted to me anymore because I'm uneven now and just how much she hates tattooed nipples."
"I even felt awkward picking my baby up this morning because the tattoo is for her," he concluded.
Since sharing his dilemma, people have been sharing their advice.
One person said: "As a result, the man is unsure what to do and noted how their relationship was great and full of laughter and now it's cold."
"Think there's a bigger reason behind the outburst, most likely something else is bothering her or has been and she decided to let it all out over the tattoo," another person wrote.
Someone else added: "Not me trying to find your nipple in that picture."
"I have never thought of my preference for tattooed nipples until this very moment. Do you have any idea why this is so important to your wife?" a fourth person commented.
Sign up to our free Indy100 weekly newsletter
Have your say in our news democracy. Click the upvote icon at the top of the page to help raise this article through the indy100 rankings.