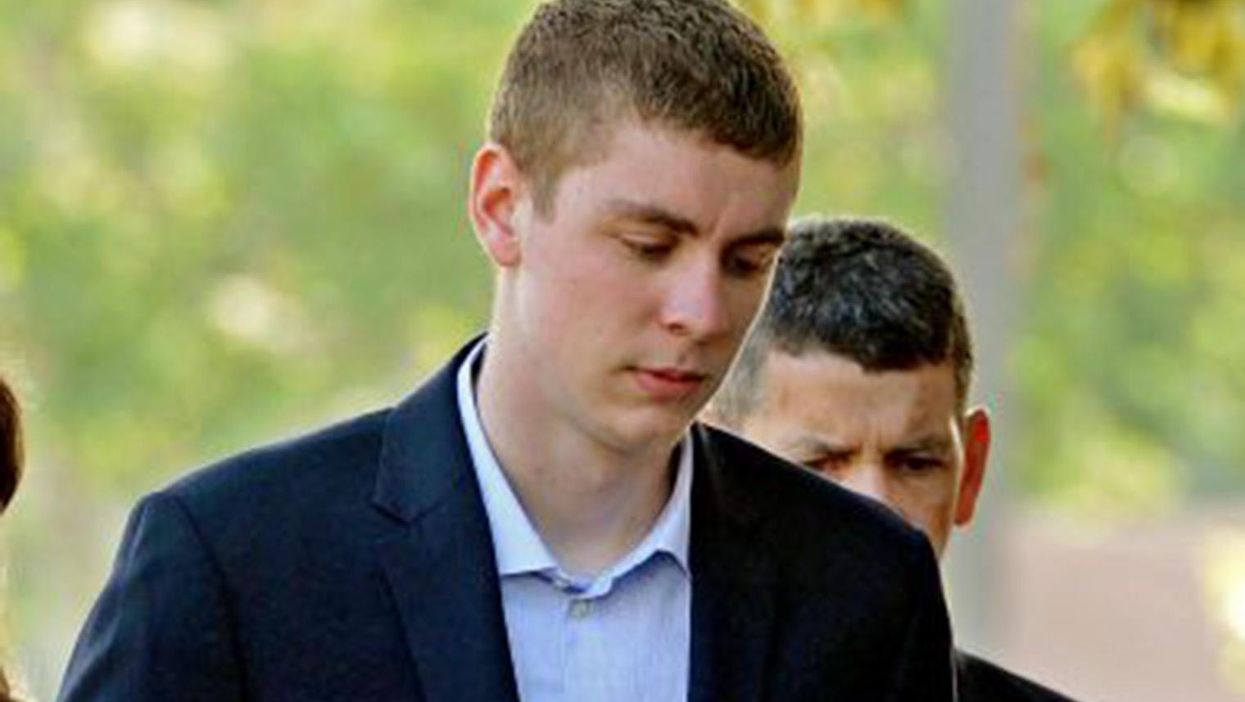 Brock Allen Turner has been handed a six-month jail sentence for the rape of an unconscious Stanford university student.
The statement from the victim, which amounted to 12 pages, conveyed in brutal detail the events and aftermath of the incident in January 2015:
I am not just a drunk victim at a frat party found behind a dumpster, while you are the All­-American swimmer at a top university, innocent until proven guilty, with so much at stake.

I am a human being who has been irreversibly hurt, my life was put on hold for over a year, waiting to figure out if I was worth something.
A California jury found Turner guilty on three counts of sexual assault. Prosecutors asked for six years in jail, but Judge Aaron Persky sentenced him to only six months in jail and probation.
The maximum penalty was up to 14 years, and critics say the lenient sentence may deter victims in other cases from coming forward.
A rape culture is one in which sexual violence is the norm, and everyday practices normalise, trivialise and even excuse rape.
It's a culture where instead of teaching people not to rape, we teach people not to get raped. Here are 22 signs we live in one:
1. When footballer Adam Johnson said "society conditioned him" into grooming a 15-year-old for sex
Picture: PA
Using the argument we live in a rape culture to diminish your responsibility as an abuser. Clever.
2. Ditto Dapper Laughs
In a lengthy, self-pitying interview Dapper (real name Daniel O'Reilly) said that his objectifying jokes about women were actually aimed at mens' insecurities, rather than the fact that, you know, sexual violence is funny or something.
I'm taking the piss out of insecurities of men – that's the basis for the comedy. Women hold all the power.
Yes, Dapper, women hold all the power. That must be why only six per cent of rape cases where a woman is the victim end in conviction and thousands of rapes go unreported every year.
3. When rape cases being sent to prosecution are at their lowest levels ever
The proportion of rape cases referred by police for prosecution is at its lowest level since records began. The chances of getting a rape case prosecuted are now at the lowest rate since 2007, when the CPS started recording figures on violence against women and girls.
4. When over 85,000 women are raped and 400,000 sexually assaulted every single year - but apparently we have a 'victim' culture rather than a rape culture
5. When we still think rape is only committed by violent strangers in dark alleyways
Ninety per cent of attacks are carried out by people known to the victim.
6. When The Sun calls an attempted rape a 'romp'
7. When it's funny to pretend to bottle a woman in front of a group of domestic violence survivors:
The incident, which occurred at Saturday's 'Million Women Rise' March in London in support of ending violence against women and girls, was branded "disgusting".
8. When we give false rape accusation reports overblown significance, as in the case of the embellished Rolling Stone campus assault story
Only between 2 - 8 per cent of rape accusations are found to be false - but the outcry stops many victims from coming forward.
9. When Roosh V, who advocates rape, is held up as a role model by thousands and thousands of fans.
10. When talking about male rape is still taboo.
Prison soap jokes, stigma and shame are all ways we don't deal with rape's impact on masculinity.
Survivors UK, the UK's biggest male-only victim support group, recently had its funding completely cut in 2015 despite a 120 per cent rise in reported male rape cases.
11. When we are encouraged to see women's bodies as objects All. The. Time.
12. When reporting on rape trials focuses on the perpetrators' ruined futures or previous promise rather than the victims' trauma
13. When the alleged victim of footballer Ched Evans had to move house five times to escape people who still thought she was lying
She was given anonymity by law, as with all sexual assault cases, but her details were posted online by Evans' supporters. Evans' conviction was quashed and there will be a re-trial.
14. When women get targeted with gendered abuse and rape and death threats online every day
There are deeply scarring psychological effects, and in some sad cases, real ones.
15. And entire Internet threads are dedicated to men inflicting pain on women during sex, or creating Grand Theft Auto rape scenes:
Thanks to an unofficial mod, you can now virtually rape fellow players as part of the game in Grand Theft Auto, with several videos of the attacks being put on YouTube.
16. When abuse was reported to police and authorites in Rotherham, but they failed to investigate because the complainants didn't fit 'innocent victim' profiles.
Authorities ignored the abuse and sexual exploitation of 1,400 children between 1997-2013 in Rotherham despite of years of warnings, according to the official report.
Professor Alexis Jay said social workers were nervous about being accused of racism by flagging up the abuse, as the majority of the perpetrators were Asian men. There's a term for when concerns about accusations of racism are more important than protecting children from sexual predators: rape culture.
17. When we're so determined that rape culture doesn't exist we call it a 'war on boys' instead:
18. When safety campaigns and ads still put the onus on women not to get raped
The black and white awareness image first ran between 2005-2007 as part of the NHS and Home Office's anti-alcohol Know Your Limits campaign and is still on display in several hospitals, GP surgeries and universities. It claims that "one in three reported rapes happens when the victim has been drinking" but has been criticised for blaming the victims rather than the perpetrators.
Likewise, this ad for a minicab company:
19. When judges call guilty men not "classic rapists"
Lee Setford was found guilty of rape in 2014. When sentencing him to five years in prison, Judge Michael Mettyear said he did not consider him a "classic rapist" and described him as a man who "simply could not resist" a "pretty girl".
"I do not regard you as a classic rapist. I do not think you are a general danger to strangers. You are not the type who goes searching for a woman to rape", he said.
She was a pretty girl who you fancied. You simply could not resist. You had sex with her.
20. And say women need to stop getting so drunk
Retired judge Mary Jane Mowat said last year that rape conviction rates will not improve until women "stop getting so drunk". Rather than the onus to convict criminals being on the police, or the Crown Prosecution Service - or rapists not to rape - Judge Mowat said it was women who need to change: "It is an inevitable fact of it being one person's word against another, and the burden of proof being that you have to be sure before you convict", she said.
I will also say, and I will be pilloried for saying so, but the rape conviction statistics will not improve until women stop getting so drunk. I'm not saying it's right to rape a drunken woman, I'm not saying for a moment that it's allowable to take advantage of a drunken woman.
21. When men think it's acceptable to walk down the street shouting this: "rape, rape, rape", "she's too young" and "15 years".
22. When it's easier to create anti-date rape drug nail polish then get men to stop raping