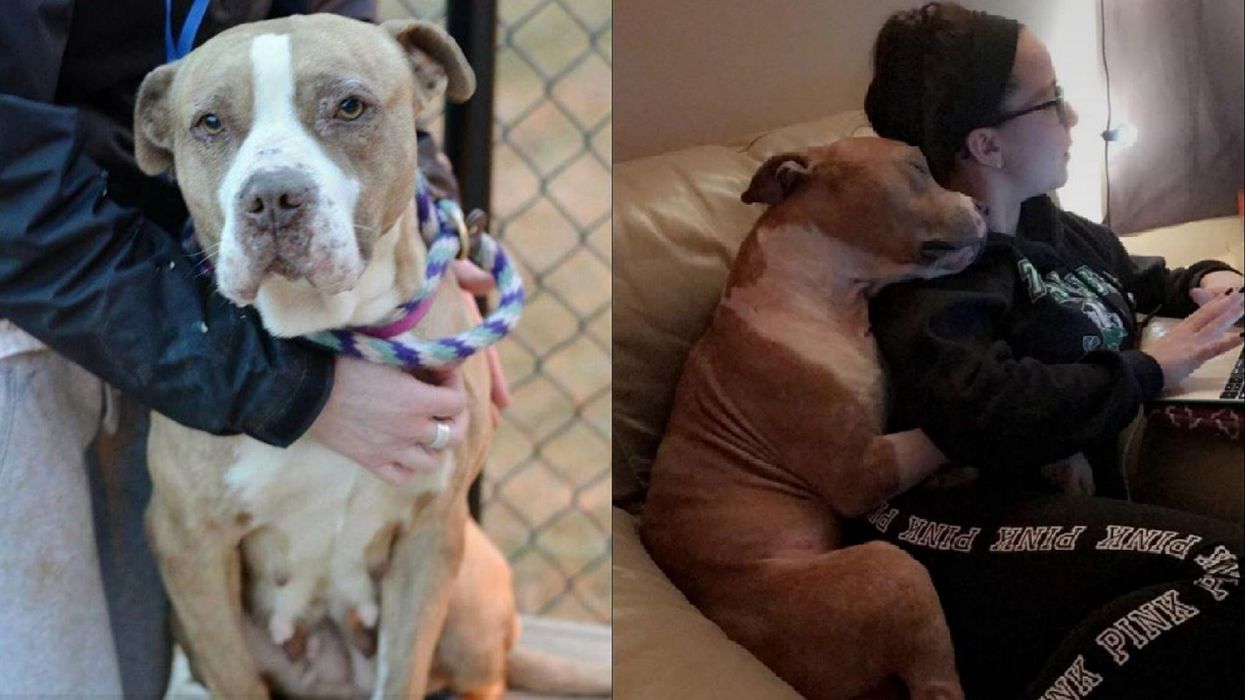 Composite / Facebook (Jamie Holt)
You may have cooed over this picture of the pit bull cuddling his dog-mum while she does her homework.
But the viral photo has an even more adorable back story.
20-year-old Kayla Filoon, a college student in Philadelphia, was working as a volunteer and dog walker for municipal shelter Animal Care and Control Team Philly (ACCT Philly).
She came across Russ, a recently brought in stray pit bull, sitting in his kennel. He had a kennel cough, a bleeding tail and an eye infection, as well as being severely underweight.
Filoon told the Dodo:
Any dog had a chance of being put down, especially the ones who were sicker, and Russ was definitely one of them.
But when she took Russ out, he immediately began cuddling her.
Filoon fell for him.
My mom thought I was kidding, because I always fall in love with the dogs that I take out - it's hard not to [...] but there was something about Russ.
It seems the feeling was mutual - now Russ won't stop cuddling up to his new owner.
One night I'm sitting there on the chair, doing my homework, and he's trying to find ways to cuddle with me.

There was a whole other sofa open, and we had his bed on the floor, but he didn't want to lie anywhere else.

So he ends up positioning himself, and I look down, and I think, 'Oh my gosh, look at him.'
"He's such a love bug, honestly," Filoon added.
I'll be lying there, and he'll put his head under my arm, or his paw over my chest. And he'll even lay on my chest.
ACCT spokesperson Ame Dorminy is quoted in Today:
We love seeing animals in their forever homes, knowing we helped create this perfect match.