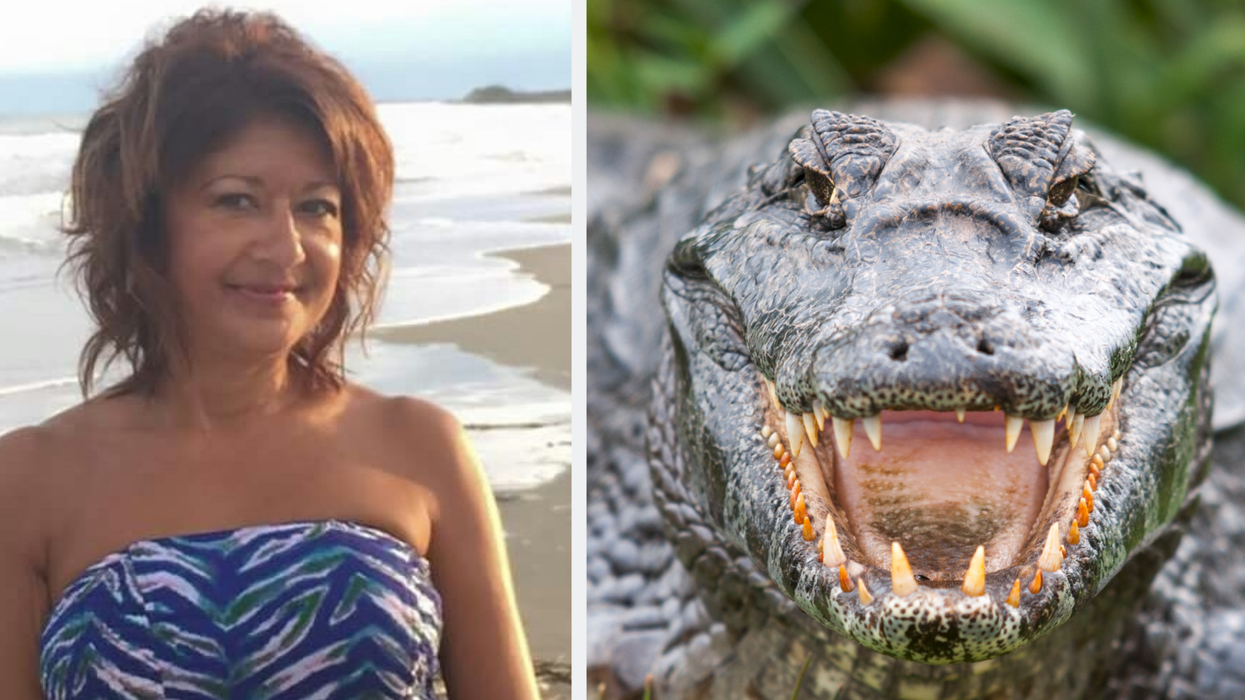 Facebook/iStock
A manicurist in South Carolina was killed by an alligator after attempting to take pictures and "stroke it," the Post and Courier reports.
Despite lockdown, Cynthia Covert, 58, had attended an at-home nail appointment for a friend who lived in a gated community on Kiwah Island, Charleston.
Covert reportedly arrived with a bottle of wine and was "acting strange" before she spotted the alligator.
According to her client, Covert's demeanour was markedly different during the interaction, saying:
At the salon [Covert] acts very professional but today she was very relaxed and excited that her boyfriend was coming from Tennessee to visit.
After Covert had finished doing her client's nails, she saw the alligator in a pond near the house, and was apparently "fascinated".
Police reports detail that Covert began taking pictures of the reptile, getting increasingly closer to it until she was "waist deep" in the pond.
Her client says she warned the beautician multiple times to move away from the alligator, yelling a warning that she'd seen the alligator grab a deer from the same spot "the other day".
"I don't look like a deer," Covert allegedly replied.
She then moved to "stroke" the gator.
Immediately it grabbed her left leg in its jaws.
Covert's client and a neighbour who'd come to help after hearing the commotion, managed to help her briefly escape after clinging to a rope thrown by the pair, but the alligator seized her leg again and dragged her into the water.
Covert was heard to say "I guess I won't do that again," as she was pulled into the pond.
The gator then performed its deadly 'death roll', a killing technique that sees it rotate in the water at high speed to drown prey and tear it apart.
Although police officers and firefighters arrived on the scene, it was too late.
After about 10 to 15 minutes, Covert's body could be seen to surface but the alligator then dragged her back under before reappearing moments later.
At this point, the alligator was shot in the head by a police officer and subsequently released Covert's body, which was brought ashore but she was declared deceased.
Police then shot the alligator four more times before killing it. Its remains were sent to the South Carolina Department of Natural Resources.
An autopsy later confirmed the beautician had drowned.
Although her body was intact, she had severe leg wounds.
Covert is only the third person to die from an alligator attack in recorded state history.
In May 1 Kiawah Island incident in which victim was pulled into pond by alligator, coroner has ruled death as accid… https://t.co/7EQ8zwuWLy

— Charleston County Sheriff's Office (@Charleston County Sheriff's Office) 1588696006
"This case is an unfortunate tragedy," said the Charleston County Sheriff's office in a tweet.
"We urge citizens to be alert and cautious around wildlife. Enjoy the outdoors safely and responsibly".