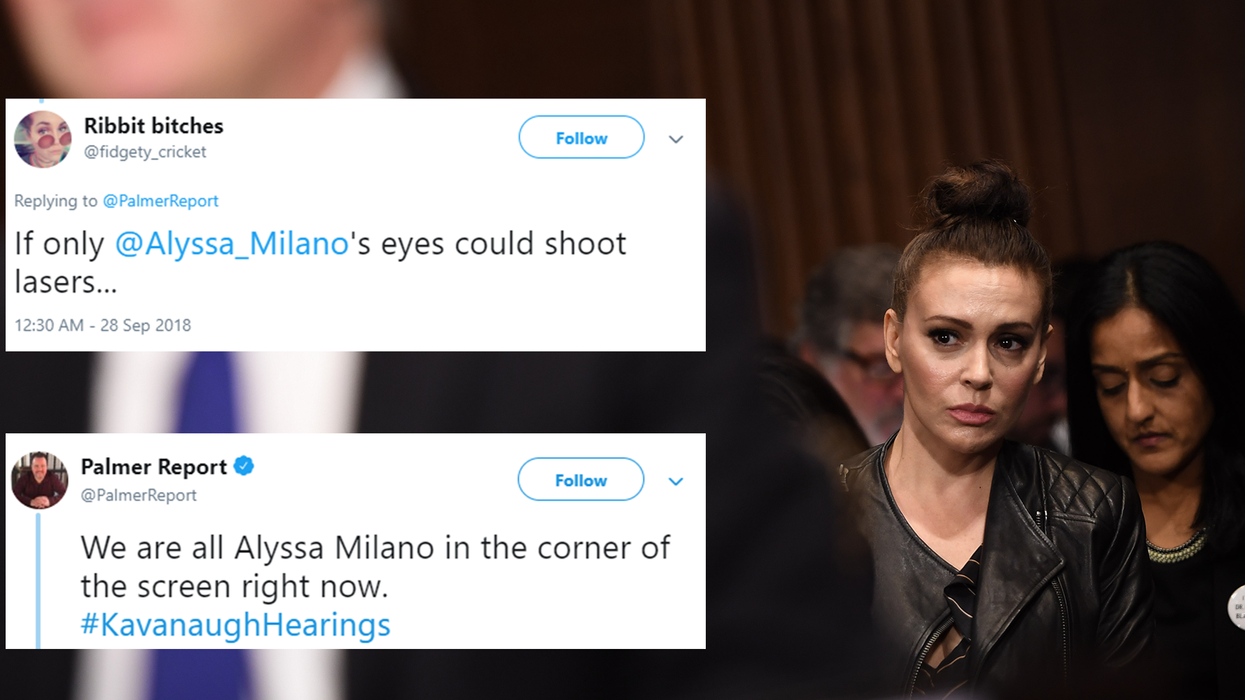 Pool / Getty Images
Actress, activist, and leading light in the #MeToo movement Alyssa Milano was present at the Brett Kavanaugh hearing, and there was no doubt about her thoughts on the matter.
The actress was seated behind Kavanaugh as he gave his testimony to the US Senate at Capitol Hill, and could be seen staring absolute daggers at him while he delivered his opening statement to the house.
Kavanaugh, a US Supreme Court Judge nominee, was defending himself against allegations of sexual assault made by Dr Christine Blasey Ford, who alleges that him and a friend assaulted her in a bedroom while they were at high school in 1982. Kavanaugh denies the allegations.
Earlier on Thursday, the actress had tweeted a photograph of the hearing alongside a message in support of Blasey Ford.
The tweet read:
I believe Dr. Christine Blasey Ford.
Milano also expressed how she thought that if it had been a woman testifying:
People would call her unhinged or say she had a melt down.
Now, her icy stare during the hearing hasn't gone unnoticed.
Many people took to Twitter to express their support for the actress, as well as applauding her 'eye daggers'.
In October 2017, Milano added her voice to the #MeToo movement with a simple tweet, saying that she, too, had been the victim of a sexual assault.
Just five days ago, she also came out in support of the #WhyIDidntReport movement, which was inspired by the Kavanaugh hearing, to detail why she didn't report her sexual assault to the police 30 years ago, in an essay for Vox.
In it she wrote:
It took me years after my assault to voice the experience to my closest friends. 

It took me three decades to tell my parents that the assault had even happened. 

I never filed a police report. I never told officials. 

I never tried to find justice for my pain because justice was never an option.
She continued:
For me, speaking up meant reliving one of the worst moments of my life. 

It meant recognising my attacker's existence when I wanted nothing more than to forget that he was allowed to walk on this earth at all. 

This is what every survivor goes through. 

Telling our stories means being vulnerable to public attacks and ridicule when our only "crime" was to be assaulted in the first place.
HT Mashable