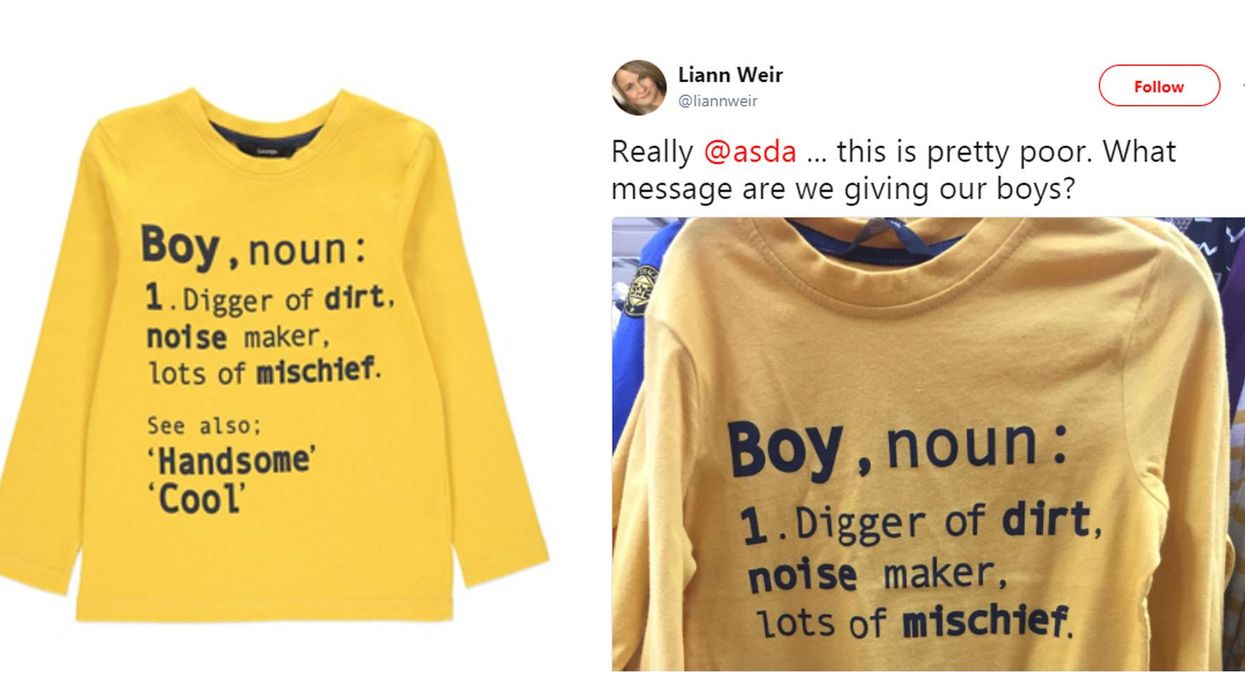 Asda/Twitter/Screengrab
A mother has criticised Asda for a "sexist" t-shirt, which describes boys as "lots of mischief" and "noise makers".
The t-shirt, yellow, riffed off a dictionary definition on gendered lines:
Boy, noun: 1. Digger of dirt, noise maker, lots of mischief. See also: 'handsome', 'cool'
An account in the name of Liann Weir tweeted, accompanying a photo of the jumper in-store:
Really Asda... this is pretty poor. What message are we giving our boys?
When criticised for the tweet, the account replied:
Absolutely not - but we are raising a generation of boys (and girls) who think they should be/think or feel a certain way because of the messages they receive in ways like this.

When they don't/can't conform to stereotypes like this their mental health can suffer.
Her tweets have since been made protected.
The T-shirt is currently available online from £2.50.
An Asda spokesperson said in a statement:
Our aim is to make clothes people love, never to offend.
The news comes a few days after Tesco was accused of gendered safety signage on shopping trolleys, which depicted women with children pushing the shopping around.
A Tesco spokesperson told indy100:
Everyone's welcome at Tesco, which is why we've been changing the icons on our trolleys to use a new, gender-neutral design.

The new design is already on over 20,000 trolleys and will feature on all new trolleys in the future.