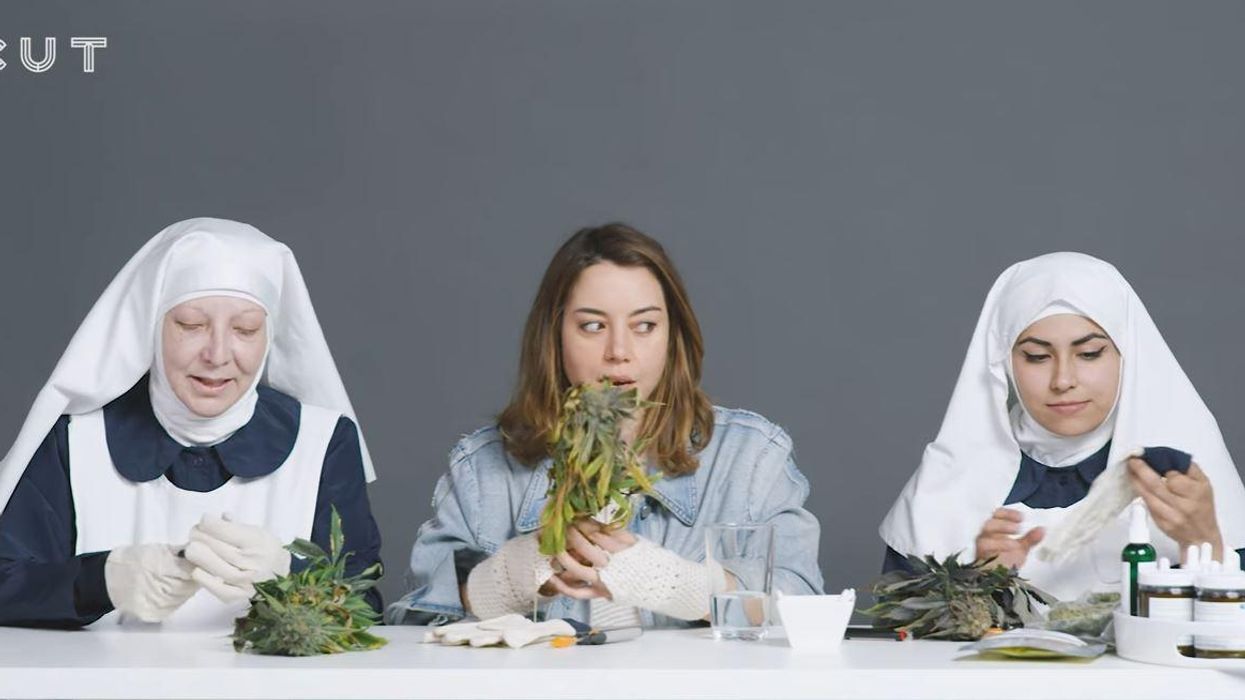 Cut.com / YouTube
Aubrey Plaza, star of Parks and Rec and Legion, has appeared in a video smoking weed with some nuns in a new Cut.com YouTube video.
She was promoting her new comedy The Little Hours, in which (funnily enough) she plays a nun.
The nuns aren't Catholic nuns however, they're from the "Sisters of the Valley," a group that grow their own weed in California (religious nuns might be a bit more reluctant to spark up on camera, but you never know).
In the video, one of the nuns, Sister Kate says the reason she grows weed is to "support themselves" and "to create honourable spiritual jobs for women".
The other nun, Sister Evie, told Aubrey the group stands for "chastity, ecology, activism and service".
In the five minute clip, the nuns shared some of their "private medical stash" called "Purple Cream" with the actress, a product that's used to treat anxiety.
Aubrey interviews the nuns throughout the video, as they tell her:
We believe cannabis oil was the other holy oil of the bible.

Our position is, if Jesus lived, he probably smoked weed.
The actress also had some confessions including:
One time I hid a bunch of weed in my saxophone and I think my mom found it.
Sister Kate also tells Aubrey that she enjoyed her new movie, in which she plays a not-so-conventional nun:
It's not the raunchiest.

You haven't watched any nun porn movies.
See the full clip here.