Big Issue North
Big Issue North, an independent magazine sold by those who are homeless or with little other means of making an income, had a good week.
The 13-19 March edition sold out three times in just over a week.
The reason?
Felix was on the front cover.
The cat.
The @bigissuenorth has run out of copies after @FelixhuddsCat appeared on its front cover. Next @BBCLeeds… https://t.co/7Bi1OgAGmx

— BBC Radio Leeds (@BBC Radio Leeds) 1490597414
Felix - who was thought by station staff to be a boy, before a trip to the vet confirmed otherwise – has been a resident cat at Huddersfield station in West Yorkshire since 2011.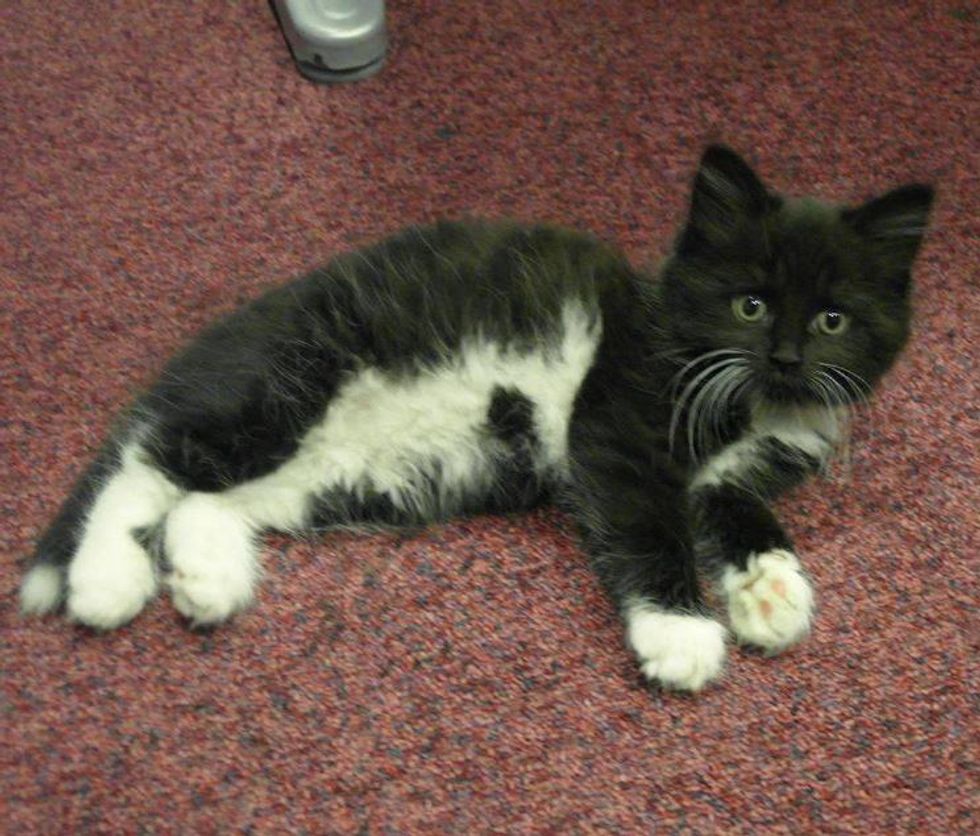 Picture: FelixHuddersfieldStationCat/Facebook/Felix as a kitten
Since then, her career has ballooned: she's been given a hi-vis vest and made 'Senior Pest Controller'.
Speaking to indy100, a Transpennine Express spokesperson said that a year ago, nobody thought she'd get to be so global.
She released a calendar for Christmas, which raised £15,000 for the local Samaritans charity, and her new book, 'Felix the Railway Cat' raised over £25,000 for Prostate cancer UK.
Her appearance on the Big Issue North cover was to promote it.
Picture: FelixHuddersfieldStationCat/Facebook
Approximately 250 people sell Big Issue North each week.
Kevin Gopal, Editor, Big Issue North told indy100:
We printed 12,350 magazines, ready for vendors [self-employed, vulnerable adults from all walks of life] to buy on the Monday for £1.25 and sell on the street for £2.50, and by Saturday morning, our vendors had bought them all. On a Monday morning, when the new magazine comes out, vendors are able to return up to 10 old magazines to us, in exchange for half as many copies of the new magazine. So inevitably, we do get some returned to us and these, along with a handful of office copies, have gone on our online shop and are selling fast.
So far, 12,100 magazines have been sold on the streets, and a further 251 (and counting) returns online.
Felix receives messages from people all over the world – Japan, Bulgaria and Indonesia.
Literally every day there are messages to the station staff about her; [she gets them] to her twitter account and on Facebook. She even receives letters!
Picture: CatsDog Photography
The spokesperson goes on to say that all the money raised as a result of Felix's ventures go to charity, they'd "never use any of the money for profit".
Felix's newly acquired "international celebrity" status has been met very positively, and they don't know what the future holds for Felix.
However, they say
It's such an amazingly positive thing for the station.
And for Felix!
The front cover is available for purchase from the Big Issue North website.