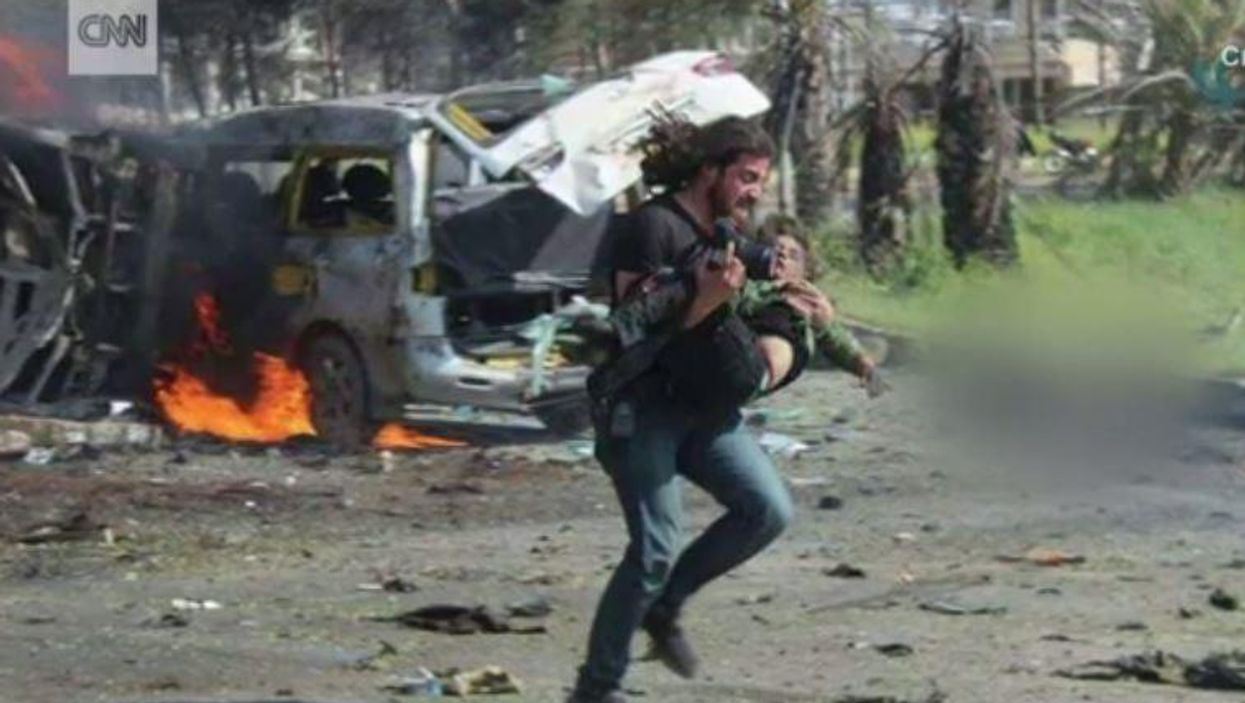 CNN/YouTube screengrab
Being a photographer in a war zone can be an ethical nightmare.
But standing at the side and taking photos of conflict, injury and death is regularly justified by the attention the resulting images spark and awareness they raise.
Last week, Abd Alkader Habak was in Syria when a bomb hit a convoy of buses carrying evacuees from nearby villages. It killed 126 people, including 68 children.
Habak briefly lost consciousness during the blast, but when he came to he put his camera down and helped. He ran towards a young boy who was seriously injured, and carried him to a nearby ambulance.
He told CNN:
I was overcome with emotion. What I and my colleagues witnessed is indescribable.
Speaking about the moments after the blast, Habak went on to say:
I searched for my camera and found it there on the ground, and saw a child lying there.

He was bleeding. So I ran towards him.

I looked at him and he ws moving his hand.

I looked at his face and I could see he was breathing.

So I picked him up and started to run towards the ambulance.
Habak then put the child in an ambulance, and does not yet know their identity or if they survived.
Fellow journalists and witnesses praised Habak's actions.
Free Syrian journalist Abd Alkader Habak rescuing a child from Fua. No words. #Syria #syrianchildren #journalist https://t.co/EgZJU83dpM

— Aisyah Gozali (@Aisyah Gozali) 1492304527
Syrian photographer Abd Alkader Habak @AbdHabak, in the attack bombing near Aleppo .. 😔 RESPECT! #SyriaHoax #Idlib… https://t.co/ICmhu4SUbI

— The Godfather  (@The Godfather ) 1492421422
See the full clip from CNN here:
Warning - video contains distressing images
HT CNN