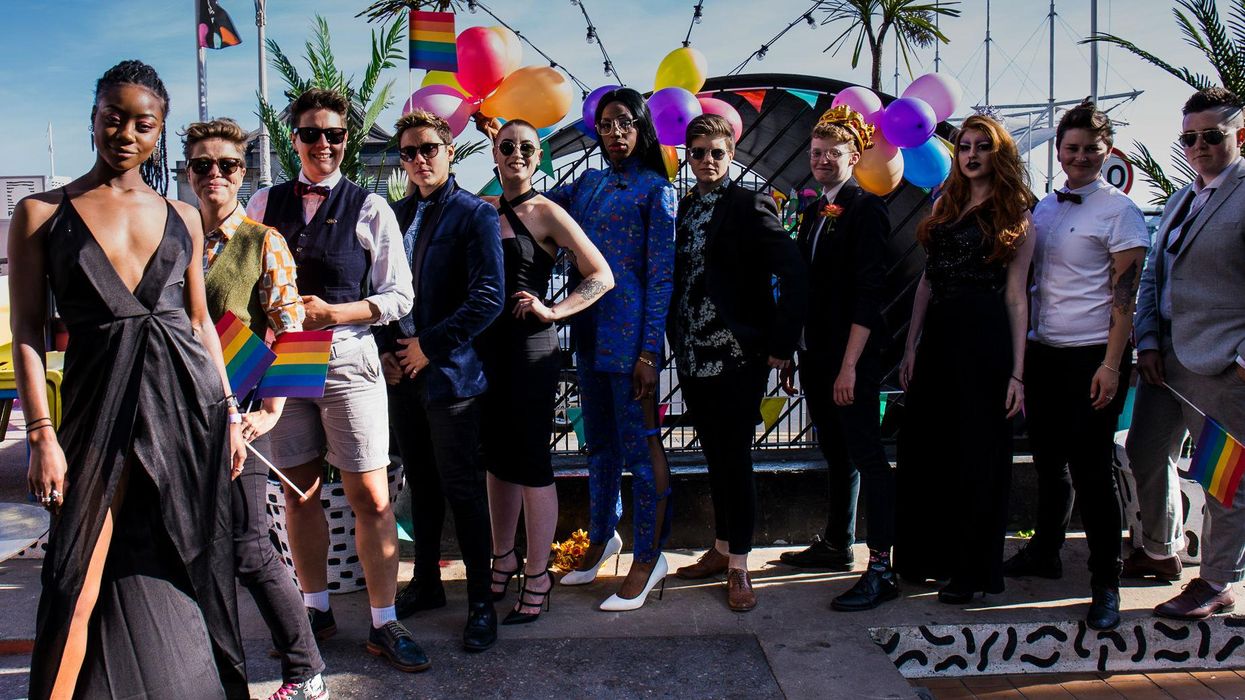 Teenagers worldwide spend their adolescence dreaming of prom night.
From the extravagant limousines and cheesy DJs to the oversized dresses and awkward romance, there's nothing about the inaugural coming-of-age ceremony that's not to love.
But not everyone is lucky enough to experience prom without fear of discrimination.
Late last year, Stonewall released its annual School Report, and the harrowing document brimmed with statistics stating that almost half of all LGBT+ pupils face bullying – often intense or violent bullying – because of their sexuality.
Of all the transgender pupils surveyed, more than two in five had attempted to take their own life. Needless to say, for these marginalised communities, the idea of prom night is more intrinsically linked to fear and anxiety than it is a Lambrini-fuelled snog with their teenage sweetheart.
Luckily, Vicki Cook sought to remedy this fact by coining the concept of a Queer Prom back in 2014. This idea came off the back of a series of discussions with her LGBT+ friends, all of whom recalled just how awful their teenage experiences had been. Instead of lamenting this unfortunate truth, Cook teamed up with her partner Jules to create a solution.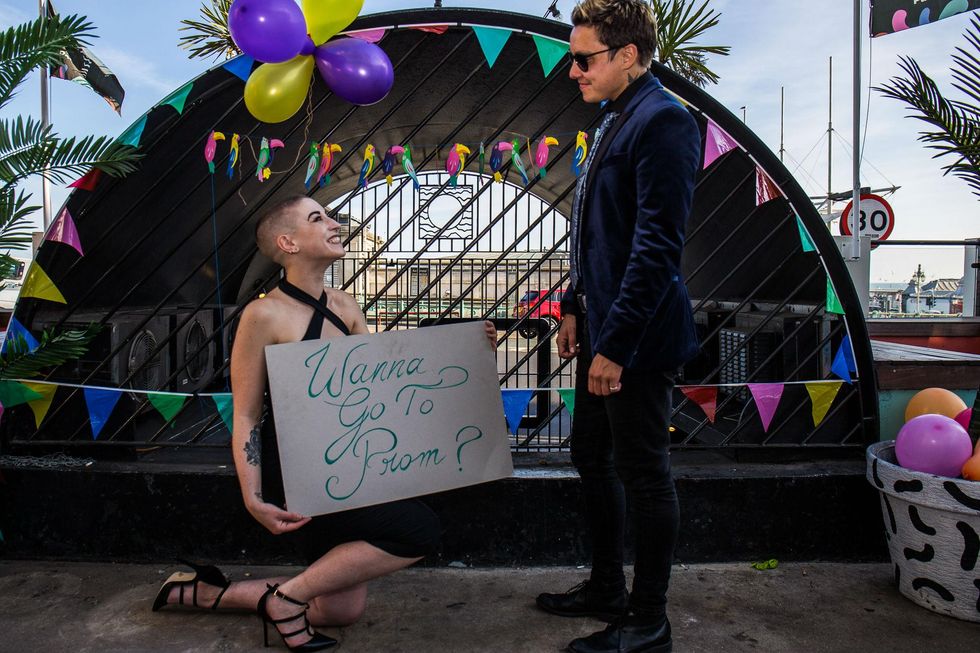 Photo: Kaleido Shoots / Courtesy of Queer Prom
The event has consistently grown in scale since its inception – this Friday, more than 500 people will make their pilgrimage to Brighton for a night filled with surprises, special guests and, of course, more sparkles and banners than you can shake a stick at.
Funds will be raised and donated to a series of charities including Mermaids, which supports trans and gender non-conforming youth and their families, local grant-giving organisation The Rainbow Fund and the LGBTQ Disability Project in Brighton. Other buckets will be shaken on the night to ensure as much help is given as possible.
"Queer Prom is more than just an event to us," the organisers explained to indy100.
[Queer Prom] is an avenue to support the issues that need addressing in our community, such as a lack of funding and support.

So not only did we want to rewrite past negative experiences of prom, we wanted to invest in people's futures – that's why we chose to raise money for these wonderful charities.
Sadly, these funds are still desperately needed.
Various statistics indicate that the UK's LGBT+ is still disproportionately susceptible to mental health issues, impoverishment and homelessness; other figures show that the number of hate crimes perpetrated each year has steadily risen over the last few years.
Even the LGBT+ community itself is fragmented, with racism and transphobia especially rife within the community; in fact, this transphobia recently made headlines worldwide when a large but vocal minority laid in front of London's annual Pride march.
Clearly frustrated at the intolerance still lingering within the supposedly united community, Cook explained:
I think most people are aware of the anti-trans lesbians who recently hijacked the front of the London pride parade. They shouted horrendous statements about trans women and handed out leaflets and flyers disputing transgender rights.

It is absolutely devastating to witness a rise in hatred and violence against the most vulnerable among us, even by members of our community.
Earlier this year, the debate – and the slurs affiliated with it – went mainstream. Despite the concerns by various activists, almost all of whom refused to take part, Channel 4 went ahead with its Genderquake debate.
The results were controversial and arguably counterproductive; trans panellists Caitlyn Jenner and Munroe Bergdorf had transphobic slurs hurled at them from the crowd, and a Green Party politician was later suspended after being filmed heckling the women live on-air.
"Many media outlets in the UK are giving these individuals a platform to be heard, and allowing the transgender debate to continue," says Cook.
Sadly, the 'debate' has even escalated to such a point that the government's recent consultation on the Gender Recognition Act was forced to open with a disclaimer: "Trans women are women."
Cook continues:
Would we ever debate homosexuality with a group of homophobes on television?

Somehow transphobia still seems to be an 'expectable' form of prejudice dressed up as intellectual conversations. All the while we're ignoring the high rate of mental health issues among the transgender and [not asking] whether they are linked to these attacks.

Jules can speak from experience to assure you that they do.
Luckily, the Genderquake season also spawned a reality show which was comparatively less damaging. The premise was simple: fill a rural house with different people of different gender identities and sexual orientations. See what happens.
The results were ironically more illuminating than the staged 'debate' and also yielded a series of ambassadors for the Queer Prom – Campbell, Howie, Charlie and Brooke will all be there on Friday to celebrate either as allies or members of the LGBT+ community.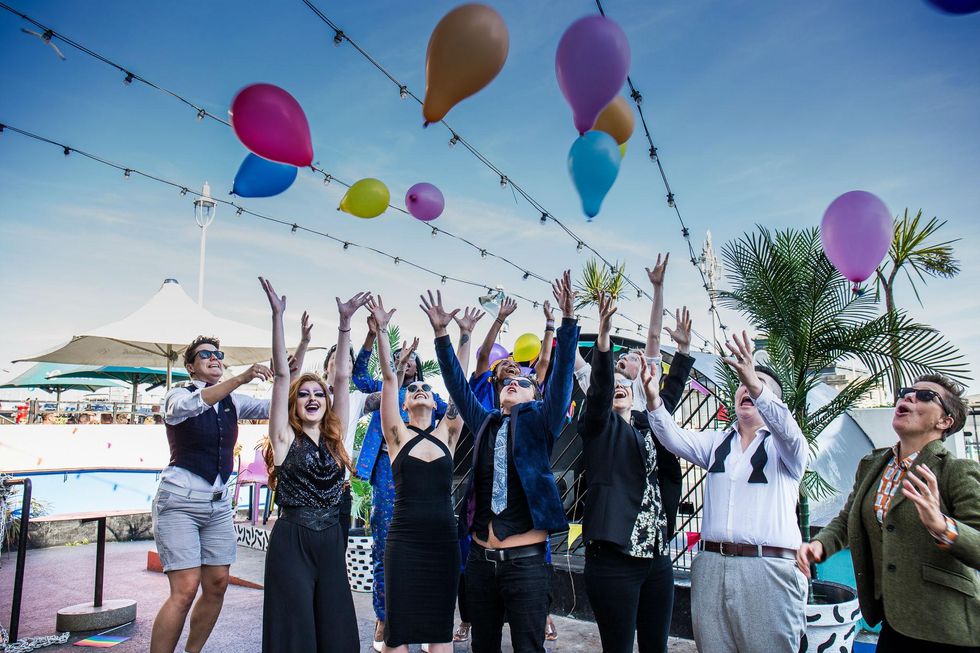 Photo: Kaleido Shoots / Courtesy of Queer Prom
Ultimately, their presence will contribute to the uplifting spirit of the event.
We hope that people will have the prom of a lifetime and feel supported, loved and part of a community – we will be providing all the entertainment you could ever want!
A full line-up can be seen online, but the hosts promise a night filled with drag artists, cabaret and even pole-dancing, as well as a series of well-known performers including Lydia L'Scabies, Benjamin Butch and Romeo De La Cruz. "It's going to be unmissable," enthuses Cook, who states the necessity of creating nights like these for those who need them.
After all, narratives around the LGBT+ community rarely come from within it. Here, Cook quotes journalist and Paris Lees, who recently explained her frustrations as a trans woman in the public eye on Question Time:
The conversation is constantly being had over our heads.
In a world where trans people are consistently talked over by journalists – some well-intentioned, some not so well-intentioned – it's important to create spaces for the LGBT+ community to come together in solidarity and party through the prejudice:
In an ideal world, diversity and equality would be embraced and celebrated, and people would be free to express themselves and be who they are.

Queer Prom is simply about giving the community an event they always deserved to experience – except better!
Tickets can be purchased here.