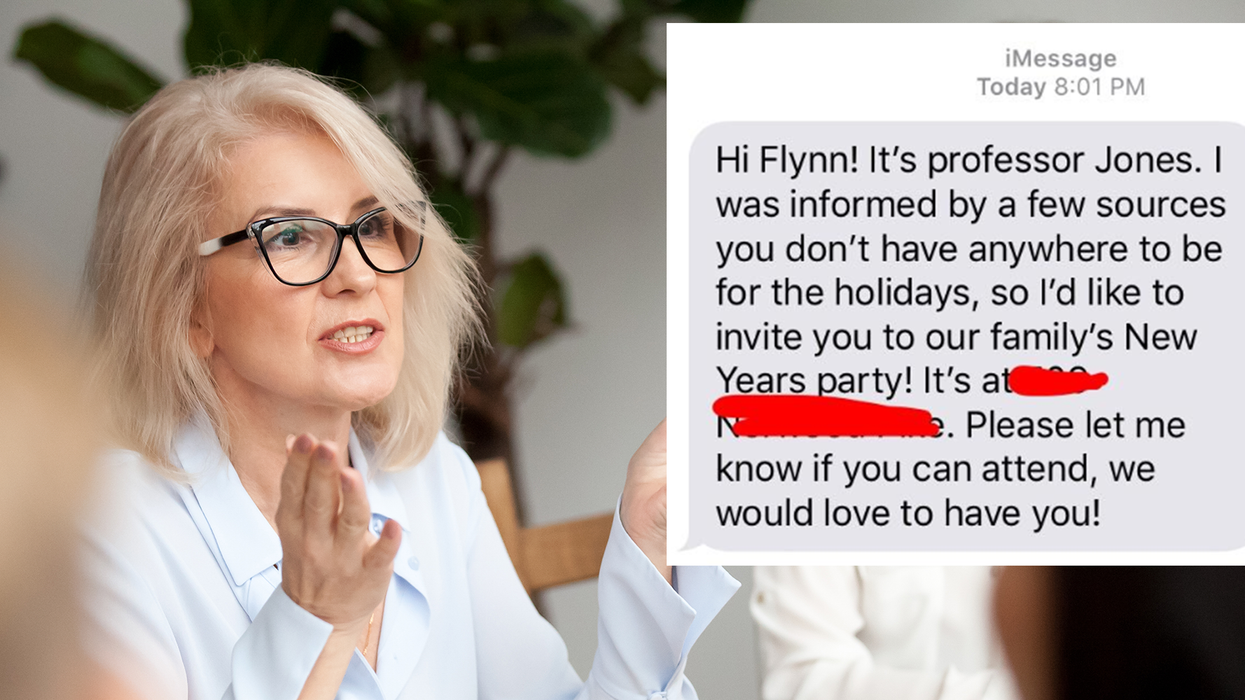 iStock Getty / Reddit
Christmas, in the western world, is a time to spend the holidays with your loved ones, over indulge on mince pies, and essentially take a break before diving into those New Year's resolutions.
However, despite the fact it's supposed to be a time of joy, for many, it can be one of the most difficult times of the year - especially those suffering from mental health issues, or those with difficult relationships with their family.
That's exactly what it's like for this teen, who came out as gay to his 'religious' parents, and hasn't 'been allowed home since'.
But fortunately, not everyone is a Christmas Grinch, as well as a complete homophobe. When one of his professors discovered what had happened, they did something incredibly heartwarming.
Taking to Reddit, Flynn shared what happened in a now viral post:
Essentially, one of his professors stepped up to the mark. In a message to the student, they wrote:
Hi Flynn! It's professor Jones. I was informed by a few sources you don't have anywhere to be for the holidays, so I'd like to invite you to our family's New Years party! It's at _____. Please let me know if you can attend, we would love to have you!
Many people on Reddit have shared their appreciation and love for the gesture, as well as offering their support to others who may be suffering at this time in the year.
reddit_lurker17 wrote:
That's very sweet of your professor! It's always sad when acquaintances are more compassionate than the family members who are supposed to love you and give you support.
cschmidt0525 added that they're heartbroken that some children aren't offered the love they deserve from their parents:
As a parent, I'm really sorry that you can't have the basic love and support any child deserves to have. It's great that you have someone in your life like this professor. Wishing you all the best and I hope you have a blast this New Years!
A third, eryncole47, summed it up:
A small glimmer of hope. I love this. I hope you have a great time at the party!!!!!!!!
Happy New Year, Flynn! We hope you enjoy the party.
HT Someecards
More: Homophobic people have a higher chance of being gay, according to science
More: When this teacher received a homophobic text message from a parent he responded in the most incredible way