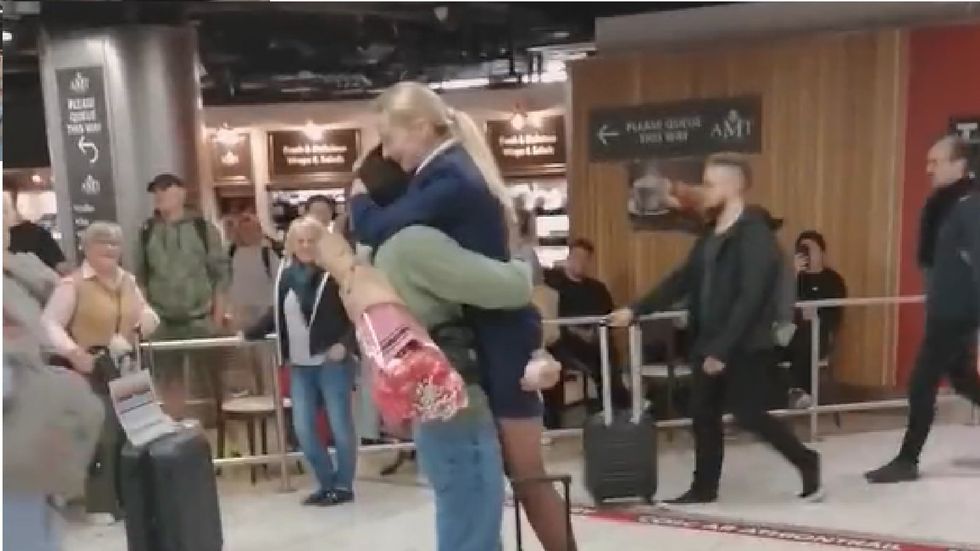 A Ryanair flight attendant was proposed to by her boyfriend in Dublin Airport in front of a cheering crowd.
A video posted to Twitter by bystander Vincent Hughes shows a man lifting his now-fiancee into the air as she holds a bouquet of pink flowers.
The happy couple kiss and hug as a man plays on a nearby piano and the surrounding crowd claps and cheers.
Mr Hughes, a radio presenter and producer based in Dublin, told the PA news agency he had been in Terminal 1 of Dublin Airport waiting for his son, who was coming in from Spain, when the proposal happened.
He said: "I had been listening to a guy playing the piano.
"His friend was holding a big bunch of flowers and was nervously watching the board for flight arrivals.
"Then the airport police came and helped him to move the piano nearer to the arrival door and then the wait was on.
"There was quite an audience when she finally came through the door and there were lots of 'oohs' and 'ahhs' and tears when she said yes. Brilliant."
He captioned the footage: "There is still romance in Ireland despite all that is going on. Dublin Airport tonight. What a lovely thing to do."
Dublin Airport tweeted about the proposal, saying: "Love was well and truly in the air in Dublin Airport last night as this Ryanair air hostess was surprised in T1 arrivals by her boyfriend… (much to the excitement of the others waiting!).
"Congratulations to the very happy couple."