Picture: Aaron Gillies
If you're travelling back home for the holidays today, odds are you're going to get very angry very quickly.
It's Frantic Friday after all, the peak day for the great getaway on planes, trains and automobiles.
So if you're sat on a platform clutching a cold coffee, here's a little something to amuse you and your fellow travellers.
Last year Aaron Gillies, aka TechnicallyRon from Twitter, designed the following poster based on words and phrases used in Daily Mail articles.
You know this will be good.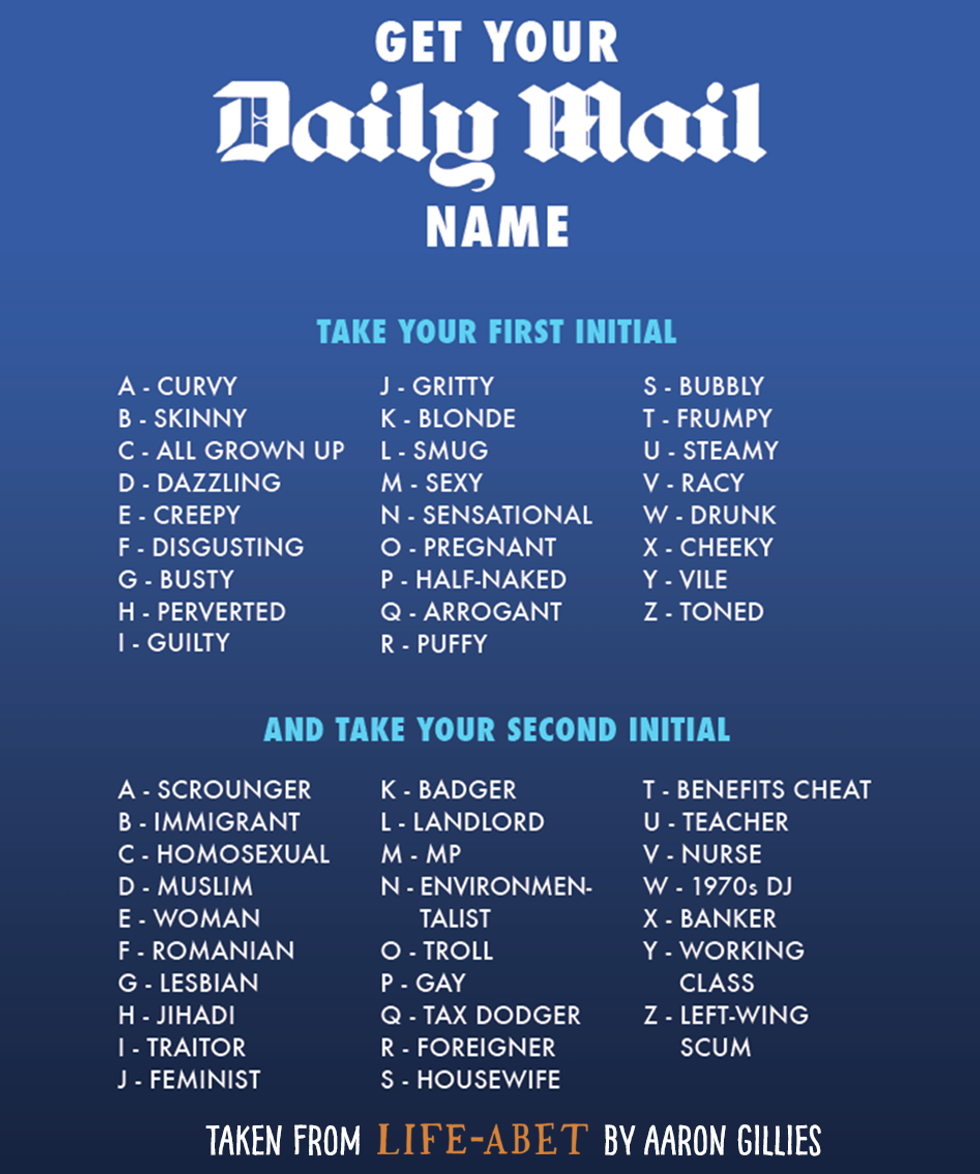 Picture: Aaron Gillies
You just use the first letter of your first name, and the first initial of your second name to generate your very own Daily Mail moniker.
Here are some famous people reimagined using the above, fun game:
(We're not saying it's accurate)
Theresa May becomes Frumpy MP
Donald Trump becomes Dazzling Benefits Cheater
Jacob Reese-Mog becomes Gritty Puffy MP
Boris Johnson becomes Skinny Feminist
Jack Nicholson becomes Gritty Environmentalist
Will Smith becomes Drunk Housewife
Denzel Washington becomes Dazzling 1970s DJ
Dwayne Johnson becomes Dazzling Feminist
LeBron James becomes Smug Feminist
Taylor Swift – Frumpy Housewife
As for the indy100 team…
Narjas Zatat – Sensational Left-Wing Scum
Joe Vesey-Byrne – Gritty nurse
Evan Bartlett – Creepy Immigrant
Jessica Brown – Gritty Immigrant
Josh Withey – Gritty 1970s DJ
Go forth, and Daily Mail yourself.