Composite / Getty Images / YouTube
Just when you thought things couldn't get any weirder, it turns out there's a Trump gargoyle in existence.
His stoney doppelgänger appears in the unlikeliest of places, Southwell Minster Cathedral, Nottinghamshire.
Trump's resemblance to the 14th-century grotesque began to do the Twitter rounds last August, when Samira Ahmed first posted this picture...
Proof of #endofdays? Donald Trump was carved as a gargoyle in Southwell Minster 700 years ago... https://t.co/jQq0ElYvjZ

— Samira Ahmed (@Samira Ahmed) 1471861511
According to local newspaper the Newark Advertiser,Southwell Minster canon Nigel Coates commented:
On the one hand he (Trump) might be honoured to be carved in 14th century Mansfield stone.

But on the other hand he is low down and not on the level of Kings or Queens or even merchants.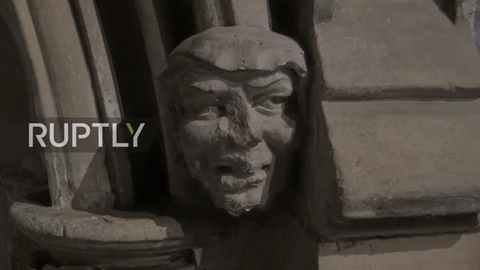 Picture: istock / BrianAJackson