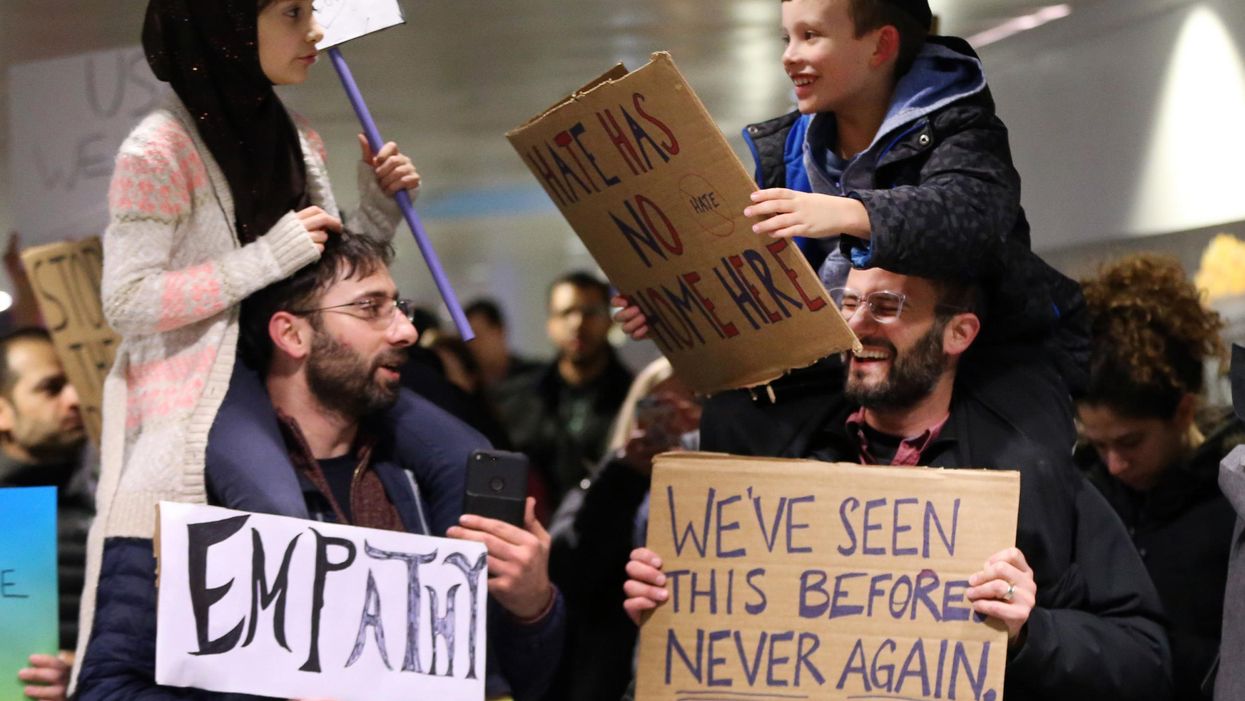 PA Images / Zuma Press / Nuccio Dinuzzo
Trump's latest executive order, known as the 'Muslim ban', has provoked outrage around the world.
As well as effectively barring Syrian refugees, the order will restrict immigration and travel from seven different predominantly Muslim countries for at least 120 days, to "keep the US safe from potential jihadi terrorists".
The countries targeted are ​Iran, Iraq, ​Libya, Somalia, Sudan, Syria and Yemen.
The ideological heart of protests around the world in response to the ban, is evident in this picture:
Photographer for the Chicago Tribune, Nuccio DiNuzzo, captured this moment between two fathers with their children at O'Hare International Airport.
He captioned it: "Untitled".
The picture quickly went viral on Twitter, and was also posted on Reddit with the caption "Empathy (noun): the ability to understand and share the feelings of another".
According to the Huffington Post, the photo shows Rabbi Jordan Bendat Appell (Deerfield, Illinois) and Muslim Fatih Yildrim (Schaumberg, Chicago) with their two children (9 and 7).
The photographer is quoted in the Chicago Tribune as saying: "I thought, 'This is too good to be true. I've got a Muslim kid on one side, I've got a Jewish boy and his dad — all cute kids."
I knew that this was an important picture to make [...] This is what it's all about. It's about human beings being together in harmony.
Rabbi Bendat-Appell, whose son (pictured) is the grandson of Holocaust survivors, explained that the families met at the protest that day.
According to the Chicago Tribune, Yildrim had come with his wife and four children to bring cookies to the lawyers offering pro bono aid to detained immigrants.
Rabbi Bendat-Appell told the Huffington Post that when the photo was taken, Yildrim was asking him about a kosher steakhouse.
What was wonderful was that it was a very human interaction ― not a Jew and Muslim, but two human beings (who look enough alike to be brothers!), standing up for what is right.
The two men made plans to have a Shabbat dinner together with their families next week - Rabbi Bendat-Appell says Yildrim will bring baklava.
"We feel that as Jews it is our obligation to stand up for the oppressed; our history of persecution comes to teach us that we must not be silent in the face of injustice," he explained.
I hope that when people see this photo ― and I believe Fatih is with me on this ― that people see that we can come together, that we are all human beings and even children can understand that we have a simple choice to make as human beings.

We can choose to be loving and kind even if we have reason to fear and mistrust.
The reaction online was potent:
Rabbi Bendat-Appell also said:
We are happy if this photograph can bring a bit more love and light into this world.