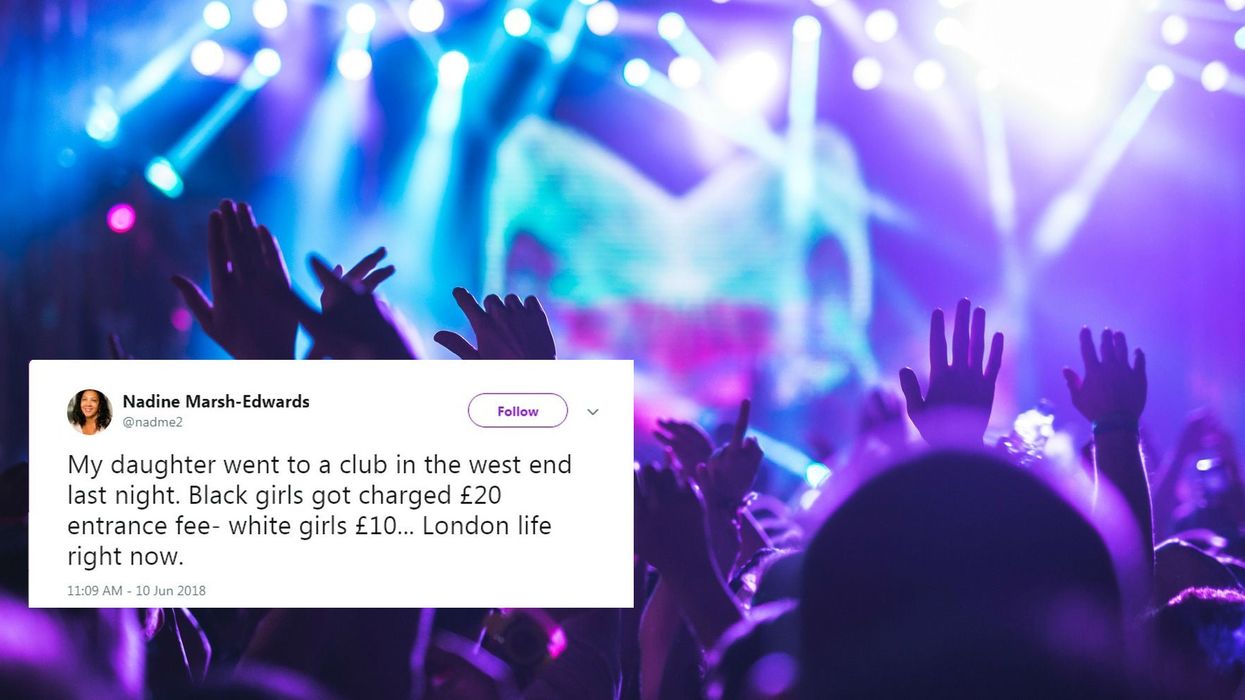 iSTOCK
People of colour have been sharing their experiences of racism on the London club scene after a west London club was accused of charging black women more than white women to enter the premises.
Nadine Marsh-Edwards claimed on Twitter that Drama Park Lane charged her daughter £20 to enter the club on 9 June, double the amount that white women were charged on the same night.
Further down the thread, she suggested that the nightclub "need to be reminded it's London 2018, not Mississippi 1962".
The tweet went viral on Twitter, causing local councillor Pancho Lewis to step in.
He later told indy100:
We're looking into this and are going to make sure the council and others get to the bottom of this. This kind of behaviour is a total disgrace - absolutely no place in the West End.

We'll be calling on the council to temporarily suspend their license until they can prove this isn't happening.
London's Night Tsar Amy Lamé also intervened to send Marsh-Edwards her support. Since 2016 Lamé has been working to keep the capital safe, vibrant and diverse at night.
After the tweet went viral, Drama Park Lane responded with a statement, tellingindy100:
Thank you for alerting us to this serious allegation, which we are urgently investigating. We operate a non-discriminatory policy and we place a strong emphasis on diversity and inclusion.

We do not tolerate any form of discrimination against any individual or group. The standard door charge at Drama Park Lane is £20. Promotions are offered for various reasons, but never on the grounds of discrimination of race, colour or national origin.
Sadly, this is not the first alleged example of clubs treating customers differently based on their skin colour. DSTRKT were forced to deny allegations of turning away customers for being "overweight" or "too dark" in 2015.
With regards to Drama Park Lane, historic online reviews from customers suggest that this isn't the first time such allegations have been made, though Drama thanked indy100 for "alerting" them to these allegations.
In the worst cases, customers even claim to have been turned away because of their skin colour.
A one star review from March 2018 entitled "DO NOT COME HERE" alleges "all the girls that they were letting in were white, the people that were turfed away were either black or from another ethnic minority, disgusting behaviour".
Another review is simply titled "If you're black, stay away".
A review from December 2017 claims that a member of staff said to a customer that their "kind isn't welcome here" before turning them away.
More reviews can be found from nine, four and three months ago from customers alleging to have been refused entry to the club when white people were allowed to enter easily.
Responding to these allegations, Drama Park Lane said:
In regards to Trip Advisor, unfortunately the nightclub has not been actively monitoring the reviews, but plans to do so moving forward. We reject any form of discrimination, and would encourage individuals with any similar concerns to raise them directly with the nightclub so that they may be swiftly addressed.
Updating indy100 on the ongoing investigation, the nightclub described some of the action that has been taken in the days since these allegations were made public.
We have continued our investigation overnight, including a comprehensive review of CCTV footage, door receipts, and team member interviews. We have so far found no evidence to support the very serious allegations.

We have tried to contact both the guest and her mother on multiple occasions, and would welcome the opportunity to speak directly about their experience. We are also co-operating with enquiries from Westminster Council. We reaffirm our position that we do not tolerate any form of discrimination against any individual or group