Darren Cullen
A series of mock election adverts have been placed on bus stops and public transport around London.
Designs made by satirical artist Darren Cullen have been plastered around London on public transport advertising boards.
The movement is called 'Subvertising', which replaces adverts with subversive images and mock adverts.
One set of activists, known as 'Special Patrol Group' are advocates for the 'subvertising' movement.
This guerrilla campaign, weeks before the 2017 election, is using images printed for free from Darren Cullen's website toriesout.co.uk
Speaking to indy100, Cullen said that hundreds of the tube and bus stop posters had been put up over the bank holiday weekend. He added:
Since receiving these photos I've heard people are taking this outside London and printing their own posters around the country.
He also told us about his upcoming work:
My next project is an installation at Glastonbury, (in the Shangri-La area) about corporate greenwashing, and I'm holding an exhibition at my gallery, WAR on Thursday of work by Kate McMorrine.
The bus stop posters have been spotted by the public, and have already been shared hundreds of time on social media.
Other forms of subvertising include pro-Labour party messages, such as this subtle London Underground sticker about tuition fees:
Public installations
Anti-Tory imagery, specifically that of Theresa May, has been appearing in London since she became prime minister in 2016.
This image near to the Vauxhall Tavern shows May created from newspaper headlines:
And this one on Camberwell New Road is captioned 'Resting Witch Face'.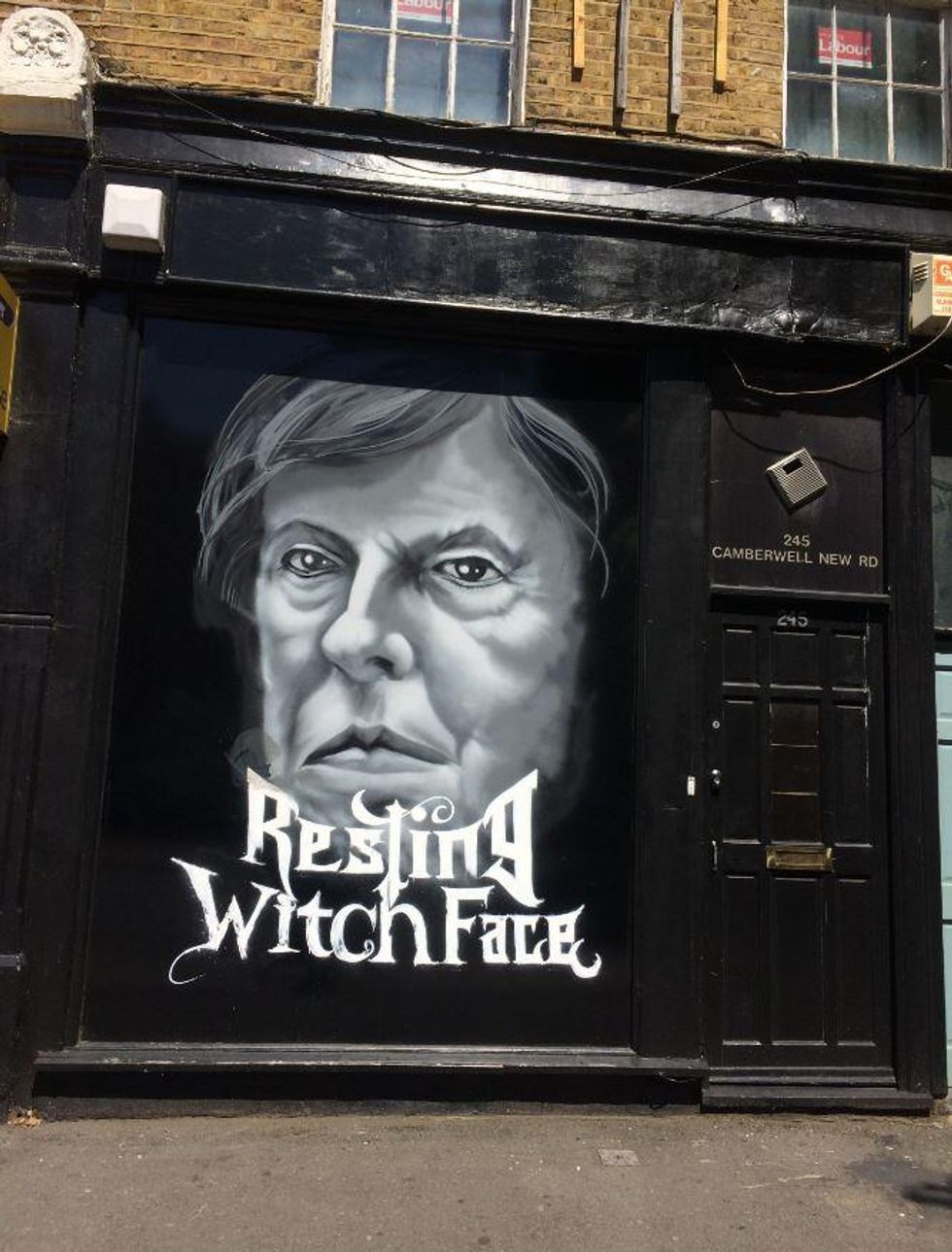 Picture: Kirsty Major
In addition to these critical works, is this unnerving collage in Hackney Wick.
The Conservative election slogan 'Strong and Stable' was mocked in early May, when these images created by the artist Jeremy Deller were also plastered around London.
The use of street billboards and posters is an odd return to old school campaigning.
While a billboard on an A Road was once the best way for a candidate to reach a large number of voters, now, social media is the battleground which allows for targeted adverts from the political parties.
According to the Electoral Commission, in the 2015 election the Conservative Party spent the most of the main parties on Facebook adverts.
While these street images can go viral online, their efficacy may not be enough to combat the social media spending behemoth that is the Conservative Party.