SpaceX via Getty Images
Elon Musk's Tesla Roadster has been in space less than a week but it continues to make waves in the astronomy community.
The car which was launched on board SpaceX's revolutionary rocket the Falcon Heavy, and features a mannequin driver dubbed "Starman". It was originally hoped that the car would travel to Mars, but it looks it will most likely drift off into deep space.
The monumental launch, which took place last Tuesday, angered sceptics like the Flat Earth Society, while the secret messages on board the vehicle have attracted plenty of interest of their own.
We have already seen footage from space beamed back by the car, which are breathtaking in their own right; but what does the car look like from here on Earth?
Via: Giphy
Astronomers from the Virtual Telescope Project in Italy have already managed to capture images of the cherry red roadster in the solar system.
Their photos were captured using a robotic unit at Tenagra Observatories in Arizona on February 8, just two days after the launch of Falcon Heavy.
You might be disappointed to learn that the images don't show a red dot floating through the night sky, but instead a quickly moving spot of light which resembles a star.
Picture: Gianluca Masi/ Virtual Telescope Project/ Michael Schwartz/ Tenagra Observatories Ltd
The trail left by the roadster can also be seen in the image below.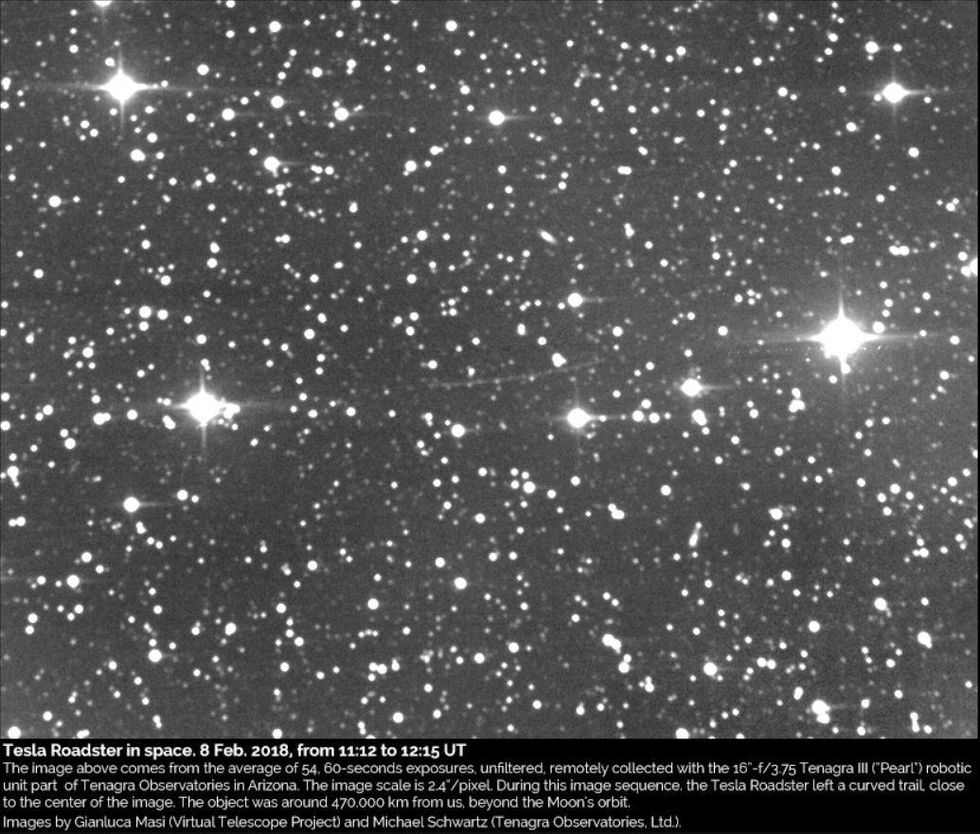 Picture: Gianluca Masi/ Virtual Telescope Project/ Michael Schwartz/ Tenagra Observatories Ltd
Despite its less than obvious appearance, the experts have admitted that it was quite easy to identify.
Writer Gianluca Masi reports in a blog post:
We immediately spotted the Tesla Roadster, quite bright, around mag. 15.5 and moving image after image across the stars.

At the time of our observations, the car was at about 470.000 km from us.

We managed to take dozen of images, and we used a group of them to show the trail of the object across the stars.

The trail is visible close to the centre of the image.
A short gif of the car's path has also been made available by the Virtual Telescope Project.
In addition, the team at the Deimos Sky Survey were also able to spot the vehicle as it passed overhead.
The car is likely to be on its journey for a long, long time but there is already doubt about its trajectory after Musk tweeted that it had overshot the orbit of Mars and was heading towards an asteroid belt.
Third burn successful. Exceeded Mars orbit and kept going to the Asteroid Belt. https://t.co/bKhRN73WHF

— Elon Musk (@Elon Musk) 1517975185
However, Space.com state that Musk's assessment might have been a little misjudged, as that data shows that the car is actually heading towards it's intended target of Mars.
Either way, we can't wait to see what happens next on Starman's epic adventure.