You may have seen these anti-voting posters on Twitter or on the streets of north London, Luton or Leicester.
They are from Islam the Right Campaign and claim voting is "shirk", or idolatrous.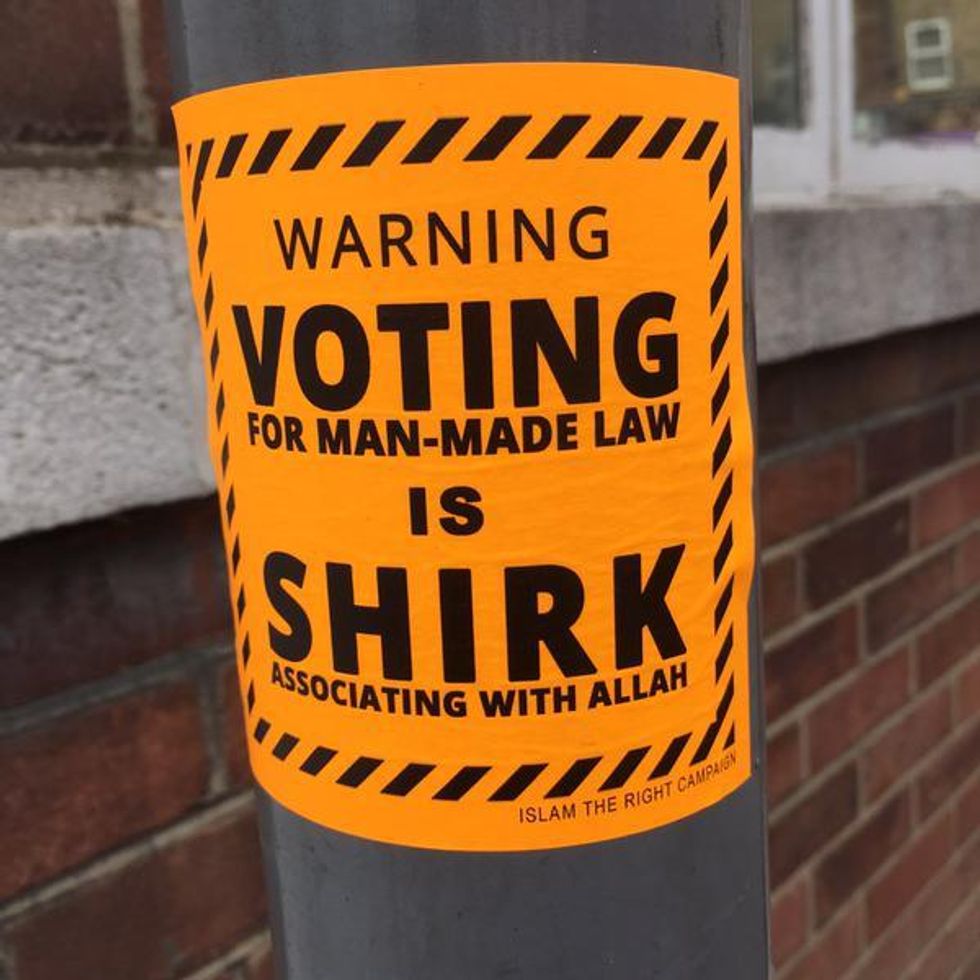 The Luton-based organisation mentioned on the posters is run by Sayful Islam, who has previously been linked with the now-banned extremist organisation Muslims Against Crusades.
Islam told i100.co.uk the campaign had printed off "thousands" of leaflets, stickers and materials for people to disseminate. "These stickers are readily available at our stalls and at our conferences."
Of his links to Muslims Against Crusades, Islam says "I did one or two of their activities but I was never part of them". While Islam said the campaign was independent of Anjem Choudary he acknowledged the hate preacher - who has recently tweeted that voting is "shirk" - had made statements supporting it.
As for what non-extremists think about it? Leicester imam Dr Ather Hussain told the BBC the posters were "laughable", adding: "The argument is shallow, baseless and it has absolutely no standing religiously or theologically in our religion." He's not the only one who thinks the posters are ridiculous.
Finally, a spokesperson for the Muslim Council of Britain told i100.co.uk the group was part of a "small band of naysayers".
On the one hand we have anti-Muslim bigots telling us that Muslims participating in politics is a threat to our democracy, while a band of misguided agitators tell us this is against Islam. Both are wrong. Come every election time the Muslim Council of Britain and scores of mosques and imams come out in large numbers urging people to vote, for the good of our country, and as a civic duty we as Muslims must fulfil.