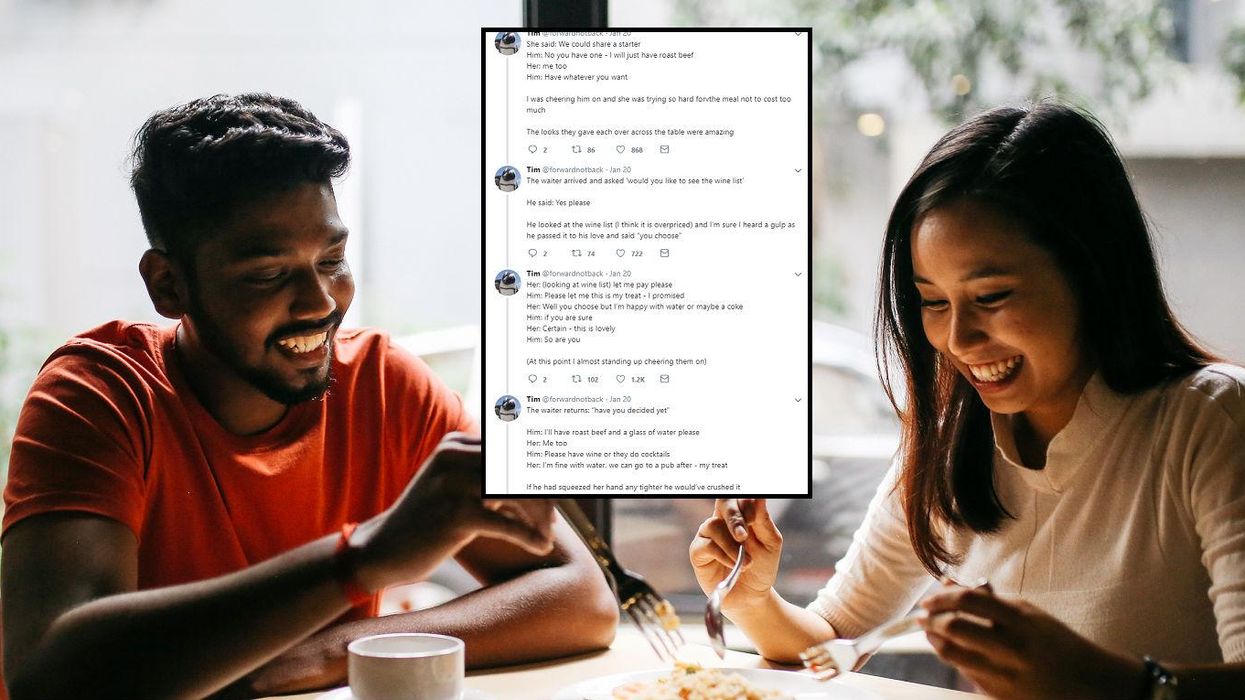 iStock and Twitter
A man called Tim went on Twitter and shared details about a date he witnessed while he was eating dinner at a restaurant.
The former Labour press officer revealed how he saw a "young couple" sitting at the table next to him in what appeared to be their first dinner date.
"He was insistent that she could have 'whatever she liked and he was paying,'" but when the menu arrived, "her smiling face turned very serious."
The woman quickly realised that the meal was quite expensive, and tried to prevent her date from getting her a starter - insisting she didn't want one.
Tim was paying more attention to the pair than he was to his own meal. "I was cheering him on and she was trying so hard for the meal not to cost too much."
And then the waiter came to the table with another minefield the loved-up pair were going to have to navigate: the wine list.
Following a bit of back and forth, the young lady eventually suggesting skipping the wine as the water was "lovely", to which the man responded, "So are you."
*Squeal.*
They went to order the roast beef dish with water, and the woman offered to treat her date to a drink at the pub after.
It was at this point Tim noticed that he wasn't the only one paying attention to the new couple - the waiter was watching them too.
And then the waiter did something very cute.
He told them the roast beef came with a "complimentary glass of house champagne".
Tim wanted to know why the waiter treated the young pair. He responded:
We've all been that young man.
More: Brexit: Jacob Rees-Mogg suggested suspending the Commons to ensure a no-deal and everyone pointed out the hypocrisy
More: Tim Farron's 'Taste of Cumbria' email to MPs didn't quite go to plan when it landed in inboxes