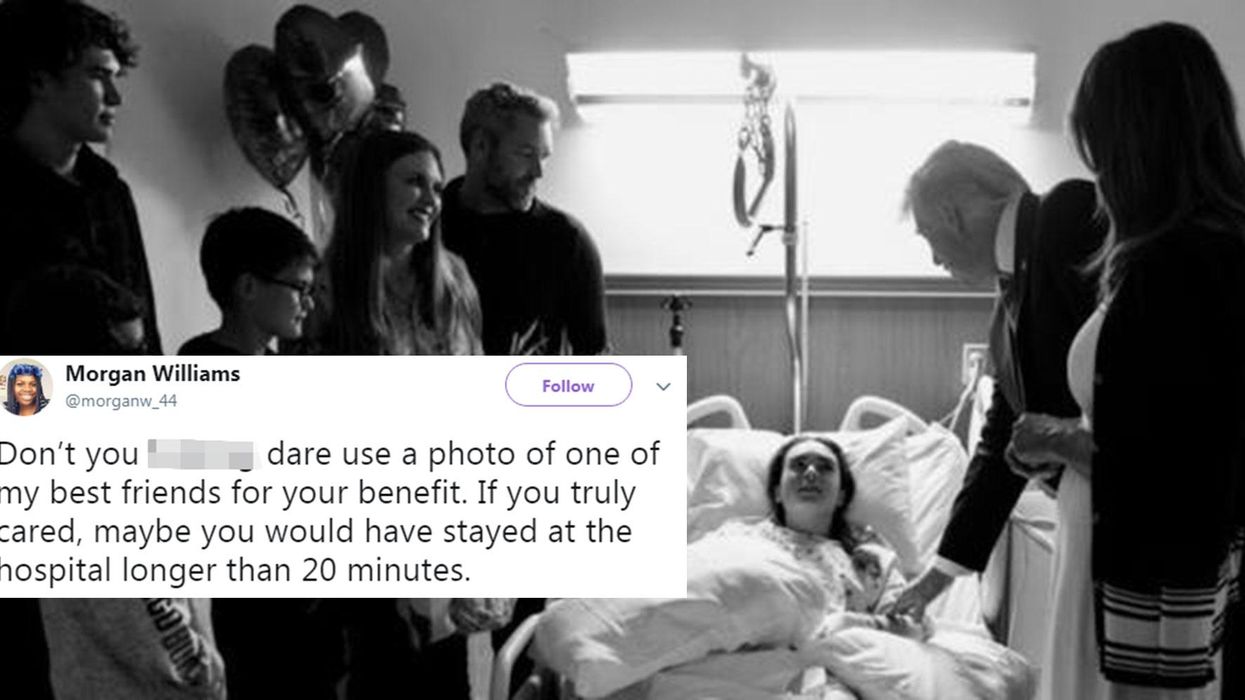 Instagram / realdonaldtrump; Twitter / @morganw_44
A survivor of the Florida high school shooting that killed 17 has told Trump not to exploit the tragedy.
In a newsletter sent out to Trump supporters, a photo was used of Trump and the First Lady visiting a Marjory Stoneman Douglas High School student and her family in hospital.
The email ended with a large, red 'contribute' button urging people to donate to the Trump re-election campaign, plus a link to 'visit our store'.
Morgan Williams, a 16-year-old friend of the survivor in the photograph, took to Twitter to share her outrage that the tragedy was touted in a fundraising letter.
It is not the first time Ms Williams has tweeted Trump. Last week she reacted after he said the FBI may have been too distracted with a Russia probe to follow leads that could have prevented the massacre. "Very sad that the FBI missed all of the many signals sent out by the Florida school shooter," Trump tweeted. "They are spending too much time trying to prove Russian collusion with the Trump campaign - there is no collusion." Trump offered no evidence that there was any connection between the investigation of Russian meddling and the FBI's failure to prevent the Florida shooting.
"Oh my god. 17 OF MY CLASSMATES AND FRIENDS ARE GONE AND YOU HAVE THE AUDACITY TO MAKE THIS ABOUT RUSSIA???!!," Williams responded. "HAVE A DAMN HEART."

Trump had previously used the photo in an Instagram post.
According to the Huffington Post, the newsletter goes on to assure readers:
The President is now engaging in an important national conversation about school safety and ways to prevent any future attacks.

President Trump is taking steps towards banning gun bump stocks and strengthening background checks for gun purchasers. The President has made his intent very clear: 'making our schools and our children safer will be our top priority.
Lately, Trump's 'engagement in important national conversation' has largely consisted of mulling over whether or not to arm teachers, a controversial proposal that has sparked fierce criticism and ridicule.
While the President has expressed empathy - with the help of some written prompts - Trump has made his allegiance to the National Rifle Association (NRA) and the second amendment clear. In a speech on Friday, he warned supporters that, if Democrats win back control of Congress, "they'll take away your Second Amendment".
On the same day survivors of the shooting called on senator Marco Rubio to turn down NRA campaign donations, Trump shared a complimentary tweet about the organisation:
Florida students have called out Trump to take action on gun control with thousands walking out their classroom in solidarity with survivors on Wednesday morning.

Additional reporting: Reuters