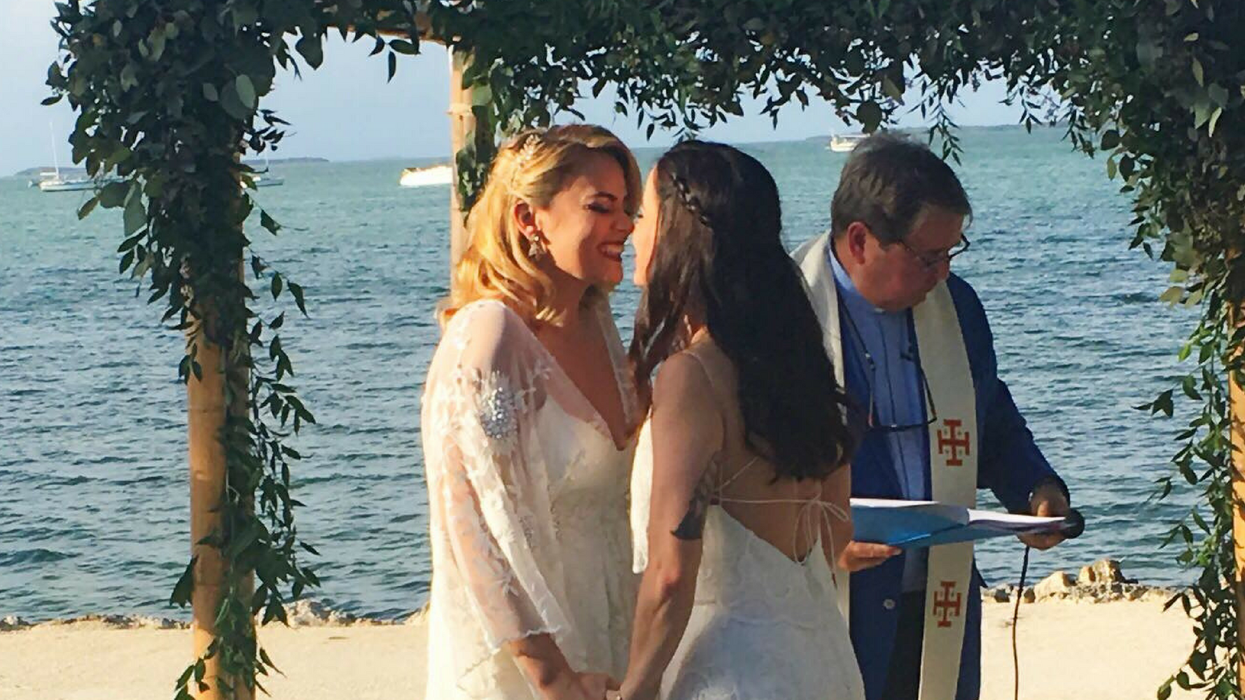 Katerina Reyes-Gutierrez
An adored gay teacher was allegedly fired from the Catholic school she taught at for marrying the "love of her life".
The firing is said to have taken place on Thursday, a few days after pictures from her wedding surfaced on Facebook.
Jocelyn Morffi, 32, found from her wedding celebrations and went back to work at Saints Peter and Paul Catholic School in Miami.
Ms Morffi, who taught at the school for seven years, wrote in a statement on Instagram on Friday:
This weekend I married the love of my life and unfortunately I was terminated from my job as a result.

In their eyes I'm not the right kind of Catholic for my choice in partner.
Jocelyn (left) and her girlfriend get married just outside Miami. Picture:
Katerina Reyes-Gutierrez, who has been a friend of Ms Morffi's for 17 years, told indy100 that the wedding was attended by more than 150 family members, friends and teachers, and took place on 3 February.
Following the big day, Ms Morffi is said to have taken a few days off, before going back to work on 7 February.
At 3pm that day, she was called into the office and met with the school's HR representative, the principle and a priest from the Archdiocese of Miami.
Ms Reyes-Gutierrez said they asked Ms Morffi to resign, but she declined and was told to take the next day off work. On Friday, when she wanted to return, the school told her to stay home and that she was fired. Ms Reyes-Gutierre said:
She wasn't even allowed to say goodbye to the kids.

She's been sad about it, she was the basketball coach which they paid her nothing to do.

She taught there for seven years, she started a charity called Teach Hope – which her kids were involved with. They make sandwiches and give to the homeless in Miami.
On 8 February, a letter seen by indy100 was sent to parents from the school's principal Carlota Morales. She informed parents of the dismissal and said it was a "difficult and necessary" decision.
But it is understood that dozens of parents familiar with Ms Morffi gathered outside the school the morning after, in protest of her firing.
One parent, Christiana Lopez, whose son was one of Ms Morffi's pupils, toldLocal 10 that she was "upset" over the firing. She added:
The way they handled this was just unbelievable.
Ms Lopez and other parents commended Ms Morffi as a "great teacher" and said her sexual orientation made no difference to their views.
Another parent, Rocardo Oviedo, said:
What she does at home, that's none of our concern.

The fact is, she maintained a high moral standard at school and was inscribing in our kids a sense of community and love.
The Catholic Church is against same-sex marriage and a spokesperson from the Archdiocese of Miami told The Miami Heraldthat Ms Morffi was fired for breaking her contract – which included a moral turpitude clause. Archdiocese spokesperson Mary Ross Agosta said:
One has to understand that in any corporation, institution or organisation there are policies and procedures and teachings and traditions that are adhered to. If something along the way does not continue to stay within that contract, then we have no other choice
Miami lawyer Erica Cañas – confirmed to indy100 she represents Ms Morfii and they are considering what legal steps to take next. She said:
Jocelyn is humbled by all the love and support she has received from family, friends, the students' parents, and the public. She feels that the manner of her firing was unfair, not only to her, but to her students as well. At this time, we are considering our legal options to address the school's actions.
At this time, there are no statewide legal frameworks that prohibit discrimination based on sexual orientation in Florida.