Shutterstock / g-stockstudio
Have you ever wondered how diverse your country's cuisine is, compared to any other? (Probably not, to be fair).
But diverse national cuisine has been linked to healthier citizens and longer life expectancies, as well as lower rates of obesity and heart disease.
Sina Sajadmanesh, of Sharif University of Technology in Iran, and his team of researchers recently published a study in Technology Review, which examines this relationship.
With some sophisticated data mining, algorithms and machine intelligence techniques, this team have analysed thousands of recipes to determine which cuisines are the most diverse, use the most complex ingredients, and explore the link between national nutrition and and health.
As food becomes an important part of modern life, recipes shared on the web are a great indicator of civilizations and culinary attitudes in different countries. Similarly, ingredients, flavors, and nutrition information are strong signals of the taste preferences of individuals from various parts of the world. Yet, we do not have a thorough understanding of these palate varieties. 

In this paper, we present a large-scale study of recipes published on the Web and their content, aiming to understand cuisines and culinary habits around the world. Using a database of more than 157K recipes from over 200 different cuisines, we analyze ingredients, flavors, and nutritional values which distinguish dishes from different regions, and use this knowledge to assess the predictability of recipes from different cuisines.

We then use country health statistics to understand the relation between these factors and health indicators of different nations, such as obesity, diabetes, migration, and health expenditure. Our results confirm the strong effects of geographical and cultural similarities on recipes, health indicators, and culinary preferences between countries around the world.
The countries that came out on top of the diversity food chain were generally those with big immigrant populations, because by default they were home to more national cuisines.
Picture: Kissing Cuisines: Exploring Worldwide Culinary Habits on the Web (Sina Sajadmanesh et al.)
The US, Argentina and Australia were cited as three important examples.
Countries from southeast Asia, such as Laos, were found to have the most complex dishes in their arsenal (ie those that use most ingredients) - often more than 15 - whereas Russian dishes tended to have about half that.
Picture: Kissing Cuisines: Exploring Worldwide Culinary Habits on the Web (Sina Sajadmanesh et al.)
The two key exceptions to this were Chinese and Indian cuisines.
Although both choose from relatively few ingredients, the complexity of the dishes tended to be higher, although the reason for this was unclear.
The study also proved a clear correlation between levels of obesity, and cuisines that featured high levels of carbohydrate and sugar.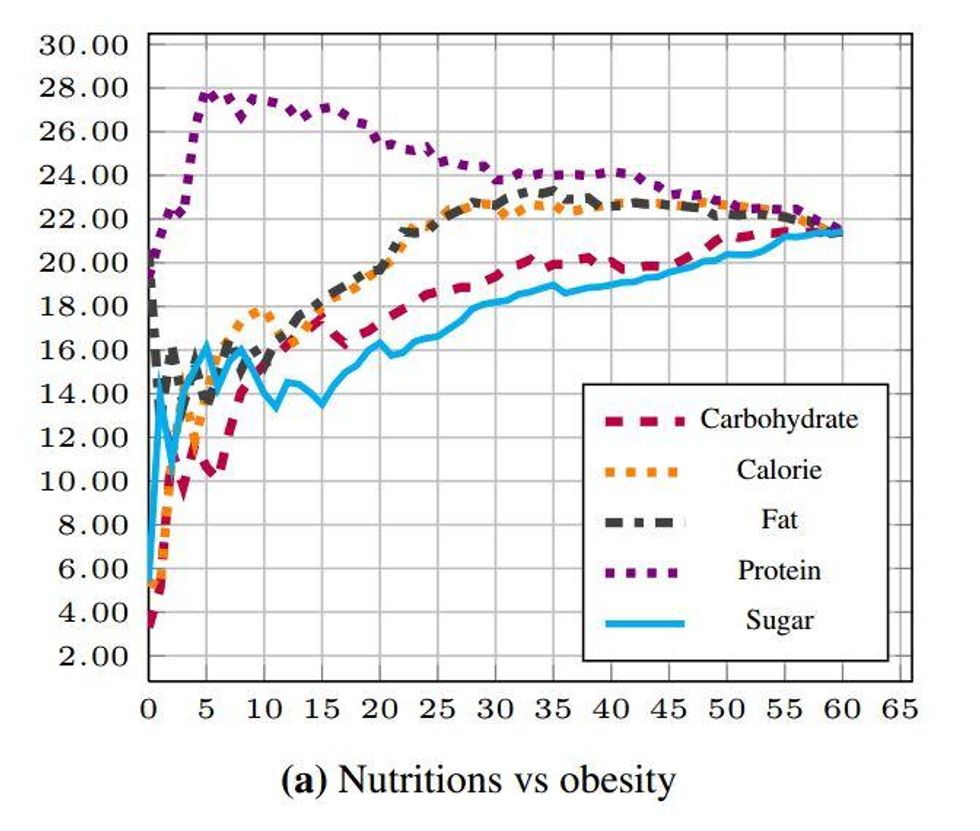 Picture: Kissing Cuisines: Exploring Worldwide Culinary Habits on the Web (Sina Sajadmanesh et al.)
On the other hand, protein-rich cuisines were found to be associated with fewer health problems.