Israel was not happy this week after the US and Iran finally reached a nuclear sanctions agreement.
In particular, Israeli Prime Minister Benjamin Netanyahu has been vocal about his opposition, calling the deal was an "historic mistake for the world":
Wide-ranging concessions were made in all of the areas which should have prevented Iran from getting the ability to arm itself with a nuclear weapon.
The Onion predicted that an arms shipment might calm him down, which is, weirdly, exactly what happened next: on Tuesday, Barack Obama offered Netanyahu immediate talks, for the second time, to upgrade Israel Defense Forces' capabilities.
That's not enough, though. In a media conference in Jerusalem on Thursday Netanyahu couldn't resist taking pot shots at British Foreign Secretary Philip Hammond over the deal, in front of the world's news cameras:
Unfortunately, the current deal allows Iran to avoid making that choice between a path to the bomb and sanctions relief. That's not a triumph for diplomacy, but a failure of diplomacy.
Shots fired.
Hammond looked visibly uncomfortable as Netanyahu launched into a six-minute monologue about his feelings about the failures of the historic agreement.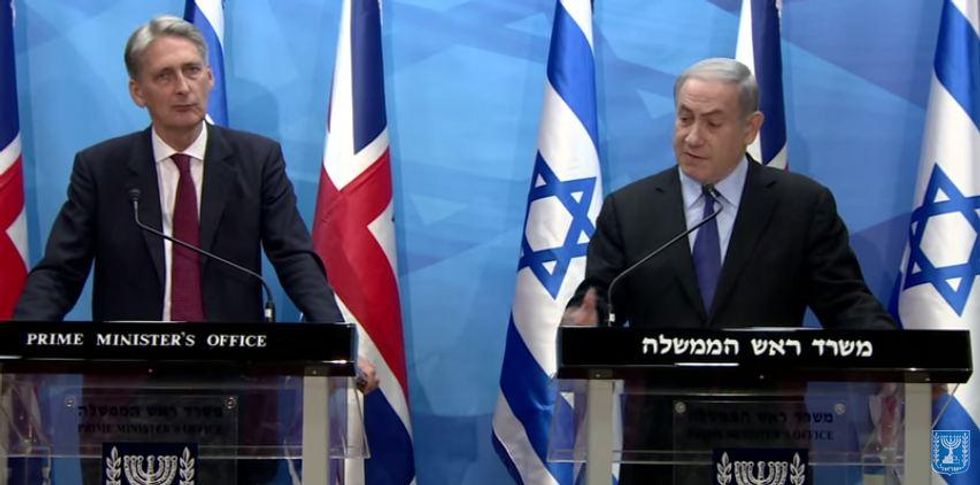 The British foreign secretary remarked that he's aware of Netanyahu's disagreements with the deal but stressed that it also allows Iran to return to a welcome international community:
This is the best and maybe to only way to build the trust that will allow a dialogue on the many other issues we have in Iran... We are not naive. We understand that our many disputes with Iran will remain. We want to work with you to prevent Iranian destabilisation in the region.
Hammond cut the news conference short as the two leaders headed into a closed doors session, telling reporters:
I think we've proved we don't need to have journalists to have a Q and A!
Frosty.
That's better.
Watch the spat from about 10:30 minutes in below: