A high school band in Mississippi has caused mass outrage by depicting a hostage scene involving toy guns.
The performance, during halftime of a football game between Forest Hill High School and Brookhaven High School, was suspended. Naturally, images of the scene went viral online, with particularly shocking images showing students dressed as medical staff pointing guns at police officers. The performance comes at a time when relations between law enforcement and many African Americans is already strained, following a number of high profile cases of police brutality.
The show was allegedly an interpretation of a scene from the movie "John Q". But it is particularly unfortunate given the fact that two Brookhaven police officers recently died in the line of duty by gunshot.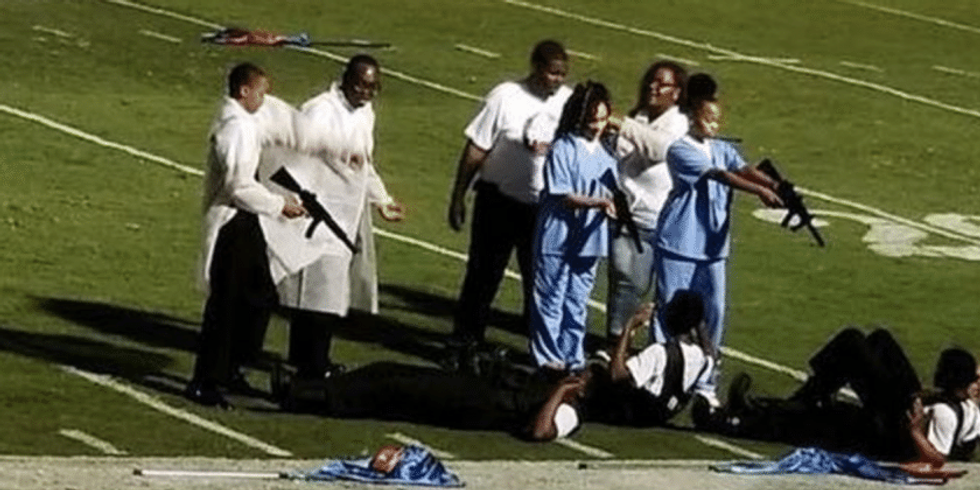 Facebook
Jackson's mayor, Chokwe Antar Lumumba, said that the director of the Forest Hill band had been suspended.
In response, Mississippi governor Phil Bryant tweeted:
This is unacceptable in a civilised society. Someone should be held accountable.
Jackson's mayor, Chokwe Antar Lumumba, confirmed director of the band had been suspended. He released a statement of apology.
There is an active investigation into the circumstances that led to this performance.

While I do not believe that there was a malice intent on behalf of the students that participated in this halftime show, I understand that we are ultimately not defined by the things that we set out to do, but rather how we respond to the things that actually do take place. 
Jackson Public Schools superintendent, Dr Errick L. Greene, also offered his apologies:
JPS has a great deal of respect and appreciation for our law enforcement partners

The band's performance does not depict the values and people in our community, and was incredibly insensitive to the students, families, law enforcement officials and the entire Brookhaven community. For this we sincerely apologise to all.
H/T: Newsweek