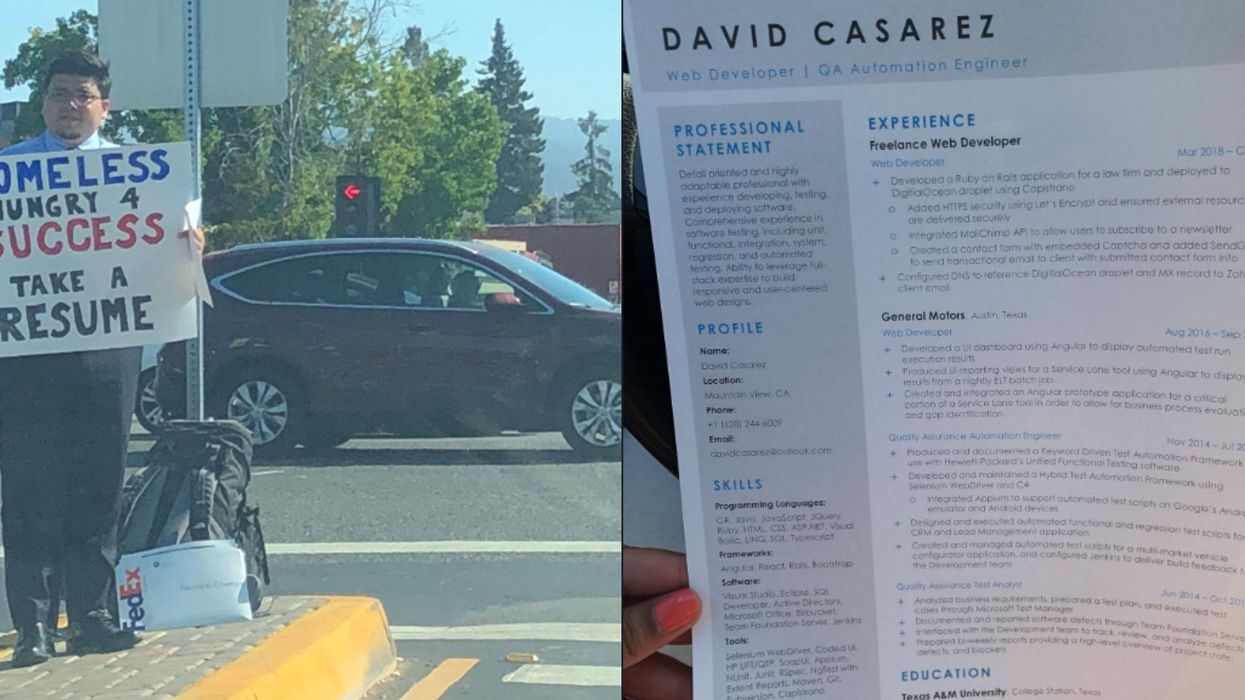 Jasmine Scofiled / Twitter
If this man's story of courage, initiative and perseverance doesn't encourage you to never give up on your dreams, nothing will.
Homeless web developer David Casarez has been flooded with job offers after he decided to dress smartly, and hand out his CV in Silicon Valley instead of begging for money.
On Friday morning, 26-year-old Casarez woke up on his park bench in Mountain View, California, and headed to the nearest highway with a hand-written cardboard sign, and a packet of his resumes.
On the sign, he'd written the message:
Homeless

Hungry 4 success

Take a resume
Luckily for him, a passing makeup artist, Jasmine Scofiled, spotted him at the side of the highway, and was moved by his plight. Stopping to take his photograph and talk to him, she posted a tweet about him which has now gone viral, with more than 95,000 retweets and 145,000 likes.
In a tweet, she wrote:
Today I saw this young homeless man asking for people to take a resume rather than asking for money.

If anyone in the Silicon Valley could help him out, that would be amazing.

Please RT so we can help David out!
After the tweet went viral, Cazeras was flooded with more than 200 job offers from some of the best tech companies in the world, reports the New York Post. Speaking to the publication, he said:
Google reached out to me.

So many other companies. Pandora. A bunch of startups. 

A product manager from Bitcoin.com was wondering if I could work remotely or if I want to relocate to Tokyo.

But tonight, I'll be back on my bench in Rengstorff Park.
Casarez wasn't always down on his luck. After earning a bachelors degree in management information systems from Texas A&M University, he worked as a web developer in Austin, Texas, before deciding to move to California to pursue his dream career of owning a tech startup. However, it all went wrong in June after freelance work dried up, and he couldn't secure another position.
He started out living in a truck, however, a month ago, his van was repossessed, and ever since, he's been living on a park bench.
Speaking to The Post, he explained how it was a 'make or break' moment for him:
It was basically a make-or-break moment. 

I wanted to keep my head up high, keep looking forward and see what opportunity would come next. 

I was thinking you know, like this was like my last stop. If this didn't work, I'd go back home and give up on my dream.
Judging from the response he's received, his perseverance paid off.