Nigel Farage repeated claims on Tuesday night that Britain is at a greater threat of terrorism by remaining a member of the European Union.
In fact, the Ukip leader has been using this line of argument since as far back as September last year, as the refugee crisis reached unprecedented levels: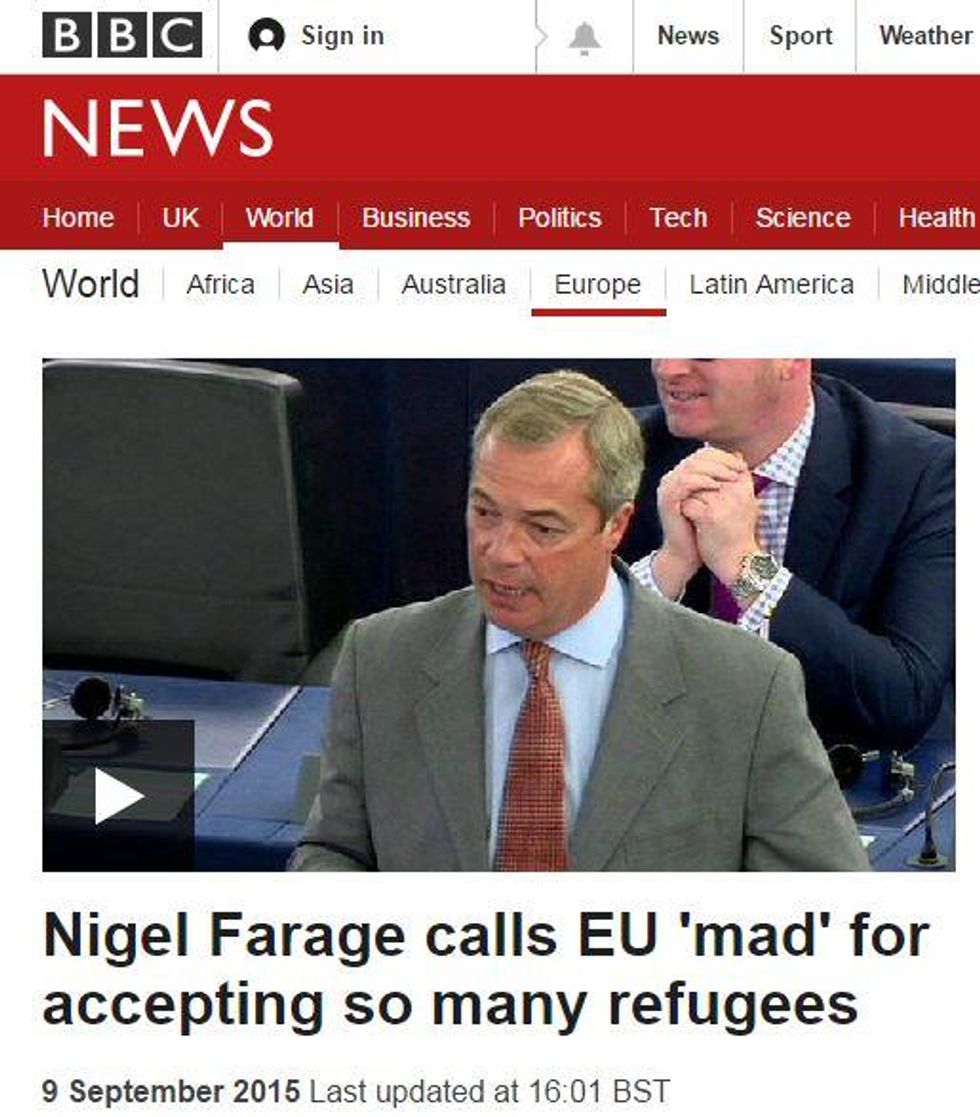 Later that month, news outlets ran headlines which said that the head of Europol, the EU's law enforcement agency, had estimated there were 3,000-5,000 Isis jihadists in Europe.
The claims first appeared in German regional newspaper Osnabrücker Zeitung
It claimed that Rob Wainwright, the agency's director, had spoken exclusively to its journalists, explaining that thousands of fighters who had been trained in the Middle East had returned to Europe battle-hardened and ready to launch terror attacks.
The story was picked up by news outlets across Europe, including many in the UK:
The Independent
The Times
The Daily Telegraph
The Daily Mail
The articles have been shared thousands of times.
It appeared to be a huge boon for the Leave campaign
Wainwright has been repeatedly quoted by Farage. Here's an interview with the BBC in March:
At a debate hosted by the eurosceptic Daily Express newspaper last week, Farage repeated the claims again, calling Europol an "EU institution", adding:
We might as well hold up a sign saying 'terrorists welcome'.
Then, in televised debate on ITV on Tuesday, the Ukip leader repeated them again
The boss of Europol said that the migrant policy, and by the way these are not refugees, they are mostly economic migrants... this policy has led to up to 5,000 jihadis coming into the European Union in the past 15 months.
There's only one problem: the director of Europol said no such thing
Speaking to indy100, Wainwright explained that he never actually gave an interview to Osnabrücker Zeitung:
I believe Ukip's original assertion on this point comes from a report that appeared in a German newspaper in February 2016, citing an interview with me. I never gave the interview so it is a fake source.
He went on to harshly criticise Farage for repeating the claims:
There is no basis in fact, not even false media reporting, for this point and it is a very serious, even alarmist, conflation of migration and terrorism. I have consistently said that we have observed some isolated examples of terrorists travelling through migratory routes and that, possibly, the incidence of such cases is rising but on a tiny scale compared to any claim of 5,000.
Lost in translation?
Europol's head of communications, Gerald Hesztera, went on to explain that while the Director had not spoken directly with the newspaper, his team had provided some quotes which they believe were misinterpreted when translated from English to German.
After noticing the error, Europol asked the paper to clarify what he'd said - that there were between 3,000-5,000 Europeans who had travelled to the Middle East to fight (as opposed to returned to Europe) - which it did promptly, but not before the false information had spread.
Wainwright, a former MI5 intelligence officer, has now written to Mr Farage clarifying his assertions and inviting the Ukip leader to visit Europol HQ "to see first hand the security benefits of active UK membership".
He has also repeatedly spoken out on social media against being misquoted:
After Tuesday night's debate, Wainwright explained:
In a high number of other media interviews and public speeches given by me before and since that time I have consistently reported our true understanding of the threat from jihadists returning to Europe.
So what does Farage have to say?
A spokesman for the Ukip leader said that he was unaware of the "denial" and that he will "bring it to Nigel's attention". He added however that "an undefined number have come back and Europe faces a massive security threat".
I am happy to advise Mr Farage that the 5,000 figure is a misinterpretation, but even Mr Wainwright will accept a figure nearing 2,000.

Two thousand trained, battle experienced jihadi fighters within the borders of the EU is nothing to be complacent about, given the appalling horrors that a small handful have wrecked upon Paris and Brussels in recent months.
While Wainwright does admit there is a significant terror threat in Europe at the moment, he believes Britain is far safer as a member of the EU.
He explained:
Europol thinks roughly that number [3,000-5,000] of European nationals have been radicalised by [Isis] and travelled to Syria and Iraq, but by no means have all of them returned. I suspect less than one third have and of those the largest proportion are unlikely to pose a terrorist threat.

Whilst I certainly believe we have a serious terrorist threat in Europe the numbers we are dealing with are much lower than those quoted by Mr Farage and I think keeping a sense of proportion is important on such matters. Finally, whatever mitigation Mr Farage may have had originally, there is absolutely no excuse for the additional point he said on air last night, namely that I have said EU migration policy has led to 5,000 jihadists entering Europe.
Let's see if Farage repeats it again...