It's no great secret that we're in a teensy bit of an obesity epidemic.
An NHS adviser said on Friday that schools should be ranked on obesity levels, as a method to tackle this crisis.
Sir Sam Everington, a GP and chair of NHS Tower Hamlets clinical commissioning group, said:
Parents have the right to know the health of a school, including the rates of obesity, when deciding where to send their child.

Health is as important as English and maths.
The plan was condemned as "completely inappropriate" by education chiefs, who said that schools have limited control over a children's weight.
While some great schemes have been launched to fight obesity (shoutout to Pokémon Go), the general trend in the waistlines of the country seems to be outwards, although the obesity rate may be levelling out a little.
Picture: Health Survey forEngland
It's also true that you are more likely to be obese in some parts of the country than you are in others.
Public Health England recently produced some more data which highlights this, showing the rising prevalence of obesity in..
...Women...
...and Men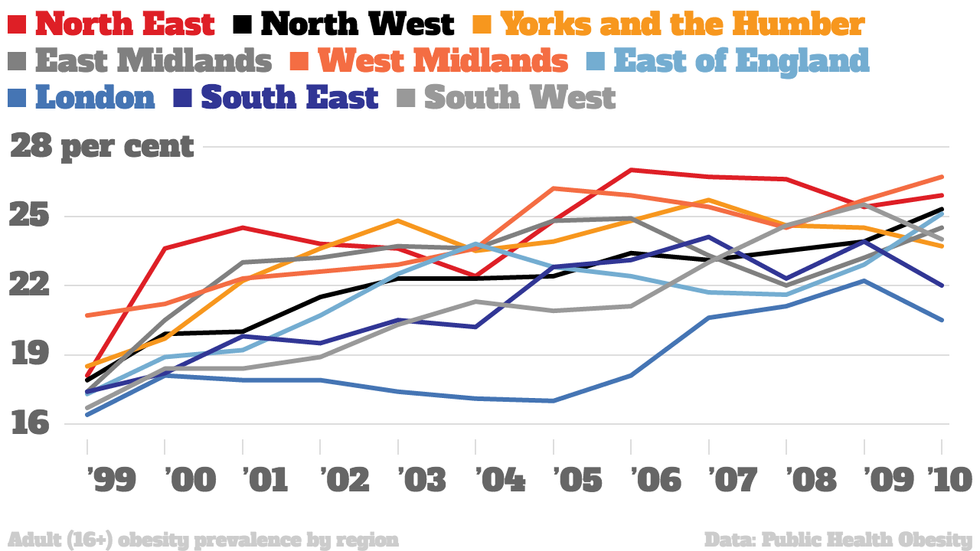 They've also investigated the link between obesity and fast food in geographic terms.
Generally, people have access to cheap, highly palatable and energy-dense food frequently lacking in nutritional value, but more so in areas where deprivation is higher.
Fast food outlets occur more frequently in areas with greater deprivation
Picture: Public Health England
And we all know the link between fast food and obesity.
To find out how your part of the country is faring, you can visit the Public Health England site.