Sean Gallup/Getty Images
Cast your mind back to 2016. Do you remember that moment Donald Trump got on stage, clutching a rainbow flag in his hands proudly declaring that he would look out for the LGBT community?
Let me jog your memory.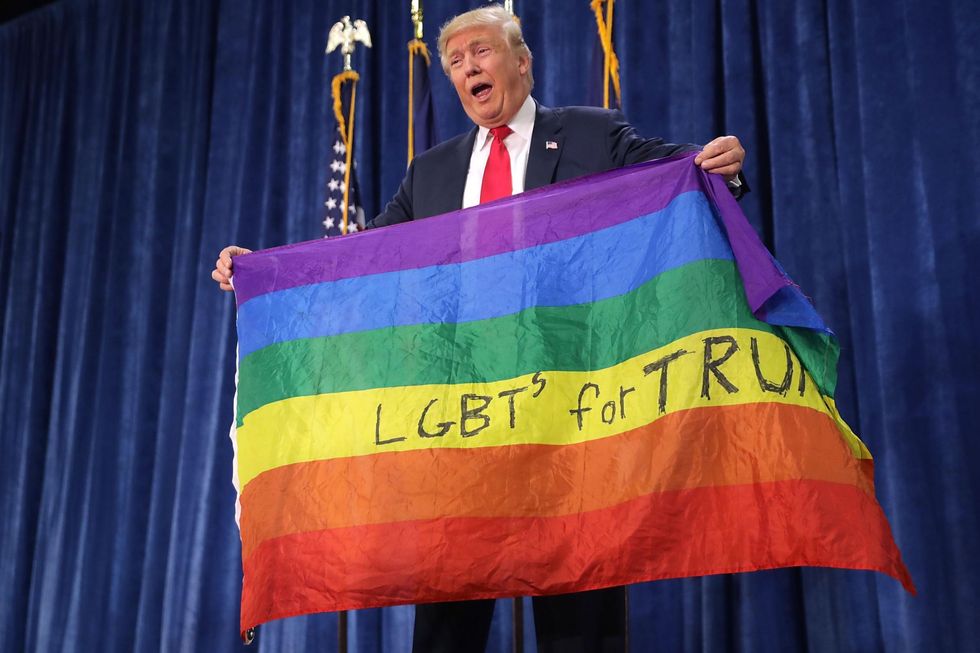 Picture: Getty Images
During his campaign, Mr Trump promised the LGBT community protections from 'violence and oppression'.
He even said in a speech.
For the gays out there… ask the gays and ask the people, ask the gays what they think and what they do in not only in Saudi Arabia but all these other countries.
The gays spoke back, and it was cutting.
Since then, he's been elected President, and has proceeded to dismantle the Obama administration's protections for transgender students.
June is LGBTQ Pride Month, with activists and members of the community bringing the battle for equal rights to the forefront of public attention while also celebrating the small victories we've had recently in places like Taiwan and Italy.
So far, breaking with tradition, Donald Trump has not issued a proclamation declaring June as Pride Month.
The First Daughter Ivanka on the other hand, decided to tweet something:
This did not go down particularly well with the LGBT community and their allies.
Not one bit.
They. Went. For. Her. In a purely digital sense of course.
There was this perfectly valid point.
A few exceedingly worrying ones.
Many people wanted a statement, because they knew they were unlikely to get one from Pence.
The queer community were mad as hell.
And they didn't care who knew it.
It also raised the question, what LGTQI friends?
Just, don't.
Once again, Ivanka appears to be in a privileged position and people don't think she's doing anything good with it.