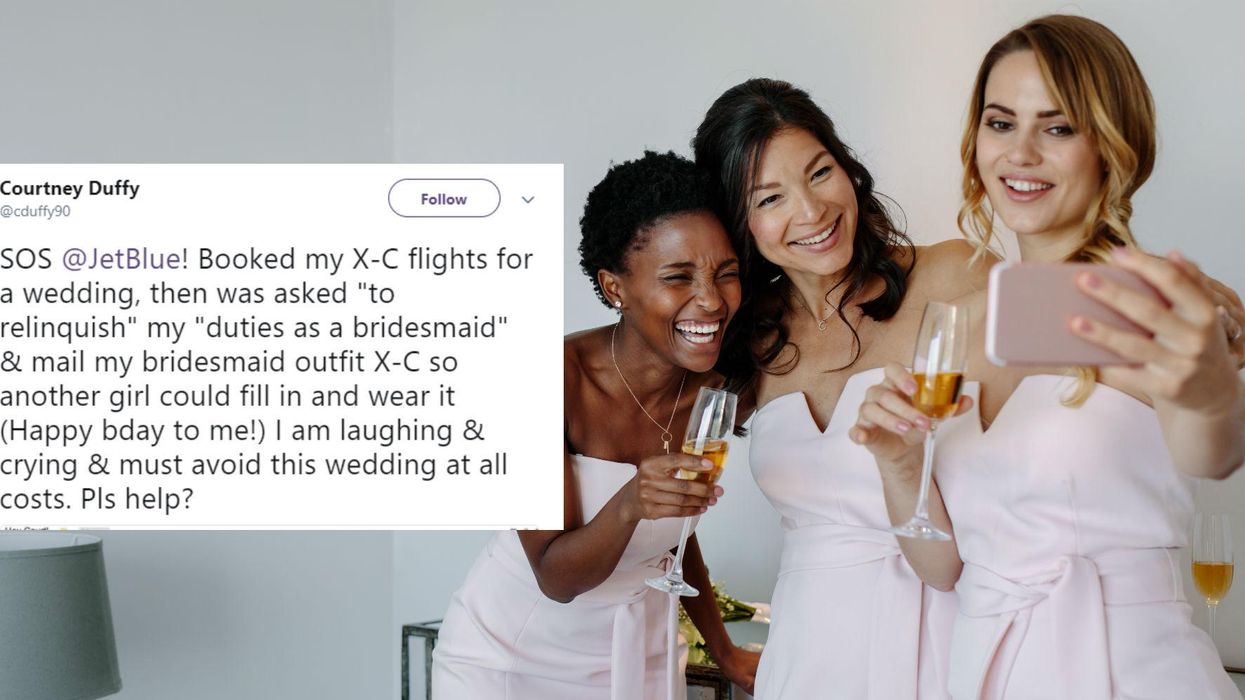 jacoblund / iStock Getty
This airline came through in the best possible way after learning that a bridesmaid had been axed from a wedding, and receiving her plea for help.
Courtney Duffy was all prepared to act as a bridesmaid on her friend's special day, when all of a sudden the bride said that her services were no longer needed.
The MBA Dartmouth Business School candidate had already paid for the outfit she was required to wear, as well as booking flights with the airline JetBlue to attend the friend's wedding.
Taking to Twitter, she expressed her frustration in a tweet that has since gone viral:
Booked my X-C flights for a wedding, then was asked "to relinquish" my "duties as a bridesmaid" & mail my bridesmaid outfit X-C so another girl could fill in and wear it (Happy bday to me!)

I am laughing & crying & must avoid this wedding at all costs. Pls help?
Along with the tweet, she attached a screenshot of the bride's email, which outlined that she should 'relinquish' her duties, as well as mail back the 'jumpsuit' so that another girl could wear it.
Wow, talk about a bridezilla...
Luckily for Courtney, the airline JetBlue Airways came through, and offered to waive her cancellation fees, as well as offering to fully refund her flights.
Many people on Twitter also took her side in the situation, offering her messages of support.
Some noted that the bride in question sounded like a 'Bridezilla'.
Others, however, thought the email was perfectly polite.
While some just offered their honest advice.
Many were pretty blown away that jumpsuits are now 'a thing' at weddings.
And some even offered her better things to do with her time.
We'd go to Frozen if we were you, Courtney. Enjoy!