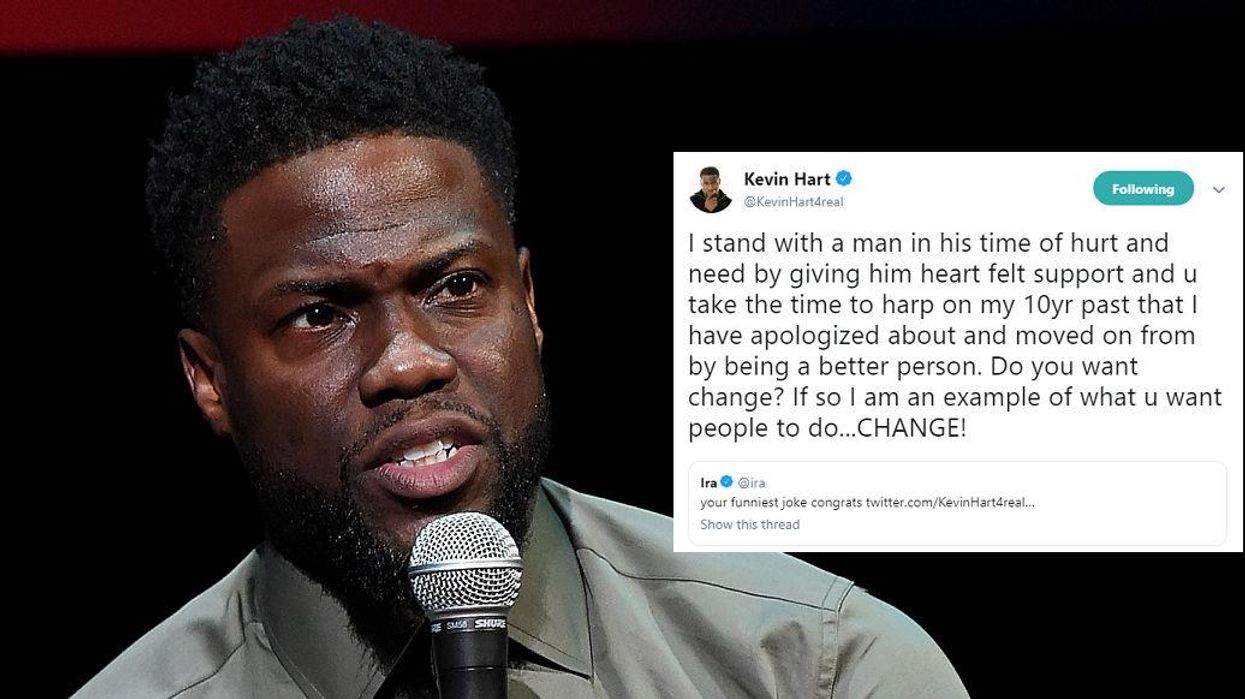 Jamie McCarthy/Getty Images and Kevin Hart/Twitter
Comedian Kevin Hart has lashed out at people who took the opportunity to bring up his past homophobic comments following supportive Jussie Smollett tweets.
The Upside actor has been embroiled in controversy for a couple of months after he declined to host the Oscars when homophobic jokes and tweets from 2009-2011 were unearthed. One of the jokes centred around Hart beating his son if he engaged in activities the comedian deemed to be "gay".
Empire actor Jussie Smollett was the victim of a homophobic and racist attack in the streets of Chicago, and his hospitalisation prompted thousands of his fans, colleagues and friends to send him messages of love.
One of these people was Kevin Hart.
Taking to Twitter, he wrote:
Sending prayers your way @jussiesmollett…This is unbelievably sad. Why are we going backwards…this is disgusting. We as people have to do better. WTF is going on the world???? Why…
He added: "Operation spread love is in full effect damn it. I don't condone or believe in hate, infact [sic] I despise it. Hate makes me sick to my stomach…its pointless [sic]. Cowards & weak individuals embrace it. I choose love…I love all of you. I challenge the rest of the world 2 do the same."
The tweet didn't go down well, and many brought up comments he made between 2009 and 2011, in which he joked that if he caught his son playing with his daughter's dollhouse, he would "break it over his head and say in my voice 'stop that's gay'".
He said he apologised for the comments a number of times in the past.
Others defended his tweet, arguing he was just offering his condolences.
Eventually, Hart responded.
TV writer Ira called it Kevin's "funniest joke", and the comment prompted him to respond to critics.
I stand with a man in his time of hurt and need by giving him heart felt support and u take the time to harp on my 10yr past that I have apologised about and moved on from by being a better person. Do you want change? If so I am an example of what u want people to do...CHANGE!
But people are still torn on whether or not to forgive him.