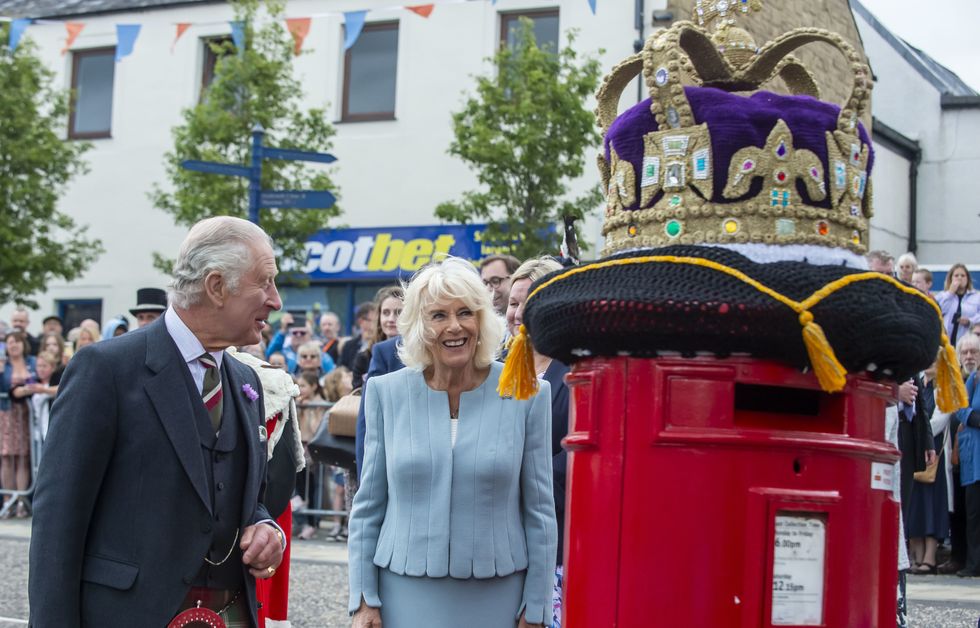 PA Wire/PA Images - Lisa Ferguson
The King and Queen praised the hard work of a yarn bomber who decorated a post box with a crocheted crown to mark the coronation.
Charles and Camilla ended the monarch's traditional week in Scotland by touring the Scottish borders town of Selkirk, where hundreds turned out for the royal visit.
The marketplace was full of stalls showing the goods of local shopkeepers and nearby was a huge crocheted version of St Edward's Crown – the royal regalia used to crown Charles.
Charles and Camilla during a tour of the market square in Selkirk (Lisa Ferguson/PA)PA Wire/PA Images - Lisa Ferguson
The King, who wore a kilt, touched the craftwork – covering a larger than normal red post box, which was the handiwork of Daphne Pratt, who knits and crochets with a group called the Souter Stormers.
The pensioner made the King laugh when she asked him: "Do you know a good home for a crown?"
She said afterwards: "The King said it was wonderful and the Queen was also impressed."
The 82-year-old said: "It took me about three months to make – I got the plastic jewels from a charity shop."
The royal couple went on an extensive walkabout meeting dozens of Selkirk residents who lined crash barriers around the town's marketplace.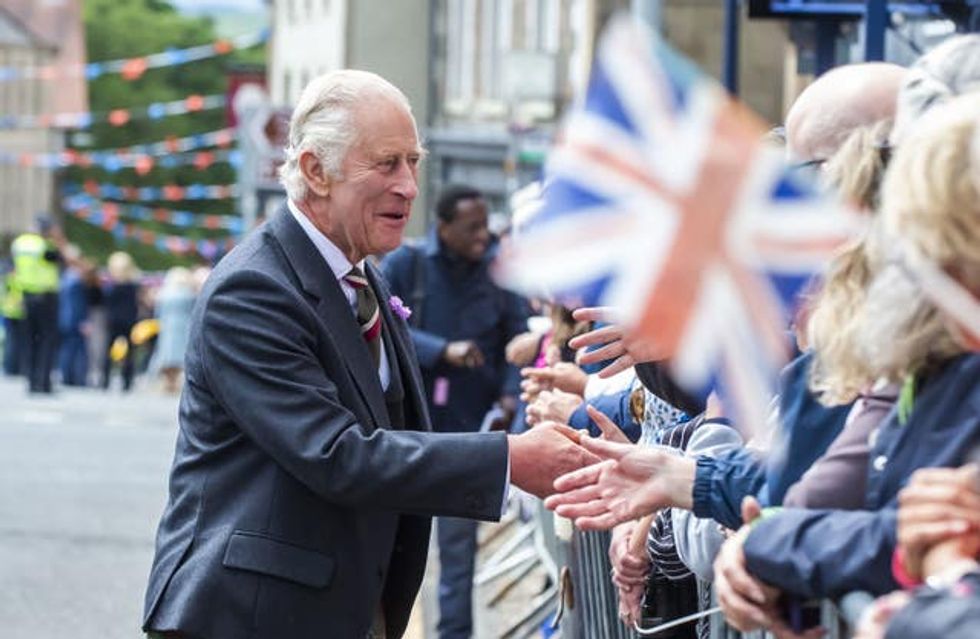 The King spent time greeting well-wishers (Lisa Ferguson/PA)PA Wire/PA Images - Lisa Ferguson
Charles and Camilla stopped to talk to shopkeepers standing behind the stalls, and they chatted to baker Stuart Young, 25, who had a selection of sweet treats on his table including a Selkirk bannock, a cake-like bread.
When the baker's toddler son was handed a bannock to give to the King, he walked over and presented it to the Queen and Charles quipped: "He knows what side his bannock is buttered."
The highlight of the visit was a display of an ancient tradition, known as the casting of the colours, where the standard of the Royal Burgh of Selkirk was expertly twirled around by Thomas Bell.
The performance takes place annually alongside the Selkirk Common Riding, when hundreds of men and women ride the town's common land, a practice dating back centuries.