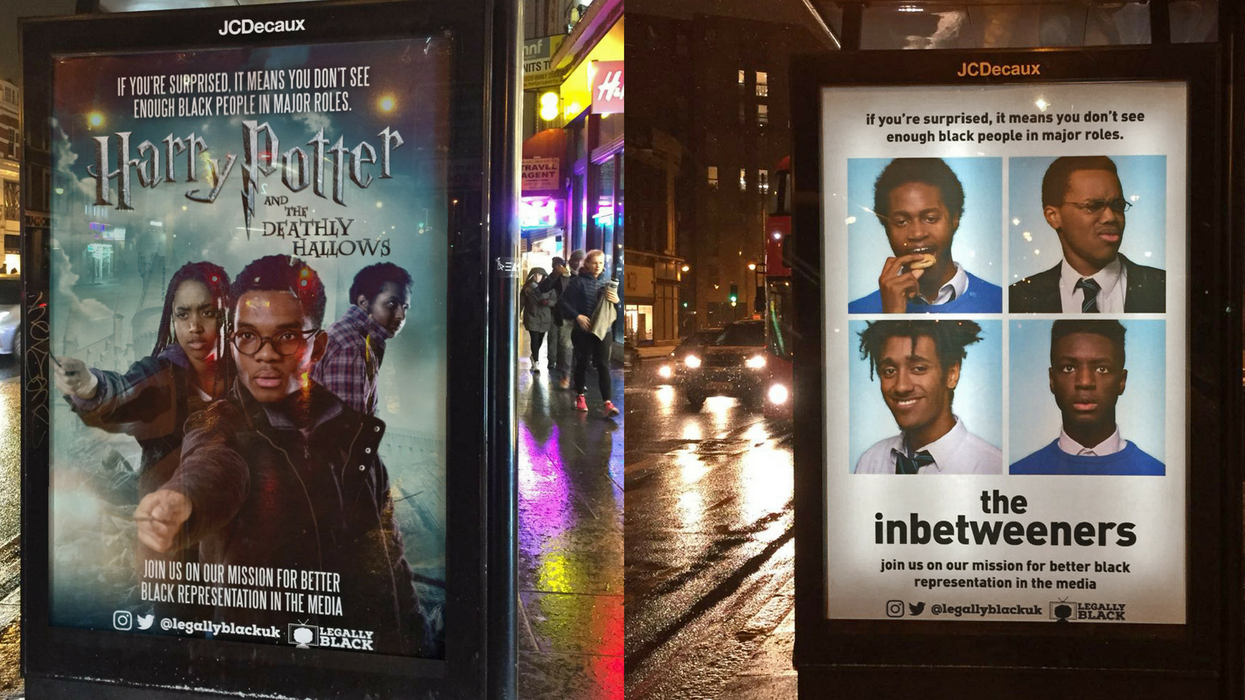 Legally Black/Advocacy Academy
Legally Black, a group of young activists from south London, recreated iconic movie and TV posters with black people to highlight the lack of black narrative on British screens.
Liv Francis-Cornibert, 18, and her friends Shiden, Kofi and Bel made the posters in Brixton, London, with a programme for young people who have lived through the experience of inequality called the Advocacy Academy.
Speaking to indy100, Liv said:
The representation of black people was a key issue of ours.

It is meant to be satirical, some people took it seriously and some thought we were calling for the replacement of black actors.
But that was not the aim of the campaign, Liv said. Instead, it was meant to look at why there is a lack black storylines in the media.
After the posters surfaced on Twitter and Instagram, 'subvertising' organisation Special Patrol Group noticed and installed them at bus stops around Brixton.
Picture:
In one of the posters, a recreation of Channel 4 show Skins, the reimagined black cast has a "token white guy".
Liv said this was because the originally series had a black supporting character called Thomas. So to get the message across, they decided to create a white character instead.
She said:
Some people didn't get the satirical element and thought we were replacing white actors. They said we should just create our own things and shouldn't call on British media to create more black characters.

But we are calling for inclusivity, we have to capture the spectrum of black people – there are LGBT+ black people, disabled black people and other ethnic minorities. 

Things should be said for people of colour across the board. Writers and directors should have agency to do that.
The eight-month advocacy programme that Liv and her friends embarked on with Advocacy Academy involved more than 300 hours of workshops. Amelia Viney, who heads up the project and founded it in 2014, said:
Instead of taking things on the chin, these young people decided they wanna fight and make a change.
Amelia said that a lot of young people in South London end up consuming a lot of media:
With the amount they consume it becomes very obvious very quickly it doesn't look like them.
She went on to say that those involved in the posters project kept coming back to the idea of imaging what it would be like if they see lead characters as black in film and television and how that would change their aspiration.
Amelia said:
That's how this campaign came about. We give them the support they need. They go really deep into issues that define their existence.
Picture:
The spread of the posters online and in bus stops prompted a wave of support and shadow Home Secretary Diane Abbott retweeted one on Twitter.
Only 218 lead roles in 1,172 British films released between 2006 and 2016 were played by black actors, according to research by the British Film Institute.
The Special Patrol Group installed the posters on Wednesday and they were taken down by Friday and replaced with McDonald's adverts, The Guardianreports.
indy100 also contacted the company that manages most of the adverts in bus stops, JCDecaux, for comment.