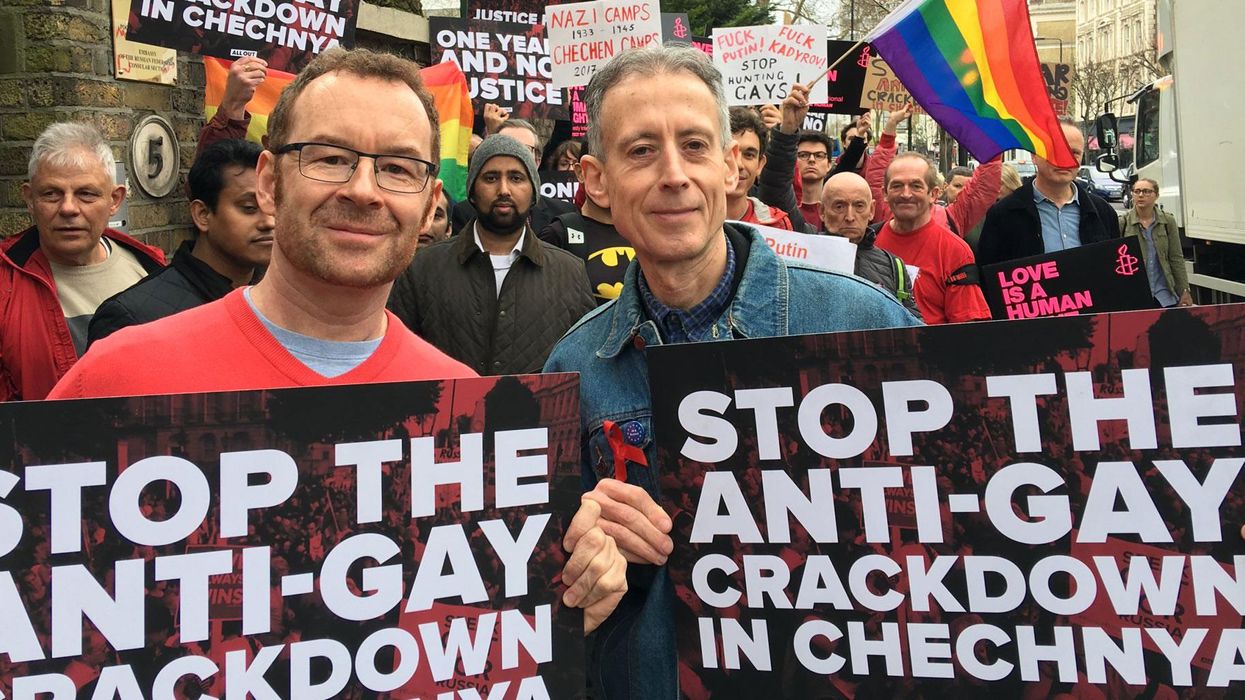 All Out
This weekend, thousands of activists worldwide have marched in honour of the victims reportedly kidnapped, tortured and murdered by the Chechen government for being suspected as gay.
The protests, which took place in a handful of cities across the world, were organised by All Out, an essential non-profit organisation helping LGBTQ communities facing violence worldwide.
Not only are the marches a demonstration of respect and a tribute to victims, they're also a call-to-action; despite unprecedented global press coverage, overwhelming evidence and pressure from humanitarian organisations, the Russian authorities have still not conducted a thorough investigation into the state-sanctioned 'anti-homosexual purge'. In a statement issued to indy100, All Out's Executive Director Matt Beard explained:
One year ago this week, news broke of a wave of terrifying, state-sponsored violence in Chechnya against men perceived to be gay or bisexual.

Russia has shamefully failed to conduct any meaningful investigation into the appalling abuses that took place. Nobody has been brought to justice. This is unacceptable.
Elena Milashina – editor of Novaya Gazeta, the publication responsible for breaking the story – was forced to flee Moscow after facing death threats for breaking the news. It was on 1 April last year that she published theextensive report, which contained additional reporting by colleague Irina Gordienko, evidencing the detainment and brutal beating of men suspected of homosexuality by Chechen authorities. Weeks of work went into the article; sources were corroborated, testimonies sourced and evidence meticulously referenced.
The backlash was swift – just days later, a statement was issued by Novaya Gazetawarning that religious Chechen leaders were attempting to incite people to "massacre journalists". Speaking from an undisclosed location to The Washington Postlast year, she described hostility towards journalists and referenced the armed attack on the offices of French satirical newspaper Charlie Hebdo in 2015. Milashina draws parallels with this lethal attack on press freedom, stating she believed that Chechen governments would persecute "until the last person at Novaya Gazetadies."
Milashina also implies knowledge of other extrajudicial killings and hints at brutal, well-hidden corruption in the Chechen government, identifying Chechen leader Ramzan Kadyrov – a man who flat-out denied that gay people even exist in Chechnya – as a militant opponent of press freedom.
Beard is similarly critical of Kadyrov, but reiterates that Russia also has the power to enact justice:
Ramzan Kadyrov, the Chechen leader, is a brutal and violent homophobe. He barely hides his murderous intentions towards LGBTQ people in his country. But it is President Putin and the Russian government who have the final say on what happens in Chechnya.
Last May, under pressure from Angela Merkel, Putin said that he would back an investigation into the allegations. This promise soon disintegrated, with a list of 27 victim names being dismissed by the Kremlin and reports accusing Chechen authorities of deliberately sabotaging the investigation.
Kadyrov also has a televised history of homophobia.
In a HBO interview aired last year, he dismissed claims that men had been brutally beaten because of their sexuality as "nonsense", stating:
We don't have those kinds of people here. We don't have any gays. If there are any, take them to Canada. Praise be to God. Take them far from us so we don't have them at home, to purify our blood. If there are any here, take them.
He was also questioned on reports that some victims were murdered in 'honour killings', which are carried out against 'dishonourable' family members. These lethal crimes are most often committed against women, but survivor accounts allege that some gay men were murdered by ashamed relatives encouraged by Chechen officials. Kadyrov said that he would turn a blind eye if this were true, stating:
If we have [gay] people here, I'm telling you officially their relatives won't let them be because of our faith, our mentality, customs, traditions.

Even if it's punishable under the law, we would still condone it.
This evident hostility towards LGBTQ communities has created a climate of fear, meaning that journalists in particular are afraid to report.
Novaya Gazetahas seen a string of former editors die in suspicious circumstances and gay reporter Ali Feruz had his request for asylum in Russia denied despite having no links to crime or extremism. He was subsequently detained and threatened with deportation to his birthplace of Uzbekistan, a country in which sex between two men can still warrant a prison sentence. After six months of detainment and repeated intervention from human rights organisations, Feruz was finally granted permission to travel to Germany this year.
Naturally, victims beaten by authorities are fearful of speaking out. Many people have given anonymous accounts of violence they say they faced in institutions dubbed 'gay concentration camps'. A report issued by the Russian LGBT Network collated testimonies from over thirty victims, with one alleging that authorities tried to source the contact details of other LGBTQ people:
They threw me to the floor and beat me. They beat my chest and my face with their feet, and they hit my head against the floor. One of them said: 'Do not beat him until the shock stage, at that point he will stop feeling pain. We don't need that."

They addressed me with female pronouns and demanded that I tell them the names of other gay people I knew. They threatened to kill me if I didn't.
It wasn't until last October that a victim dared to speak publicly about the violence.
In a press conference organised by activists, Maxim Lupanov detailed the abuse he suffered:
They kept beating me, shouting that I am gay and that people like me should be killed. They put a plastic bag on my head when they took me out of the cell, wrapped my head with Scotch tape, leaving only a slot to breathe through. They severely beat my arms and legs. When I left Chechnya, I could barely crawl.
His graphic depictions of brutal assault may have reignited public interest in the state-sponsored crimes, but it was not enough to spark an official criminal investigation.
Despitethe efforts of Russian Human Rights Commissioner Tatyana Moskalkova to pressure authorities, official attempts to launch an investigation were reportedly plagued with unprofessionalism and alleged violations. Speaking to OC Medialast year, Vladimir Smirnov, a lawyer for the Committee Against Torture, claimed that the investigator presented with Lapunov's testimony mishandled the case and violated the Code of Criminal Procedure.
He didn't allow us to attend the trial and didn't conduct the most important investigative measures. He didn't conduct any identity line-ups, didn't question anyone, did nothing.
A forensic expert was appointed to confirm any signs of trauma or beating on Lapunov's body months after the alleged violence. He had stayed silent due to fears of further violence and a lack of official protection, yet this silence effectively killed his case, according to Smirnov.
It's quite obvious that six months after these events there were no signs of the beating on his body anymore. We realised that the investigation either hasn't been conducted or it hasn't been conducted in the right way.
Kabyrov still frequently claims the accusations are fabricated.
Twelve months on from when the news first broke, these marches are bringing the horrific allegations back into the limelight – and Beard reiterates that All Out won't rest until justice prevails:
We want to send a clear message that we will not be silent until a full and impartial investigation of these abuses has been concluded and those responsible have been brought to justice.