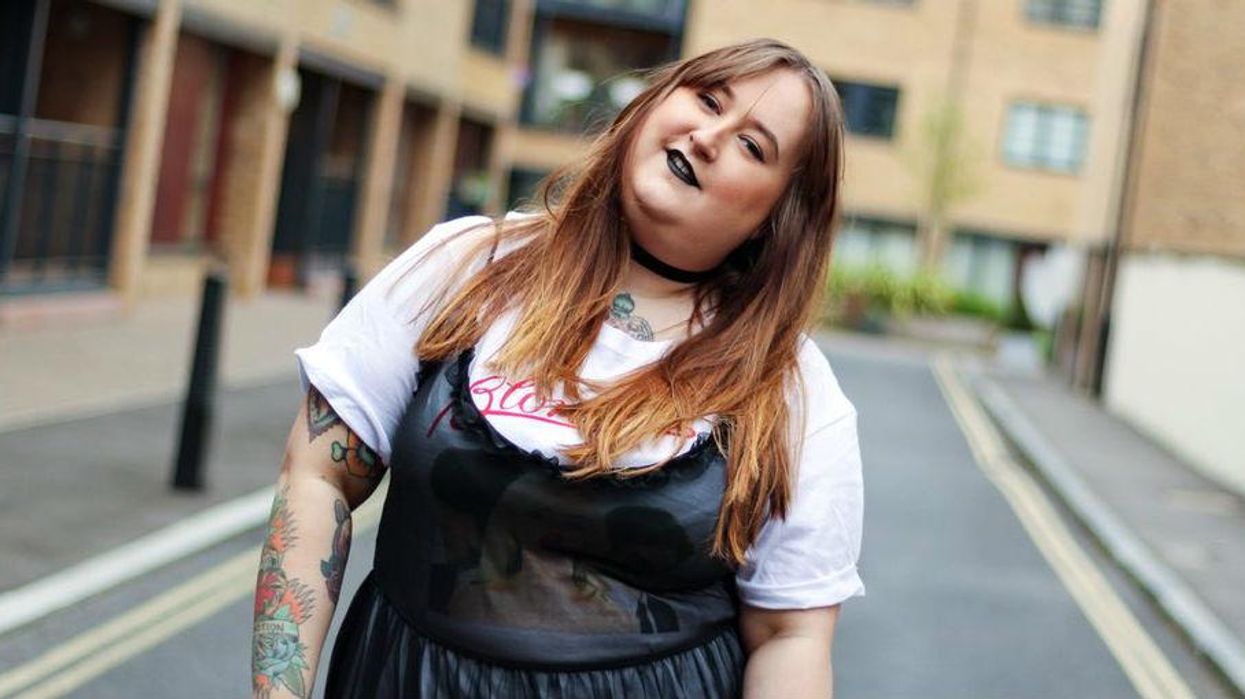 It's no secret that shopping for clothes can be a minefield – especially if your body deviates from society's narrow definition of an 'ideal' body.
Even if you feel confident as a plus-size shopper, love fashion and know your measurements, it doesn't mean that the size you see on the label is an automatic guarantee the clothes will fit. Plus-size blogger Lottie L'Amour discovered this for herself last week, when she went shopping in H&M and took to Twitter to share her findings.
In a now-viral post, she highlighted glaring inconsistencies in the brand's sizing – which recently came under fire and was, apparently, rectified.
But it seems not enough has been done to change the problems, with L'Amour writing that the clothes still fit way, way smaller than expected.
In her tweets, L'Amour was specifically referring to the brand's plus-size range in order to make a vital point: fat women are still left with barely any imaginative, stylish ranges in their size, and even the lines that are supposed to fit still don't.
"I write a lot about plus-size fashion," explained L'Amour to indy100.
"[I write] about how clothes fit, whether or not to size up or down. Fit notes are important to me when I talk to my followers, because I think it's important to be informative and educate wider society on just how disparate shopping for clothing when you're plus-size actually is."
At the time of tweeting her frustrations at H&M's sizing, L'Amour had never before tried the brand's plus-size range.
I wasn't prepared for just how bad it was; I often expect to shift up or down a size depending on where I shop, but for the items to fit my size 16 girlfriend – some six sizes lower than those on the ticket – was abhorrent.

It's hard enough to shop on the high street for plus-size options – we're mostly confined to online shopping after the closure of many plus-size high street stores – so it's far worse to see a range that's supposed to be for us, the plus-size consumer, be so badly off the mark.

We don't have the ability to size up, so the range isn't fit for purpose.
indy100 contacted H&M for an official comment on its sizing changes but the brand declined to issue a statement.
These size inconsistencies haven't gone unnoticed, but L'Amour later clarified in a follow-up thread that some people were missing a key point.
"It is potentially dangerous for sizing to be so far out for young people who suffer with body dysmorphia or eating disorders, because climbing up several sizes will affect their self-esteem," she explained.
This is undeniably true, but the option of buying a bigger size is one which is often unavailable to plus-size customers.
Bethany Rutter – a friend of L'Amour's and an author / blogger in her own right – also highlighted that many slimmer customers were upset because sizing up implied that they had a closer proximity to fatness. Their complaints were rooted in the cultural implication that fat bodies are somehow worthy of marginalisation.
L'Amour cites Rutter's tweets when explaining her initial thread, stating:
There's a cultural hatred around being associated or perceived as 'fat' that needs to be dismantled.

If the items were sized much larger than the label says, this absolutely wouldn't be newsworthy because there's a perception that, if the label suggested you were smaller than you originally thought, the experience would be much more positive.
She also questions just how useful it is for a brand to create a plus-size range – which, in an industry increasingly willing to have discussions around inclusivity, can function as a positive PR move – which simply doesn't fit plus-size bodies.
"H&M is sending a message to their customers that the consumer's perception of them delivering a plus-size range is more important than delivering one that actually fits," she continues, explaining that automatically sizing out plus-size customers can have damaging effects.
So what's the solution?
Clearly the recent amendments of sizing charts have done little to remedy the situation, and a tweeted response from H&M – in which they stated a desire to make clothes to make customers feel good about themselves – rang hollow, too.
According to L'Amour, the change needs to come from within society itself.
We know we can't do away with the entire sizing structure – it would cost the industry millions to do so, and it would cause confusion for consumers.

So, the change needs to come from society instead. Consumers should be made to feel empowered to wear clothing that makes them feel good, regardless of what size label the garment carries.

H&M are falling very short of the mark on this front.