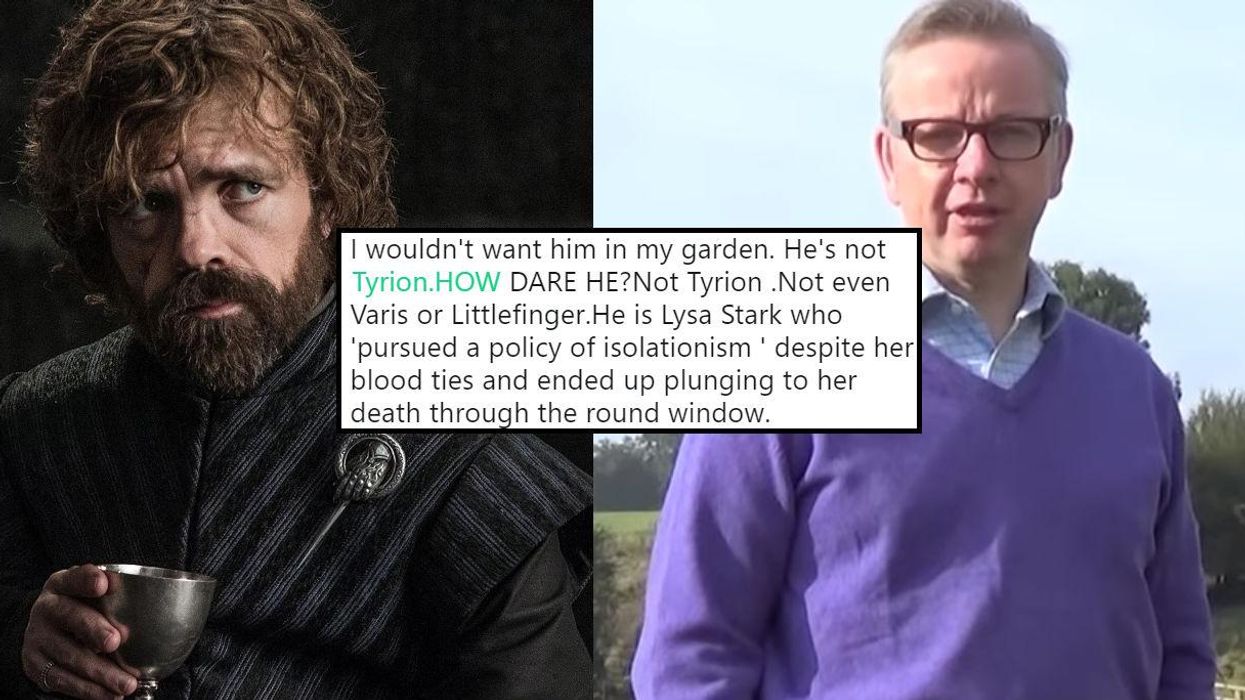 The James Delingpole Channel/screengrab and GoT
Michael Gove keeps trying to make Tyrion Lannister happen for him. It's not going to happen.
A 2014 video of him talking about his love of Game of Thrones character Tyrion has gone viral again on Twitter.
Last year, Gove drew laughs from the internet when he posted quiz results on Twitter likening him to Tyrion Lannister.
This has led the internet to unearth a 2014 video in which he talks about Tyrion being his favourite character.
His love of Tyrion goes back a way, it seems.
In a video titled Gove in the Garden, journalist James Delingpole talked to Gove about GoT - and what Gove's favourite scene was.
Gove didn't want to do just that. He wanted to share his favourite character, Tyrion Lannister, whom he once got on a 'Who Are You In Game Of Thrones?' quiz.
My favourite character in Game of Thrones is Tyrion Lannister. The moment I love most is when he leads what's apparently a hopeless charge against the troops in defence of King's Landing against the forces of Stannis Boratheon.

You see there that this misshapen dwarf, reviled throughout his life, thought in the eyes of some, to be a toxic figure can at last rally a small band of loyal followers and at the last moment he suddenly hears the noise of the relief column coming.

And it's his father. A father with whom he has the most complicated of relationships, who then comes at the head of the relief army in order to defeat the Boratheon forces.
Not enough to mention Game of Thrones, he ends his soliloquy by quoting Winston Churchill, beloved of the right.
Never, never, never surrender.
Mr Gove, can you please leave Game of Thrones alone?
Regards,
The internet.
Some people drew comparisons with other famous figures in popular culture. But not Tyrion.