Getty Images / Chip Somodevilla
Michelle Obama has joined her husband in wishing the nation farewell.
While the internet still weeps over Barack Obama's loving tribute to his wife in his final send off, America's beloved current FLOTUS was not to be upstaged.
In her final appearance as First lady on The Tonight Show, Mrs Obama responded to her husband with her own thank-you note, complete with trademark pizzaz.
It was adorable.
Thank you, Barack, for proving you're not a lame duck, but my very own silver fox.
Fierce, witty, loving...she even sealed it with a kiss.
Mrs Obama, a thank-you note from us...
PLEASE DON'T LEAVE!
Love, everyone.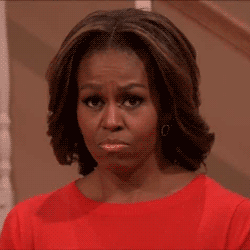 More: Obama's dog bit a White House guest
More: Barack Obama gave Joe Biden a surprise honour and people have a lot of emotions about it