Getty Images / Chip Somodevilla
Ever since the election of Donald Trump, the internet has been clamouring louder than ever for Michelle Obama to run for president in 2020.
But while the First Lady was giving a speech at the White House Veteran Homelessness summit, one man actually shouted it right at her:
Run for president!
Mrs Obama laughed, and replied with her customary grace, dignity and humour:
Be quiet back there!
FLOTUS has frequently been asked whether she would ever run for the presidency.
Many point to her experience, her oratorial powers, her high levels of education, her social engagement and her flawless reputation.
She's also considered a role model for success by many women and African Americans.
This gentle encouragement snowballed into widespread internet pleading since the election of Trump.
Michelle Obama 2020 -- We got four years! Let's go! @MichelleObama @BarackObama #michelleforpresident #Michelle2020 https://t.co/gg8DhOmwK5

— J.R. Moody (@J.R. Moody) 1478720980
I'm going into hibernation until 2020 when @MichelleObama is hopefully president and Donald Trump has fake tanned himself into oblivion

— niki albon (@niki albon) 1478693073
The fightback has begun. People are calling for Michelle Obama to run for president in 2020. #Michelle2020 https://t.co/OXwq7uzQLR

— AJ+ (@AJ+) 1478794982
There's even a Change.org petition to try and encourage the First Lady to run: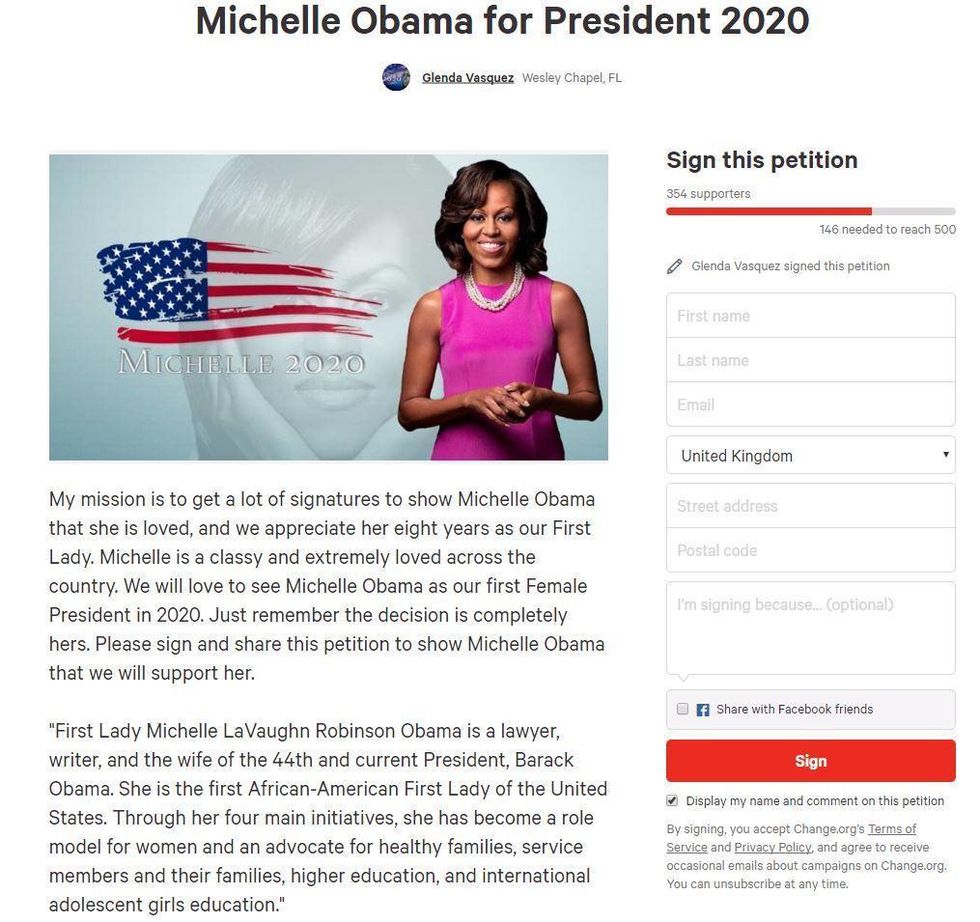 Picture:
But Mrs Obama has reiterated many, many times that she will not be running for president.
I will not run for president. No, nope, not going to do it.
But a lot can happen in four years...
Now let's all sit in quiet hope while we watch this on repeat: