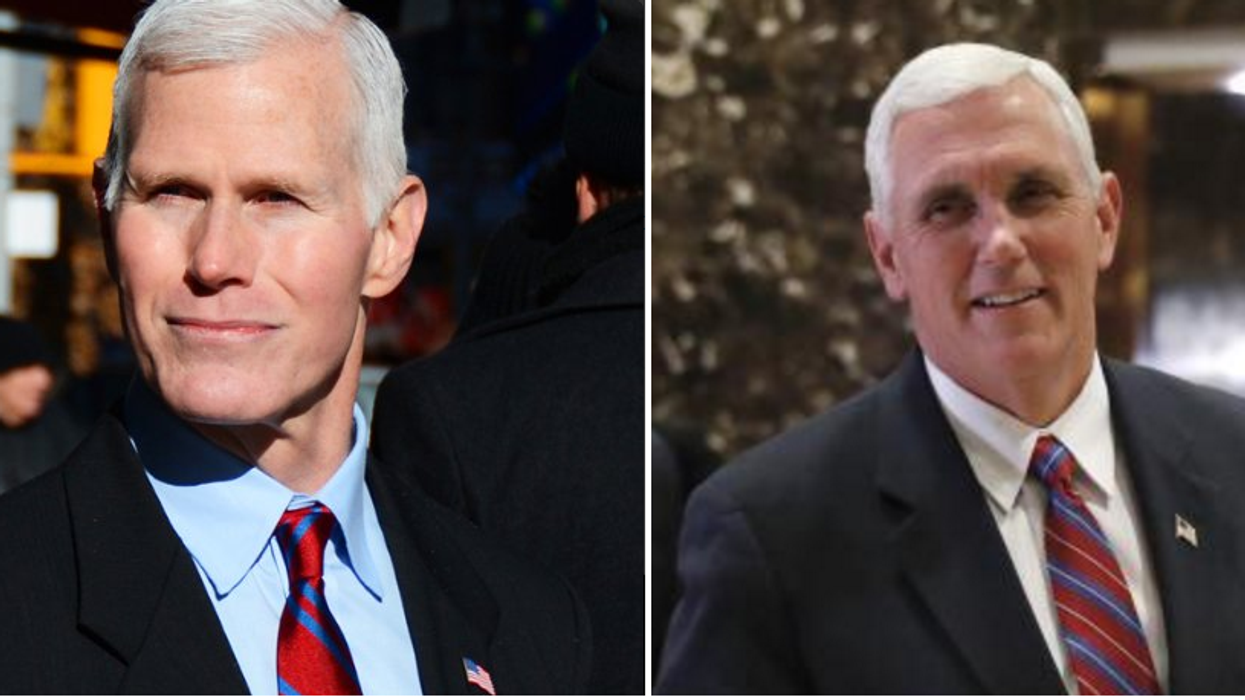 Twitter
Vice President-elect Mike Pence, infamous for his anti-LGBT views, has a doppelgänger - and something tells us Donald Trump's right-hand man won't be too happy about it.
Mike Hot-Pence isn't a politician. Instead of Making America Great Again, he's spending his days patrolling New York's Times Square in a suit jacket and hot pants, raising money for LGBT charities.
Dollars collected for @TrevorProject today: $448.45. Donation made and acknowledged. Thanks to all who gave!… https://t.co/nc01uLxhWn

— Mike Hot-Pence (@Mike Hot-Pence) 1481496071
He rose to fame after being photographed by Howard Sherman, an arts administrator, earlier this month:
He told Dazedthat he the idea came after people kept telling him how much he looked like Pence.
Mike Hot-Pence started as a Halloween costume. I was headed down to Greenwich Village to meet friends on Halloween night and that neighbourhood is the heart of costume craziness and creativity.

A friend suggested I dress up as Pence – and other friends chimed in and agreed on Facebook – but that didn't seem funny or original to me. I wanted a twist. So I came up with a Sexy Mike Pence costume that combined a conservative upper half and a sassy lower half. That was the birth of Mike Hot-Pence.
Hot Pence – whose real name is Glen Pannell – said:
We don't have to imagine how women's health and the environment and the LGBTQ community and refugees will suffer under the incoming administration. This isn't speculation. Mike Pence has a voting record on these issues from the last 16 years and it scares me.
So far, the better of the two Pences has raised more than $2,000.
Over $2300 collected so far for @TrevorProject @PPact @NRDC and still rising! The leg work helps... #MikeHotPence… https://t.co/Z57yYzPCGA

— Mike Hot-Pence (@Mike Hot-Pence) 1481586666
Someone needs to get this man to Washington - there's very little chance Trump would notice if we swapped the Pences round.