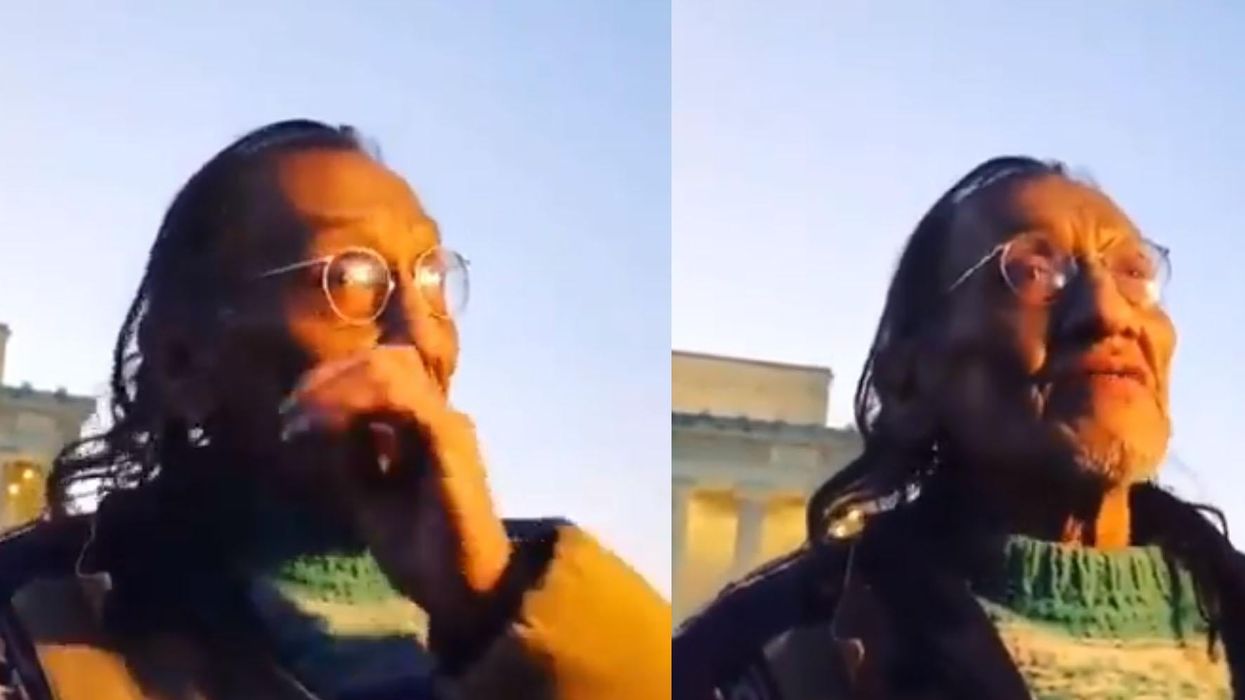 Unceded Clothing / Twitter
A viral video of an elderly Native American protester being mocked by a group of teenagers at the Indigenous Peoples March in Washington DC on Saturday has been shocking people worldwide.
Now, this man, an Omaha Nation elder and Vietnam War veteran named Nathan Phillips, is speaking out about the harassment in an emotional and inspiring video.
Wiping away tears, the protester describes how he was swarmed by the group as the march was ending. He said:
When I was there singing, I heard them saying: 'Build that wall, build that wall'.

This is indigenous land.

We're not supposed to have walls here, we never did.

We never [did] for a millennium.
Before anyone else came here, we never had walls.

We never had a prison.

We always took care of our elders.

We took care of our children.

We always provided for them.

We taught them right from wrong.

I wish I could see that energy of that young man, and put that energy into making this country really really great.
The 64-year-old also told The Washington Post that while he was in confrontation with one of the students seen in the video, he was drawing on memories of his wife, Shoshana, who died four years ago of cancer, to stay calm. He also said he thought about the threats that the indigenous communities around the world are currently facing, saying:
I felt the spirit was talking through me.
It was not the first time Phillips was at such a rally, as he is a well-known activist in the Native American community and was also among those leading the Standing Rock protests in 2016 and 2017 against the oil pipeline in North Dakota.
In a joint statement, the high school of which the group of students belonged to condemned the actions "towards Nathan Phillips specifically, and Native Americans in general". The statement also said:
The matter is being investigated and we will take appropriate action, up to and including expulsion
The school and diocese extended "our deepest apologies" to Mr Phillips, they added.
This behaviour is opposed to the Church's teachings on the dignity and respect of the human person.