City of Kenner
The mayor of Kenner City, Louisiana issued a memo last week seemingly announcing a ban on buying Nike products.
WBRZ reported that Mayor Ben Zahn appeared to declare on September 5 that 'Under no circumstances' should Nike products, or any product with the Nike logo, be purchased by the city's recreation department.
The memo was sent by Zahn's office to the Park and Recreation Department Director Chad Pitfield. The memo was has since been circulated around social media and it clearly bares the signature of Mayor Zahn.
It appears to state that any booster club operating at a city recreation facility must now have their purchases approved by Pitfield, including apparel, shoes "and/or any athletic product".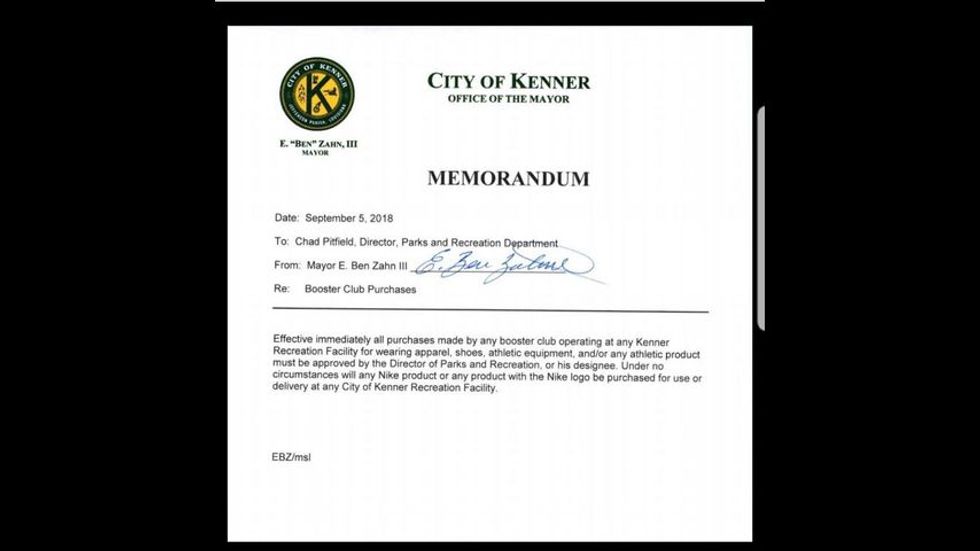 Picture:
People don't like Nike and that's fair enough, but this seems a little bit excessive.
Incidentally, this banning memo was issued two days after Nike made their own announcement: Former San Francisco 49ers quarterback Colin Kaepernick would be the face of their 30th anniversary 'Just Do It' campaign.
Nike's move to have Kaepernick as the face of their campaign sparked a lot of outrage from the world's most annoying trolls - Donald Trump et al - because in 2016 he first took a knee to protest racial injustices during the pre-game playing of the American national anthem.
For some bizarre reason people think that standing for the national anthem is mandatory and if you don't then you clearly hate America and freedom.
We're not saying the memo and Nike's campaign are related, seeing as how Mayor Zahn's memo did not mention Kaepernick or the Nike campaign at all, but it does smell suspiciously like that regressive, antagonising eau de Trump we've all come to recognise.
In full, the memo reads:
Effective immediately all purchases made by any booster club operating at any Kenner Recreation Facility for wearing apparel, shoes, athletic equipment, and/or any athletic product must approved by the Director of Parks and Recreation, or his designee.

Under no circumstances will any Nike product or any product with the Nike logo be purchased for use or delivery at any City of Kenner Recreation Facility.