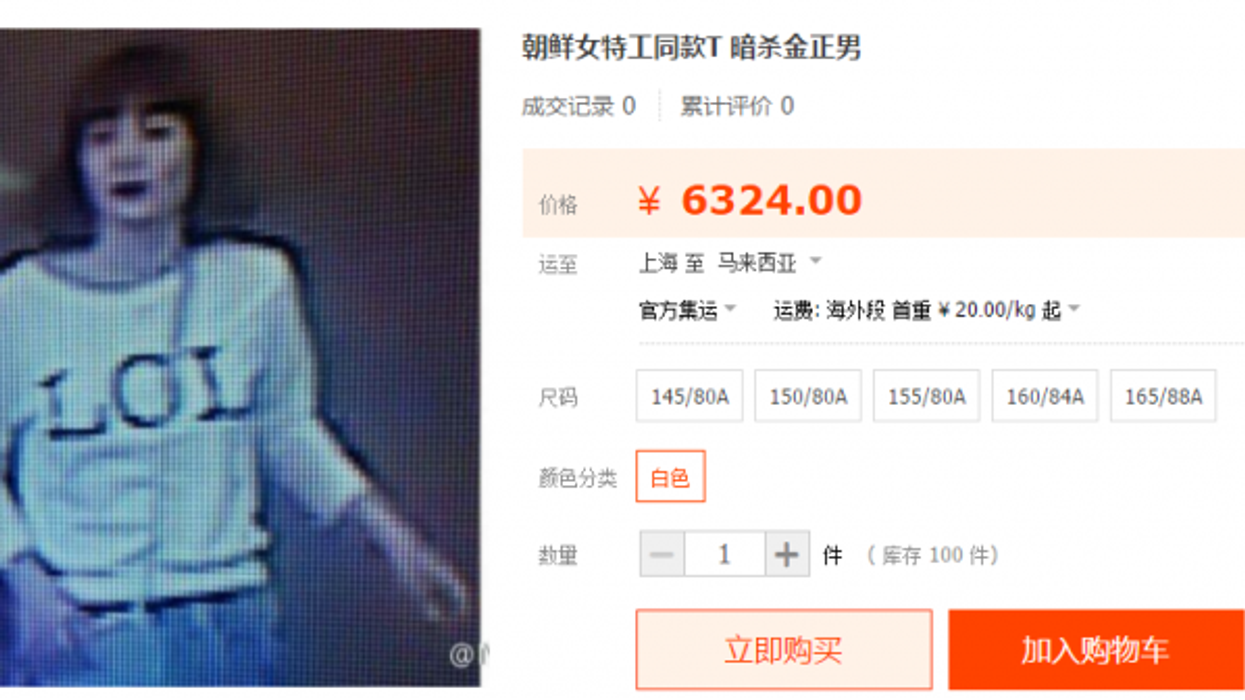 Picture: Apple/Taobao Screengrab
A breaking news event about a possible assassination is also a chance to make money it seems.
Nothing says chic like mimicking the wardrobe of a suspected killer.
On Tuesday the half-brother of North Korean leader Kim Jong-un died following an assault in Kuala Lumpar International Airport.
He died en route to hospital.
There are unconfirmed reports that suggest Kim Jong Nam was assassinated at the behest of Kim Jong-un. In the past Kim Jong Nam was critical of the regime, and called his half-brother's leadership 'a joke'.
Lawmakers in South Korea have said their intelligence agencies believe two female North Korean agents were responsible for Kim Jong Nam's death.
CCTV images of one suspect - identified as 28-year old Doan Thi Huong - went viral this week, partly because of the nature of the alleged crime and partly because of her 'LOL' shirt.
Huong, a Vietnamese national, has been detained in Malaysia. Police there said they were also looking for a 'few' other suspects.
Naturally, the 'LOL' shirt was rapidly made available for purchase online.
Mashable reports that China's biggest e-commerce platform Taobao was selling replicas of the shirt for 6324 yuan (£726 GBP).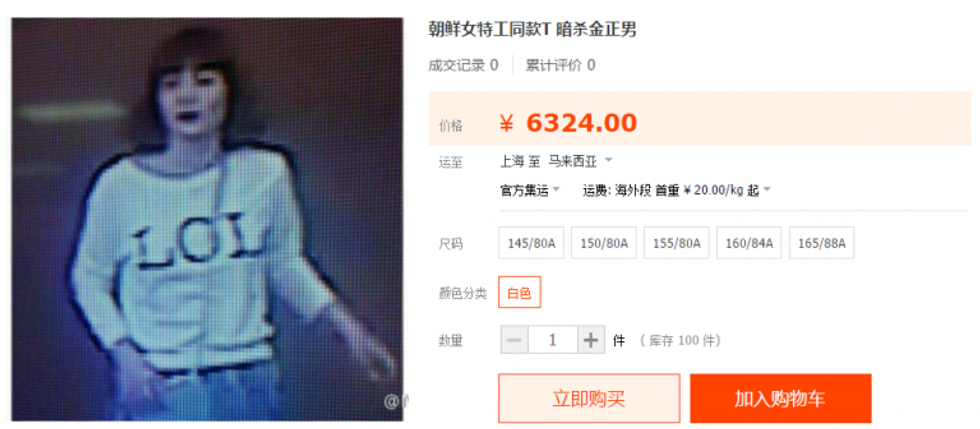 Advert for the 'LOL' shirt before being taken down, featuring CCTV of suspect Doan Thi Huong.
It was removed shortly after it first appeared on the site on Wednesday, just a day after CCTV of Huong appeared in the media.
Many people commented on the shirt being an interesting choice of clothing for an alleged 'assassination'.
There's cold, there's ice-cold, and then there's assassinating someone while wearing a shirt that says LOL. https://t.co/BA2t7w41iB

— shauna (@shauna) 1487141200
It has not been verified who posted the advert for the replica, or if it was a stunt or prank.
This is not the first time a marketing opportunity has quickly taken advantage of bloody events.
According to documentary The Unreliable Narrator (2014), during the terrorist attacks in Mumbai in 2008, in which 164 people were killed, related titles and the film rights to the incident were registered by production companies within an hour of the attacks starting.