@two_oh_teen / Twitter; alex_kam_sam / Instagram
The selfie is rarely used for political means, but North and South Korean athletes at the Winter Olympics are changing that.
Representatives from the neighbouring nations, which share a fragile relationship at the best of times, are showing that despite their differences they are united as one.
South Korea who is hosting the games in the city of Pyeongchang has welcomed 22 North Korean athletes to the event.
There was a special moment at the Opening Ceremony on Friday when members of the two countries marched into the stadium together as a united Korea underneath the blue and white Korean unification flag.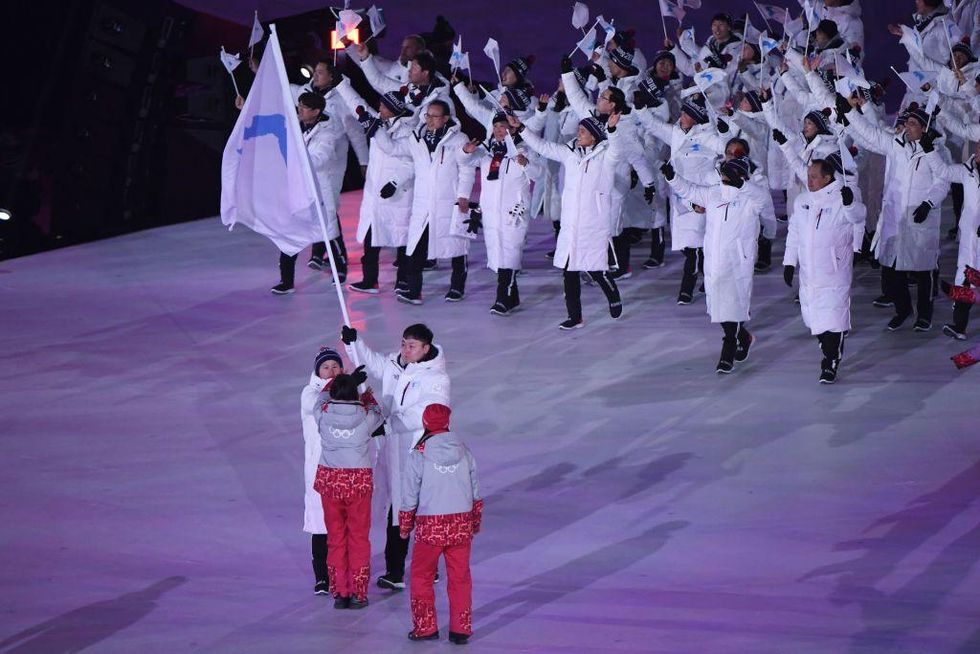 Picture: WANG ZHAO/AFP/Getty Images
The athletes will be sharing locker rooms and practice spaces over the course of the next few weeks and, judging by early impressions, they are getting along just fine.
Images shared on social media show the athletes, including figure skaters Alex Kam and Kim Ju-sik, posing together in a heartwarming display of friendship and togetherness.
The unified Korea team... wahhh! Time will come North and South wouldn't need an Olympics to take a group selfie to… https://t.co/9Cz44D9S24

— . (@.) 1518188335
When talking to the Toronto Star Kim stated that he shared the photo for fun and to mark the start of the Olympics.
I said something like 'Hey, Ju Sik hyeong, let's take a photo together!'

I posted that photo for fun . . . and to mark the Olympics.
North Korea and South Korea will both have separate teams during the Olympics, but there will be a female ice hockey team competing composed of women from both countries.
Away from sport, the North's supreme leader Kim Jong-un has invited South Korean President Moon Jae-in to attend a historic and rare summit between the two nations in Pyongyang.
HT Mashable