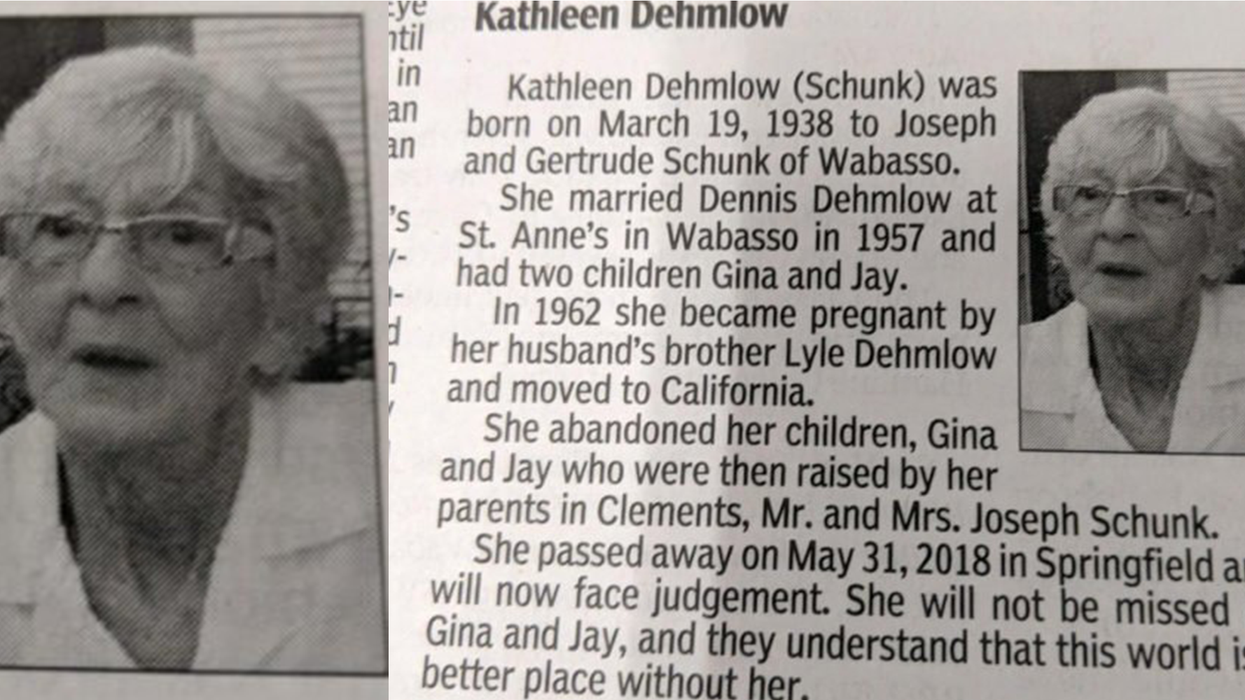 Redwood Falls Gazette
The son who wrote a particularly scathing obituary about his late mother has spoken out to reveal why: "This world is a much better place without" Kathleen Dehmlow.
Jay Dehmlao told the Daily Mail that his late mother, who died Thursday at the age of 80, was the reason he and his sister, Gina, had such a dysfunctional childhood after Kathleen became pregnant by her brother-in-law.
Defending the obituary, Jay said:
We wanted to finally get the last word.
He went on to say:
You could write it all down in a book or turn it into a movie and people wouldn't believe what we went through.
The obituary states that Ms Dehmlow married her first husband in 1957, and the couple had two children, Gina and Jay.
The siblings wrote that five years after that, their mother had an affair with her husband's brother, Lyle Dehmlow, and "abandoned" them in 1962 when she moved to California with him.
The since-removed obituary read:
She passed away on May 31, 2018, in Springfield and will now face judgment.

She will not be missed by Gina and Jay, and they understand that this world is a better place without her.
Jay's sister, Judy, admitted the obituary was "nasty," and that it "hurt the family tremendously"
The siblings recall whenever Kathleen took a break from: "Having a great life" in California to visit them, they never even received 'so much as a card from her'.
Gina and I were standing in the room, just standing there and she didn't even acknowledge us. It's like we didn't exist.
It looks like you truly do reap what you sow.
The damning "revenge obituary" was pulled from the Redwood Falls Gazette.